Slow Cooking for Summer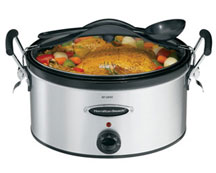 The sun outside is so inviting. There is no reason to waste a beautiful summer day heating up the kitchen baking or slaving over the stove. Simply spend a few minutes preparing ingredients for the slow cooker and then you can get right back to gardening, swimming, or just relaxing.
With the slow cooker you can have it all: fun in the sun and a delicious meal for the family at the end of the day. Here are some great summer dishes you can slow cook... no sweat!
---
Slow Cooker Teriyaki Chicken Wings
3-4 pounds chicken wings
1/4 cup soy sauce
1/4 cup rice vinegar
1/4 cup honey
1 tablespoon hoisin sauce
1 tablespoon orange juice
2 cloves garlic, minced
Place the wings in the slow cooker. Combine remaining ingredients in a bowl and pour over the wings.
Cook on High for 1 1/2 - 2 hours or on Low for 3-3 1/2 hours.
Serves: 6-8
Size: 3-6 quarts
---
Slow Cooker Root Beer Pulled Pork
1 (2 pound) pork tenderloin
1 (12 fluid ounce) can or bottle root beer
1 (18 ounce) bottle barbecue sauce
8 hamburger buns, split and lightly toasted
Place the pork tenderloin in a slow cooker; pour the root beer over the meat. Cover and cook on low until well cooked and the pork shreds easily, 6 to 8 hours. Drain well. Stir in barbecue sauce. Serve over hamburger buns.
Serves 8
---
Heating meat in the slow cooker is a simple and tasty way to prepare a meal but there are plenty of delicious summer vegetable sides that can be slow cooked to perfection for your summer barbeque. Try some of these:
---
Stuffed Artichokes
6 artichokes, washed, tops sliced off and stems trimmed
8 ounces bread crumbs
10 ounces grated Pecorino Romano cheese
1 bunch flat leaf parsley, chopped
1 1/2 teaspoon salt
1/2 teaspoon freshly ground pepper
1 tablespoon extra-virgin olive oil
Combine bread crumbs, cheese, parsley, salt and pepper. Spread artichoke leaves and fill pockets generously with bread crumb mixture until you reach the soft leaves near the center.
Place artichokes in the Crock-Pot® slow cooker and add approximately 3/4 inches of water to bottom. Drizzle olive oil on top of each artichoke. Put on lid, turn unit to HIGH and cook until leaves are tender and pull away from heart easily, approximately 3-4 hours or cook on LOW for approximately 5- 6 hours.
Serves: 6 whole/ 12 halved
Size: 6-7 quarts
---
Slow Cooker Garlic and Herb Corn on the Cob
1/2 cup butter, at room temperature
2-3 cloves garlic, minced
2 tablespoons finely minced fresh parsley
5 ears of corn, husked
Salt and black pepper, to taste
Thoroughly mix butter, garlic and parsley in small bowl.
Place each ear of corn on a piece of aluminum foil and generously spread butter on each ear. Season corn with salt and pepper and tightly seal foil.
Place corn in the slow cooker; overlap ears,if necessary. Add enough water to come 1/4 of the way up each ear. Cover; cook on LOW 4 to 5 hours or on HIGH 2 to 21/2 hours or until done.
Makes 5 servings
---
Save on time and air conditioning this summer by simmering up great summer sides or main dishes in the slow cooker.
---
An unbeatable value with exclusive benefits for members only.
Get a newsletter like this each week when you join the Cook'n Club.