All-American Party Snacks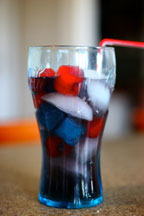 Celebrate Independence day with fun, food, and family. These stars and stripes snacks will bring young and old to the kitchen to prepare and share together!
---
Patriotic Punch
Kids love to help with this red, white, and blue refreshment. Watch together as the colorful bubbles burst in this little cup of fireworks.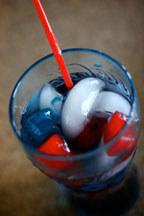 1 cup red punch or sports drink
1 cup blue punch or sports drink
1 cup water
1 2 liter bottle of lemon lime soda, ginger ale, or other clear soda
2-3 ice cube trays
Fill one ice cube tray with red liquid and one with blue liquid. Fill any remaining space in the ice cube trays with plain water. Place in freezer until frozen solid.
Place a few ice cubes of each color into a clear glass. Fill glass with clear soda and watch the colorful bubbles burst as the cubes melt.
Hint: Make this punch extra fun by using star shaped ice cube trays.
Serves:4-5
---
Cheesy Stars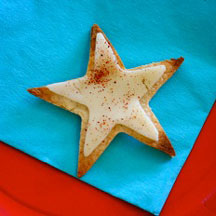 These stars make a tasty and filling snack. They taste great on their own or served with mild salsa.
2 Flour or 4 Corn tortillas
4 cheese slices, (cheddar, provolone, mozzarella, or pepper jack)
Chili Powder or paprika, to taste
1 large star cookie cutter
1 smaller star cookie cutter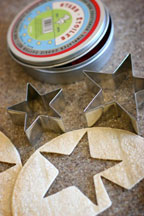 Heat oven to 350 degrees. Use the large cookie cutter to cut stars from tortillas. Kids love this part! make it easier for them by letting them roll a rolling pin back and forth over the cutter.
Bake the stars on a foil-covered cookie sheet for 4-5 minutes.
Use the smaller cookie cutter to cut out an equal number of cheese stars from the sliced cheese. Place a cheese star on top of each baked tortilla star and bake for 1-2 more minutes until cheese is slightly melted.
Sprinkle stars with chili powder or paprika. Allow them to cool before serving.
Serves 4
---
Pretzel Sparklers
Light up the faces of your little ones with these yummy chocolate dipped pretzels. The whole family will love creating and nibbling this snack together. Wrapped in cellphone, these Sparklers also make great Independence day gifts and party favors.
Long rod pretzels
2 cups white chocolate chips
1 Tablespoon shortening
Sprinkles (red, white, and blue or star shapes)
Place white chips and shortening in a mason jar and melt in the microwave 30 seconds at a time, stirring in between until chips are completely melted.
Dip one end of the pretzel rod half way into the melted chocolate. Sprinkle with sprinkles over the wet chocolate. Place on waxed paper or place in a cup to dry.
Enjoy your family and celebrate your freedom this summer. I hope you will also enjoy these snacks!
---