Polenta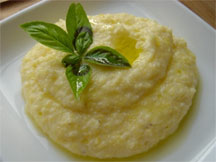 Polenta is an Italian food that can be used as side dish or a main dish, depending on what you choose to top it with. Typically it can be high in fat if made with butter and cheeses. The polenta that you find is the store is in a tube and pre-cooked. It is economical and can be bought with or without herbs. It is easy to prepare; it requires only a little frying and adding a topping of your choice.
Polenta is made from cornmeal, water and butter. You can buy a corn flour called Polenta but it is still just cornmeal and will be more expensive.
If you like a smooth texture, use a fine cornmeal. A fine cornmeal will produce more lumps. So, add the cornmeal slowly, whisking the whole time it is cooking to prevent a lumping problem. If you like a heavy, grainy texture uses course cornmeal.
I like to buy the store bought, pre-prepared polenta. It is round and can be sliced into 1 inch thick slices and sautéed in butter, margarine or olive oil. Just follow the instructions on the package.
If you make homemade polenta, you will probably use a loaf pan that measures 8 1/2 inches by 4 1/2 inches. Spray the loaf pan with cooking spray and then pour in hot polenta, cover with plastic wrap and refrigerate. When completely chilled; cut into 1 inch slices and sauté the slices in 1 Tablespoon butter or oil until lightly browned. Polenta can also be served as soon as you make it. Spoon it while still hot unto a plate and garnish as desired.
Polenta plates up nicely with a piece of grilled chicken or fish. It really looks nice when vegetables and or sauces are used as toppings.
---
Polenta
This recipe makes 2 loaf pans of Polenta.
2 cups corn meal
3 cups water
4 cups chicken broth
4 Tablespoons butter or margarine
1/4 cup grated parmesan cheese (optional)
Whisk the cornmeal and water together in a medium sauce pan. Gradually add the chicken broth, stirring constantly for 25 to 30 minutes. The mixture will become thick and pull away from the sides. Stir in butter and Parmesan cheese, or add mushrooms, herbs or peppers.
---
Creamy Parmesan Sauce
2 Tablespoons flour
1 Tablespoon olive oil or butter
1 Teaspoon Dijon mustard
1 1/4 cup milk
3 Tablespoons grated Parmesan cheese
In a medium sauce pan, combine flour and oil. Stir to make a roux (a mixture of flour and fat) cooking for 3 minutes. Add milk a little at a time, whisking constantly, until the sauce is thick and comes to a boil. Whisk in the mustard. Pour over polenta. This is also good with steamed vegetables. First you steam vegetables, pour sauce over the vegetables and spoon over polenta.
---
An unbeatable value with exclusive benefits for members only.
Get a newsletter like this each week when you join the Cook'n Club.