---

Recipe from the July 2011 Newsletter
---
Ingredients:
15 (2 inch) frozen, miniature pastry shells
1 (10.75 ounce) can cream of chicken soup
1/4 cup milk
1 hot chile pepper, seeded and minced
1/2 teaspoon Worcestershire sauce
1 dash hot sauce
salt and ground black pepper to taste



2 tablespoons extra-virgin olive oil
2 cloves garlic, minced
1/4 cup finely chopped sweet onion
1/4 cup chopped red bell pepper
3/4 cup chopped asparagus
1/2 cup grated Parmesan
1/4 cup chopped flat-leaf parsley




---

Directions:

Preheat oven to 400 degrees F (200 degrees C).

Bake the frozen pastry shells in the preheated oven for 10 minutes; remove and set aside.

Reduce the oven temperature to 350 degrees F (175 degrees C).

Whisk together the condensed soup, milk, chile pepper, Worcestershire, hot sauce, salt and pepper in a saucepan over low heat.

Preheat the olive oil in a large skillet over medium-high heat. Cook the garlic, onion, red pepper, and asparagus until tender. Stir the soup mixture in with the vegetables and spoon into the prepared pastry shells. Sprinkle with cheese.

Bake in the preheated oven for 20 minutes. Remove from the oven and cool for 10 minutes before garnishing with parsley to serve.

July 2010 Newsletter

Be sure to check the Cook'n Recipe Archive for more recipes.
---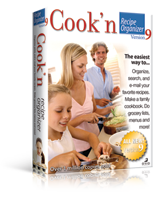 Be sure to check the Cook'n Recipe Archive for more recipes.
Piles of recipe cards in your drawer? Download Cook'n today and get organized!
Buy the CD or download of Cook'n right now! Includes over 300 of our best recipes.
---
"I might learn how to cook yet with all this software of yours. You can't believe how much it has helped. I've had friends come over (I'm just a single guy with a dog - but looking for the right woman) and rave about the meals I prepared for them. It's not all that hard if you just follow the directions. In the end I have to tell them my secret, it's not talent - it's your software.
Oh well, the food is still delicious. Now if I could just figure out how to use the dishwasher.
-John
Cook'n Is Several Products in One!