Creative Corn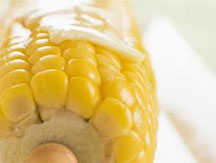 Because I like to give you something more than just recipes I have some information for your "Gee Wiz File". It may not be life changing, but hopefully a little entertaining. If you don't love these little gems, I think you will still like the fabulous recipes that follow! What's more summer than corn on the cob?
Corn is also called maize.
Depending on your region it may also be called "pole corn", "cornstick", "sweet pole", "butter-pop" or "long maize"
It is grown on every continent except Antarctica. 
Corn was first grown as a crop by Native Americans, probably in the country that is now Mexico more than 7,000 years ago. 
Corn is America's number one field crop. Corn leads all other crops in value and volume of production.
The average ear of corn has 800 kernels, arranged in 16 rows.
There is one piece of silk for each kernel.
A bushel of corn contains about 27,000 kernels.
Each tassel on a corn plant releases as many as 5 million grains of pollen.
Corn is an ingredient in more than 3,000 grocery products.
One bushel of corn can make 33 pounds of sweetener, 32 pounds of starch, or 2 1/2 gallons of ethanol fuel.
Now that you are an expert at corn trivia, let's talk about cooking it! Boiled and covered in butter and salt is wonderful, but there are so many other ways to create amazing flavor that may be a little different from the norm.
---
Oven Roasted Corn On The Cob
Serves 4
Preheat oven to 350 degrees F. Place corn husks directly on the oven rack and roast for 30 minutes or until corn is soft. Peel down the husks and use as a handle when eating.
---
Tasty BBQ Corn On The Cob
1 teaspoon chili powder
1/8 teaspoon dried oregano
1 pinch onion powder
cayenne pepper to taste
garlic powder to taste
salt and pepper to taste
1/2 cup butter, softened
6 ears corn, husked and cleaned
Preheat grill for medium-high heat
In a medium bowl, mix together the chili powder, oregano, onion powder, cayenne pepper, garlic powder, salt, and pepper. Blend in the softened butter. Apply this mixture to each ear of corn, and place each ear onto a piece of aluminum foil big enough to wrap the corn. Wrap like a burrito, and twist the ends to close.
Place wrapped corn on the preheated grill, and cook 20 to 30 minutes, until tender when poked with a fork. Turn corn occasionally during cooking.
Serves 6.
---
Curried Corn On The Cob With Goat Cheese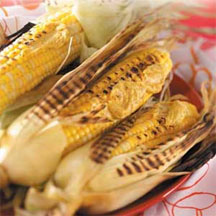 6 medium ears sweet corn in husks
1/2 cup crumbled goat cheese
1 tablespoon sugar
2 teaspoons salt-free seasoning blend
1/2 teaspoon curry powder
1/4 teaspoon salt
1/4 teaspoon pepper
Carefully peel back corn husks to within 1 in. of bottoms; remove silk. Rewrap corn in husks and secure with kitchen string. Place in a large kettle; cover with cold water. Soak for 20 minutes; drain.
Grill corn, covered, over medium heat for 25-30 minutes or until tender, turning often. In a small bowl, combine the remaining ingredients; spread over warm corn. 
Serves 6.
---
Paula Dean's Bacon Wrapped Grilled Corn On The Cob
8 ear(s) corn
1 pound(s) bacon strips
Gently pull back the husks of each ear of corn, exposing the kernels. Do not remove the husk.
Remove the corn silk (use a brush, if available, to make sure all the silk is removed). Soak the corn in a large pot of water for 30 minutes. (This will prevent the husks from charring.) Preheat grill to medium heat.
Remove the corn from the water and pat dry. Take a strip of bacon and wrap it around the corn in a spiral fashion. Fold the corn husks back over, covering the bacon and corn. Tie the husks with butchers' string; repeat the process for each ear of corn. Place the ears of corn on the hot grill and cook, turning occasionally, until bacon is cooked and corn is tender, approximately 15 to 20 minutes. Serve with butter, if desired.
Serves 8.
---
And if those ideas aren't enough, here is a little list of...
10 ways to dress up that cob!
1. Mediterranean medley
Finely chop oil-packed sun-dried tomatoes and mince garlic, then stir into butter.
2. New Orleans hot
Sprinkle Cajun seasoning over butter, then stir in along with a good dash of Tabasco.
3. Asian touch
Blend wasabi paste into butter, then add thinly sliced green onion.
4. Colourful Italian
Stir chopped capers, roasted red peppers, minced garlic and chopped fresh basil into butter.
5. Pesto butter
Flavour butter with a dab of pesto and freshly grated Parmesan.
6. Provencal style
Stir butter or spreadable cream cheese with finely chopped shallots and fresh or dried tarragon or herbes de Provence.
7. Curried up
Mix a little curry paste into butter along with chopped cilantro.
8. Divine ginger
Finely chop pickled ginger and stir into butter with sliced chives or green onions.
9. Savoury spread
Chop fresh rosemary and stir into butter with pinches of poultry seasoning.
10. Kid-pleasing
Mix a little dab of honey and a pinch of cinnamon into butter.
Resources: www.tipnut.com, www.allrecipes.com, www.chatelaine.com, www.quickandsimple.com