Urban Foil Dinners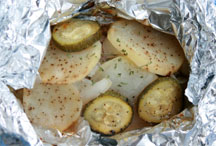 Tin foil dinners always remind me of camping. We use the foil to make the infamous hamburger, onion and carrot tin foil dinner that is so common during the summer camping season. Many of you have probably used foil to line a pan or crock pot to keep the clean up mess minimal. Tin foil dinners aren't just for camping or for only hamburger. Foil packets are a great way to steam your meat and vegetables, thereby cutting back on the amount of fat you might use. Chicken breast is a wonderful example of how to make a sophisticated meal with none of the mess.
Steaming in a foil pouch is a healthy and fast way to enjoy a meal. Foil dinners are an easy make-ahead-meal. These meals are juicy and delicious and the chicken comes out nicely browned. Another little tip for having evenly cooked chicken is to pound the chicken breast so that it is the same thickness. Foil dinners are also practical if you want to keep your servings at 2 to 3 ounces per person. Load on the vegetables and spices and you have a healthy meal with easy clean up.
Foil dinners can be made ahead of time and refrigerated for several hours. When using chicken, it is a good idea to pat the chicken dry with paper towels and then drizzle a bit of olive oil over it. Seasoning is also an important part of the meal. I like to use lemon pepper, sea salt and a little garlic powder but you can use anything you like. Since onion is usually part of my vegetable choices, I don't add onion salt.
It is a highly flavorful option to marinate the meat first. These dinners, besides being easy to make, can be cooked on the grill or in an oven on medium heat.
Now let's talk about making the foil packet and then I will give you some high-class, tin foil dinner recipes. It is best to use 3 or 4 sheets of tin foil per packet layer. For most meals, 12 inch square sheets are about the right size but you may want to experiment. Using multiple layers of foil helps to keep the juices in and not leak. Fold the foil packets in to the shape of an envelope and fold the edges to seal the packet. Or, if you're making a larger meal, use the full 12 inch squares on the top and bottom. Just make sure you fold all the sides well. After cooking the tinfoil meal, let the packet sit for about 5 minutes. And, be careful when opening packets – allow the steam to escape!
---
Orange Fennel Chicken
3 Tablespoons extra-virgin olive oil
1 teaspoon minced fresh tarragon
1 teaspoon salt
1 teaspoon pepper
2 oranges, peeled and cut into 1/4 inch pieces
2 carrots, peeled and shredded
1 fennel bulb (about 12 ounces) tops discarded, halved, cored, and sliced thin
4 (6 ounce) boneless, skinless chicken breast, trimmed, pounded if necessary
2 green onions, sliced thin
Preheat the oven to 450 degrees.
Combine the oil, green onions, tarragon, 1/4 teaspoon salt, and 1/8 teaspoon pepper in a bowl. Toss the mixture with the oranges in a bowl. Pat the chicken dry with paper towels and season with salt and pepper.
Arrange the carrot fennel mixture in the center of 3 or 4 pieces of foil. Lay the chicken over the vegetables, then spoon the orange mixture over the top.
Place the remaining pieces of foil on top and fold the edges over several times to seal. Place the packets on a rimmed baking sheet and cook for about 25 minutes. (To test the doneness of the chicken, you will need to open one of the packets. The juices from the chicken will run clear or 160-165 degrees.)
---
Baked Chicken and Garden Vegetables
2 small zucchini
2 yellow crookneck squash
1/2 red pepper
1/2 green pepper
2 Tablespoon olive oil
1 Teaspoon minced oregano
1/4 cup fresh basil
4 plum tomatoes seeded
3 garlic cloves (minced)
4 skinless, boneless chicken breasts (pounded)
Pat chicken dry. Add olive oil and spices together in a bowl and lay vegetables on the lower layers of foil. Top with chicken and sprinkle the oil and spices over the top. Add the remaining layers of foil, making sure you seal edges together well. Bake on grill on medium heat for about 30 minutes or until juices run clear, or bake in oven at 400 degrees for about 40 minutes.
---
Marinade Chicken Breast
4 boneless, skinless chicken breasts
1/2 cup soy sauce
2 Tablespoons brown sugar
3 finely chopped green onions
1/4 teaspoon finely grated ginger
1 Tablespoon olive oil
Mix soy sauce, brown sugar, onions and ginger together in a bowl. Marinade pounded chicken breasts in a shallow dish. Place chicken in foil packet and cook on medium heat on the grill for 30 to 40 minutes or cook in oven at 375 degrees for 30 to 35 minutes or until juices run clear.
---
---
An unbeatable value with exclusive benefits for members only.
Get a newsletter like this each week when you join the Cook'n Club.