Leisure Cooking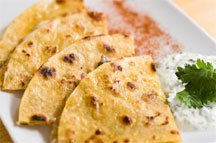 One of the things I like to call "Leisure Cooking" is having a dish you can pull out of the refrigerator and use for lunch or dinner. I'm taking about those special fillings or mixtures that can be used for more than one meal – making the meal different by adding a new ingredient or two but always easy, easy, and easy!
---
Black Bean Filling
This tasty filling can be made ahead of time and used in Quesadillas, burritos or used on top of a bed of lettuce greens. This recipe can be changed just a bit and also be delicious to scoop onto a corn chip.
2 cans black beans (drained and rinsed)
2 cups cooked brown rice
1 can corn or corn off the cob
1 cup finely chopped tomatoes
2 Teaspoon cumin
2 Teaspoon granulated garlic
1/2 teaspoon hot red pepper sauce
Salt to taste
For a Quesadilla; sprinkle with cheese and grill. For a burrito; add some grilled chicken or beef and roll in warmed flour tortilla. When using on a salad, pile high on a bed of lettuce and serve with Southwest or Ranch salad dressings. In a salad, you may also want to add chicken or beef.
---
Tenderloin Spiced Gorgonzola – Pine Nut Butter
Another leisure cooking method is grilling. It is hard to make a tastier steak that a Filet Mignon (or your favorite steak!) with Gorgonzola – Pine Nut Butter. Making the butter in advance makes this meat dish a cinch.
1/2 cup butter, softened
1/2 cup crumbled Gorgonzola
3 Tablespoon fresh thyme, minced
2 Tablespoon fresh rosemary, minced
2 Tablespoon fresh Italian parsley, minced
1 Teaspoon crushed red pepper flakes
2 cloves of garlic
1/4 cup shelled pine nuts
Salt and Pepper to taste
8 (8ounce) beef tenderloin filets
Place the softened butter, cheese, thyme, rosemary, parsley, red pepper flakes, garlic and pine nuts in a food processor. Puree and add salt & pepper to taste. Season the steak with salt and pepper on both sides. Grill to desired doneness on pre-heated grill, about 5 minutes per side for medium rare. Top each steak with 2 Tablespoons of butter.
---
Rigatoni with Red Pepper and Almond
Pasta can be a quick and easy meal. This is a fancy, flavorful and impressive dish.
1 pound rigatoni pasta
3 cup garlic flavored croutons
1/4 cup slivered toasted almonds
1 cup roasted red bell peppers (buy in jar)
1/2 cup Olive oil
Bring a large pot of salted water to a boil over high heat. Add the pasta and cook until firm – about 8 minutes. Drain pasta and place in large bowl. Place garlic croutons and almonds in food processor. Pulse until it is the texture of bread crumbs. Add croutons and almond mixture to the hot pasta. Add the roasted peppers and olive oil. Toss and serve.
---
Teriyaki Strips with Balsamic BBQ Sauce
Make this Balsamic BBQ Sauce ahead and you'll be ready. This BBQ sauce is great with chicken or steak.
1 cup balsamic vinegar
3/4 cup ketchup
1/3 cup brown sugar
2 garlic cloves minced
1 Tablespoon Worcestershire sauce
1 Tablespoon Dijon mustard
1 Teaspoon salt
1/2 Teaspoon ground pepper
Combine all the ingredients in a sauce pan on medium heat. Stir until all ingredients are blended together and simmer over medium heat until reduced by 1/3. This will take about 20 minutes.
This sauce will be enough for 4 chicken breasts or 4 steaks. Salt and pepper meat and place it on a grill over medium heat. Lightly coat the chicken or steaks with BBQ sauce using a pastry brush. Continue grilling the meat while occasionally brushing it with additional BBQ sauce.
Chicken can be done in a baking dish in the oven at 375 degrees for 25 minutes and then add BBQ sauce for the last 15 minutes.
Teriyaki Strips
2 pounds of steak or chicken
3/4 cup ketchup
1/3 cup brown sugar
1/2 Teaspoon minced ginger
1 garlic clove, minced
Mix the ingredients in a pan with an airtight lid. Put the meat in the pan and make sure the covers all the meat. Let marinate for at least 1/2 hour. Run meat through skewers and barbecue 2-3 minutes on each side.
---
I like to not have to worry a lot about preparation. This to me is leisure cooking. Whenever I can add just a salad or vegetable to the meal, it's the perfect meal for me. Fresh, easy and not a lot of time in the kitchen - Ahhhhhhh!!!