Frequently Asked Questions about Cook'n
Frequently Asked Questions about Cook'n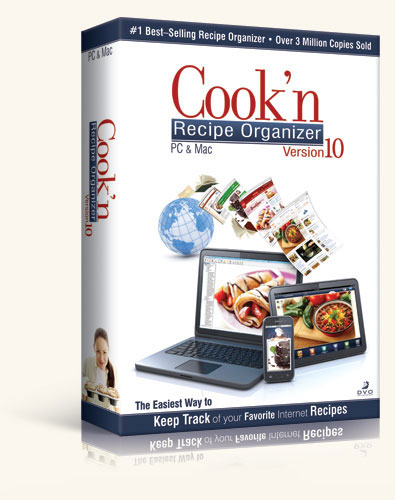 Will this program work on my computer?
Most likely it will! Here is a list of system requirements for both the PC and Mac:


PC SYSTEM REQUIREMENTS

Windows 8/7/Vista/XP
1GIG RAM
300MB Hard disk space
CD-ROM drive
MAC SYSTEM REQUIREMENTS

Intel Processor
OSX v10.6 or higher
1GB RAM
CD-ROM drive
300MB Hard disk space
Can I use Cook'n on my mobile device or tablet?
Can I scan recipes into the program?
Cook'n gives you the ability to easily insert scanned images as recipe pictures. Even though, by using scanned recipes, you wouldn't be able to take advantage of all of the Cook'n features (nutritional analysis, shopping list, etc.) many people chose to go this route to organize their recipes within one central database.
Do you have a Canadian or international version of Cook'n?
No, however, a number of international customers have found Cook'n suitable to their needs. Cook'n version 10 allows you to add any foods or brands not already included in the program. You can even add additional units of measurement!
Do you have a trial version?
Yes, click here to download a trial of Cook'n. The trial will give you full access to all the Cook'n features but will only allow you to enter or capture a limited amount of recipes.
Can I install Cook'n on all of my personal computers?
Yes! This is one of the cost-savings advantages of Cook'n. Other recipe software programs like Living Cookbook require you to purchase a license for each computer you use it on, which can get expensive very quickly. We simply ask that if installing the software on another computer that you keep it for use within your immediate family. This applies to both the download and CD.
How accurate is your nutritional analysis?
The analysis is very precise. It is based on mathematical formulas, not estimations. Cook'n takes the nutritional facts for each food item (which can be altered by the user if desired) and can determine the analysis for a specific recipe, menu plan, or shopping list. When computerizing seven different American Diabetes Association (ADA) cookbooks into the Cook'n format, ADA admitted that the nutritinal values that were derived from Cook'n were even more accurate than what they had published in their hard copy versions! Many professionals in the food services use our product because of its exactness in calculations.
How does the free eCookbook deal work?
After registering your version of Cook'n, you will receive access to a free download for any one of our 150+ eCookbook titles! A coupon code will be sent to your email within a week of your product registration. These titles contain hundreds to thousands of recipes, often with pictures, and sometimes with multiple cookbooks within the title (e.g., Cook'n with Gooseberry Patch has three cookbooks, each with different kinds of recipes). They download directly into Cook'n and can be used alongside of your personal recipes for menu planning, nutritional analysis, etc.
There are a number of recipe software options. Why Cook'n?
Those who use actively use Cook'n have overwhelmingly reported that the benefits have outweighed the costs of the program. We've been in business for nearly 20 years and have carefully designed the program to assist the needs of our customers, specifically to help save time, save money, and to assist families in eating healthier. But don't take it from us, take a look at what customers have told us about Cook'n over the years.
We've has partnered with major brands such as Taste of Home and Gooseberry Patch and Cook'n is one of the few programs that allows these popular cookbooks to be downloaded directly into the program. We publish monthly newsletters with fun, informative cooking articles, video demonstrations, and recipes and meal plans that you also download into Cook'n for free. We also have an expansive collection of recipes that can be downloaded from our site at no cost.
With Cook'n containing several products in one, free updates, access to superior technical support, and a 200% guarantee, you can be assured that we will do our best to help your needs to be met. We hope you'll consider our software and joining the Cook'n family!
Got a Different Question?
No problem. Send us a note and we'll get back to you ASAP.
---
From the day that my husband and I downloaded your program we have been entering our favorite recipes of 25 years of marriage. We love your program. Even our daughter has gotten into it. The thing that I am hoping for is to have them ready to make her and our 2 sons a disc of all of our favorite recipes. When I print out the 4x6 cards they are so wonderful and they look so good and it is so easy to organize them into one of those photo books that make my cooking experience efficient and fun. Thank you for this well thought through program.
You make cooking fun! And to think when I got married 25 years ago I hated cooking.
Mrs. Yockey
Cook'n Is Several Products in One!