Braised Romaine Lettuce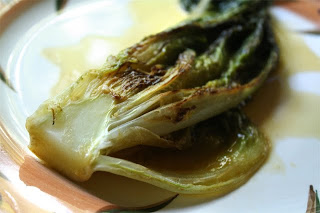 Serves:
4
Neighbors invited me to dinner and on the menu was sauteed Romaine lettuce. I was suspicious, but it was delicious. So easy to prepare and inexpensive, too.
Prep Time:
Cook Time:
Total Time:
Ingredients:
2 to 3

Romaine lettuce

hearts - you can use a large untrimmed head as well.

1/2

cup

vegetable

stock.

2

tablespoons

olive oil

or butter.

salt and

pepper

to taste.
Directions:
Slice romaine lettuce heart (or heads) in half, lengthwise. Trim away any brown leaf edges. Thinly slice off brown stem end (don't cut off too much or the romaine leaves will separate from head). Heat oil or butter in large pot or skillet over medium heat, and saute halved romaine cut-side down. Do not turn over until lightly browned, about 5 - 10 minutes. Then turn over, sauteed side up, and add stock. Bring to a low simmer, cover, and cook on low heat for about 15 minutes until tender. Add more stock, as needed, if it cooks away. Finish off by uncovering and reducing stock by half.

Source: http://the99centchef.blogspot.com/2010/04/braised-romaine-lettuce-hearts.html

Add Recipe to Cook'n
---