It's Back to Basics with Garlic and Potatoes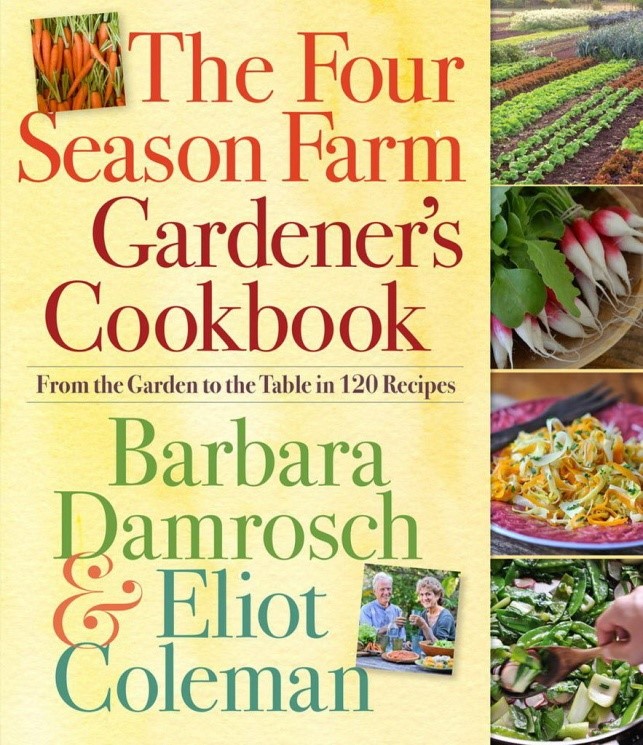 Upon flipping through my latest
Mother Earth News
magazine (Oct/Nov 2015) I found a great article by renowned gardener, author, and cook, Barbara Damrosch. She and her husband farm in Maine (Four Season Farm in Harborside) and have written not just gardening books, but one of my favorite cookbooks,
The Four Season Farm Cookbook
.
But back to her article. It is all about successfully growing garlic and potatoes-such a perfect flavor match. But besides that, what interested me was the scrumptious recipes she included in her how-to information. She leads into these recipes by saying "Potatoes and garlic, together or separately, are pillars of the kitchen. Of the major carbohydrate crops of the world-wheat, rice, corn, and potato-the homely spud is the easiest for a home gardener to grow in a meaningful amount. And for adding the flavor to daily fare, earthy and pungent garlic is almost as essential as salt." Don't you agree?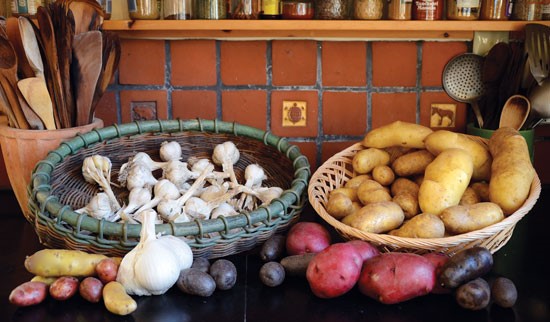 I love pairing garlic and potatoes. A common favorite, Garlic Mashed Potatoes, is our favorite side dish in the winter. But Damrosch gets way more interesting than that with her garlic and potato combos.
For instance, how about a delicious potato soup? Picture a crisp autumn day where you sit down to a bowl of this after raking leaves or toting in firewood. Her recipe takes a tried-and-true potato soup or chowder recipe to a new health level by adding a leafy cooking green, such as kale, turnip greens, or Swiss chard.
And adding any type of sausage provides a hearty meat element. She recommends the deep, slightly spicy flavor of kielbasa, however. But even if you omit the meat altogether, this will still be a sturdy, fortifying dish. Take a look: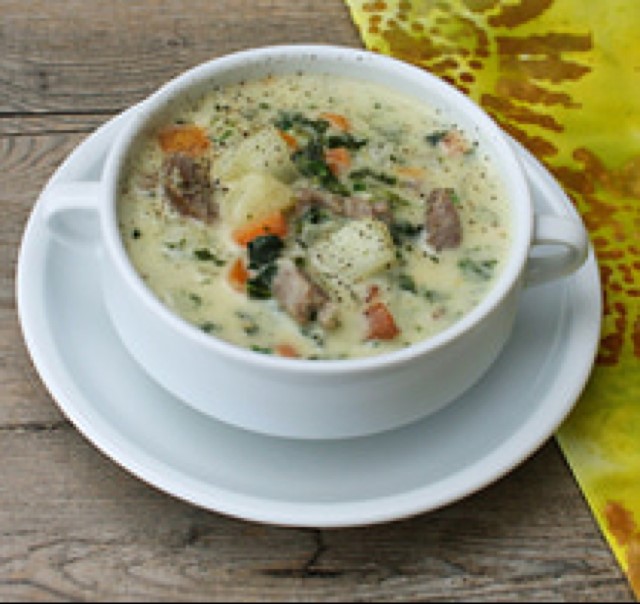 HEARTY POTATO & KALE SOUP
(serves 4)
½ pound kielbasa sausage
2 tablespoons olive oil
2 cups chopped leeks (about 4 medium leeks)
½ teaspoon salt, or to taste
8 medium kale leaves
2 pounds red-skinned potatoes, cut into cubes (or any potato you have on hand)
2 cloves garlic, peeled and grated or pressed
½ teaspoon minced fresh thyme
2 bay leaves
2 tablespoons chopped fresh sage
Freshly ground black pepper
½ cup heavy cream
Cut the kielbasa into rounds ½-inch thick. Pour the olive oil into a medium skillet and fry the rounds on both sides to brown them, taking care not to burn them, over medium heat. Leave the fat in the skillet and transfer the sausage to a Dutch oven or heavy casserole. Trim and discard the leeks' green tops and split the white shanks lengthwise, then rinse to remove all traces of soil. Chop into 1-inch pieces and add to the skillet along with salt. Cover and cook over low heat, stirring often and checking to make sure the leeks don't burn or stick to the pan; add a little water if needed. After about 10 minutes, add 2 tablespoons of water, stir, and add the leeks to the sausage, scraping the skillet with a spatula to get all the tasty brown bits.
Strip the kale leaves from the tough stems and ribs, and then chop the leaves. Add them to the sausage and leeks along with the potatoes, garlic, thyme, bay leaves, sage, pepper, and 3 cups of water. Cover and simmer until the potatoes are tender and have absorbed the various flavors-about 30 minutes. Stir in the cream, and taste for salt and pepper. Serve piping hot.
Or here's another for instance. How about skordalia (aka Greek Potato Dip)? I'd never heard of this, but when I mentioned it to my part-Greek son-in-law, he knew just what I was talking about. He said his grandmother made it often and everyone really loved it.
Traditionally, skordalia is served at the start of a meal. It's sometimes a sauce, sometimes a dip. This traditional potato-based dish uses a yellow-fleshed potato, though whatever potatoes you have on hand will work. But, says Damrosch, "Garlic is a must." She says she serves as a thick puree into which you can dip crackers or triangles of pita bread (that have been brushed with olive oil and lightly toasted until crisp). It's even better, she says, with raw vegetables as dippers.
SKORDALIA
(serves 6)
3 medium baking potatoes (about 1 pound total)
3 cloves garlic, peeled
½ cup plus 2 tablespoons extra virgin olive oil
Juice of ½ lemon
½ teaspoon salt, or to taste
Freshly ground black pepper
Sweet paprika, for garnish
Peel potatoes, cut into large chunks, and simmer in water until tender. Drain and put through a ricer or food mill. They can also be mashed with a potato masher, but don't use a blender or food processor, which can turn potatoes gummy. Grate or press the garlic and add to the potatoes.
Gradually pour in ½ cup of olive oil, stirring vigorously. Stir in the lemon juice, salt, and a generous grind of pepper, then taste. The amount of any ingredient can be tweaked to your palate.
Serve the mixture in a bowl, or mounded on a plate. Drizzle with the remaining olive oil and sprinkle with paprika. It's fine at room temperature, but not chilled.
And one final for instance on pairing garlic and potatoes: How about egg and potato "toasts"? There's nothing wrong with poached eggs on toast, but Damrosch asks "Why not try eggs atop a vegetable?" Why not indeed. She uses halved potatoes, baking them whole first, then cutting them in half and pressing them flat, and finally frying them in butter until crisp. She leaves the skins on because they're full of vitamins and because they hold the potatoes together.
You can make this a complete meal by serving steamed spinach, kale, chard, or winter squash on the side. Finish with fruit or a pumpkin dessert and everyone will applaud your efforts to get back to basics with garlic and potatoes!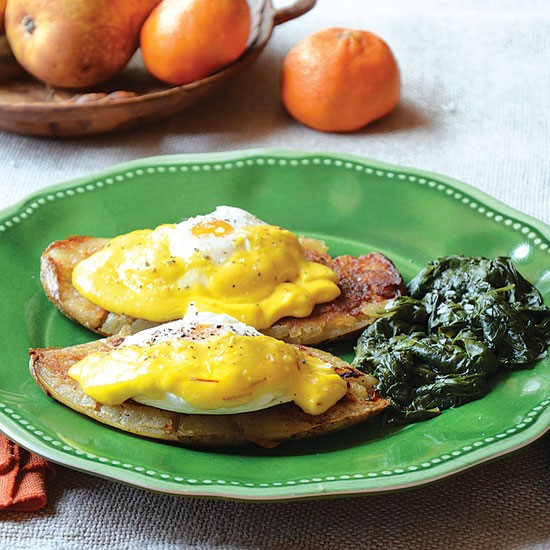 EGG AND POTATO 'TOASTS'
(serves 2)
4 large baking potatoes
4 tablespoons butter
1½ cups heavy cream
2 cloves garlic, peeled and grated or pressed
Pinch of saffron
1 tablespoon lemon juice
8 large eggs
Salt and pepper to taste
Preheat oven to 350°F. Bake the potatoes until soft inside (up to 1½ hours). When potatoes have cooled slightly, cut in half lengthwise and place on a cutting board, skin-side up. Pound lightly with a mallet until they are about ¼-inch thick. Melt butter in a large skillet and fry the potato halves skin-side-down over medium heat for a few minutes, then gently flip with a large spatula and fry on the other side until crisp and golden brown. Do this in two batches if needed. Turn off the oven and set the potatoes aside on warm plates or a baking sheet in the still-warm oven.
Rinse and wipe out the skillet. Pour in the cream, then add the garlic and saffron. Reduce the cream by simmering over medium heat, stirring frequently, until it is the consistency of thick hollandaise sauce, about 15 minutes. Add the lemon juice and stir it in thoroughly. Remove the sauce from the heat and keep warm.
Poach the eggs in an egg poacher or in a small, 2-inch-deep skillet, no more than four eggs at a time. If using a skillet, add a teaspoon of white vinegar to the water to keep the egg whites compact. Break the eggs into the water and simmer gently. Set two potato halves on each person's plate, and when the egg whites are no longer runny, lift each egg with a slotted spoon to let the water drain, and place it on a potato half. (Don't worry if eggs overcook; they good that way, too.) Generously spoon the sauce over the eggs, sprinkle with salt and pepper, and serve immediately.
Add Recipe to Cook'n
NOTE: If anyone at your table doesn't care for poached eggs, scrambled is just as delicious!
Sources:
www.amazon.com
www.motherearthnews.com
www.bigoven.com
www.mygourmetconnection.com
www.motherearthnews.com

Alice Osborne
Weekly Newsletter Contributor since 2006
Email the author! alice@dvo.com