Disneyland Blue Bayou Monte Cristo Sandwich
Servings: 8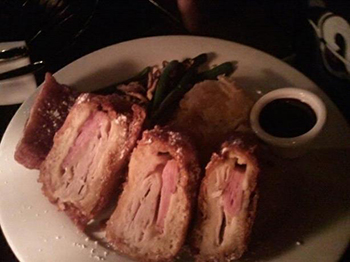 ---
Author: Cookgirl
Prep time:
Cook time:
Calories per serving:
658
Ingredients:
12 ounces

red

currant jelly
1 tablespoon
water
1 tablespoon

half-and-half
1 (12-ounce) jar

red

currant jelly
1 (15-ounce) can
peaches
2/3 cup
water
1

small

egg
1/2 teaspoon
salt
1/8 teaspoon
white pepper
2/3 cup

all-purpose

flour
1 3/4 teaspoons
baking powder
8 slices
white bread
4 slices

roasted cooked

turkeys

(1 ounce each sandwich)
4 slices

tillamook swiss

cheese

(1 ounce each sandwich)
4 slices

smoked

ham

(1 ounce each sandwich)
vegetable oil

, for frying
confectioners'

sugar

, for dusting
fruit, compote
currant jelly,

sauce
Directions:
CURRANT JELLY SAUCE: Combine jelly, water and half and half in blender and mix until smooth. Makes about 3/4 cup.
FRUIT COMPOTE: Combine your favorite fresh and canned fruits and chill well. Yield is about 1/2 cup per person.
BATTER: Place water, egg, salt, and pepper in a bowl and using an electric mixer, mix well at low speed. Add flour and baking powder and mix until batter is smooth. Chill.
SANDWICHES: Make 4 sandwiches, putting cheese between ham and turkey. Cut into fourths and put a toothpick through each quarter. Heat about 6" of oil to 340 degrees in a fryer. Dip sandwiches in batter to cover all surfaces. Deep fry sandwiches until golden brown, turning as needed. An alternate way of frying it to put approximately 1/4" oil in a large pan and fry the sandwiches on both sides until crispy and brown.
Remove from oil and take out toothpicks. Drain on paper towel to remove excess oil. Sprinkle sandwiches with confectioners' sugar. Serve with fruit compote and currant jelly sauce.

Recipe formatted with the Cook'n Recipe Software from DVO Enterprises.
---
Source:
http://www.food.com/recipe/disneylands-blue-bayou-monte-cristo-sandwich-140973/li>