Summertime Means Outdoor Movies
and Jazzy Popcorns!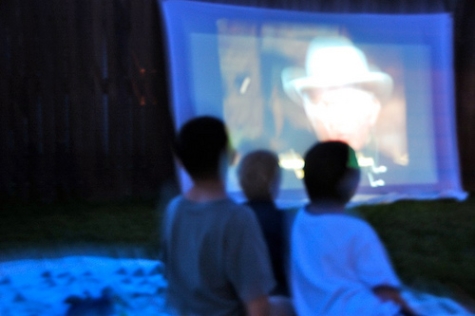 We have friends who love to hang a large sheet between two trees and invite the neighborhood over for an outdoor movie night. That's fun in itself, but what makes this tradition even better is the array of unusual and delicious popcorns they serve up alongside the movie.
As time has gone on, this great event has morphed to include the "Popcorn Challenge." The neighbors have taken on the challenge of contributing their own jazzy popcorn treat. Some of the best popcorns I've ever had have been tested at these gatherings.
Take for instance Lemon Parmesan Cheese Popcorn. Sprinkling lemon pepper and grated Parmesan cheese over popcorn is simply delicious. I never would have thought of this. Here's the recipe our clever neighbor used:
---
Lemon-Parm Popcorn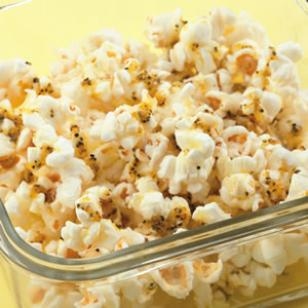 Who knew lemon pepper and Parmesan cheese would make such a delicious topping to popcorn?
Serving size:

4


Calories per serving:

110




Ingredients:
2 tablespoons

extra virgin

olive oil
3 cups

air-popped

popcorn
1/2 teaspoon
lemon pepper seasoning
2 tablespoons

freshly grated

Parmesan cheese
pinch
salt
Directions:
Toss popcorn in olive oil. Sprinkle with lemon pepper, cheese, and salt.

Recipe formatted with the Cook'n Recipe Software from DVO Enterprises.
---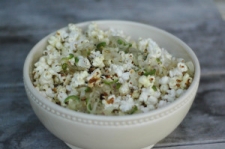 Jan took her cue from the idea of adding lemon pepper and Parmesan cheese and came up with even more flavor for popcorn. She created East Indian Popcorn: popcorn flavored with thinly sliced shallots, thinly sliced jalapeño pepper, a little mild curry powder, and a dash of garlic. We were surprised at how good this was.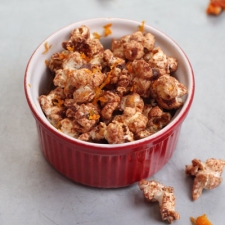 So that experiment led to Barbara getting exotic as well: Citrusy Chile-Chocolate Popcorn! She added chili cumin and orange zest to melted chocolate chips. Whoa baby, what a kick--but good. Who knew?
One of my personal favorites was an ultra-rich, ultra chewy popcorn, Creamy Coconut Caramel Corn. My big complaint with caramel corns is how skimpy they are on the caramel. Not this one. Amazing is the word.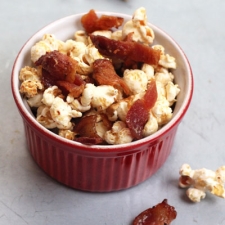 But I'll never forget the night Karen showed up with her man-pleasin' Maple Bacon Popcorn. She should've had two wheel barrels full of the stuff: the men in the audience were going crazy over this. It was a John Wayne western we were watching--fitting, don't you think?
Can you think of an unusual topping for your popcorn? Today the sky seems to be the limit, and it's not that hard to turn out a jazzy popcorn. Just a little courage to try an experiment and a good movie to pair it with! Let us know what wonderful combination you discover.
---
---
Sources:
www.vintagechica.com
www.eatingwell.com
www.sacredappetite.com
www.saveur.com
---


Alice Osborne
Weekly Newsletter Contributer since 2006