Beautiful Basil Has SO Many Uses!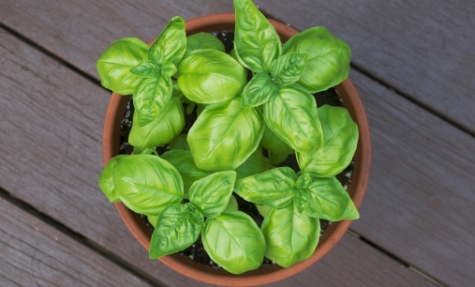 Fresh produce season is here and if you're a gardener, then you just might have your first bushy crop of beautiful basil. Do you have ideas on how to use it, besides the typical tomato and basil bruschetta or pesto sauce, I mean?
I was pondering this question when one of my favorite sites, Care2, popped up some gerat ways to use this delicious herb. For instance, try using it in salsa. Care2 shares a recipe they got from Tasty Kitchen:
---
Basil Salsa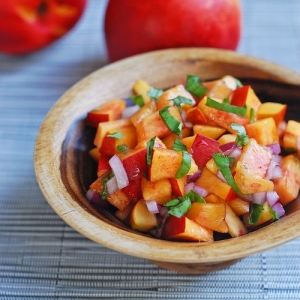 Fresh basil and peaches create an unusual and delicious twist to an old favorite.
Serving size:

4


Calories per serving:

39




Ingredients:
4 ears

grilled

corn

, kernels
2

large

peaches

peeled and chopped
2

large

tomatoes

, chopped
1/4

red onion

, chopped
6

large

basil

leaves, roughly chopped
fresh

lemon juice

to taste
Directions:
In a large bowl, toss all ingredients to combine well. Season with salt, pepper and lemon taste and continue tossing. Serve right away, or, for best results, let sit for 3-4 hours.

Recipe formatted with the Cook'n Recipe Software from DVO Enterprises.
---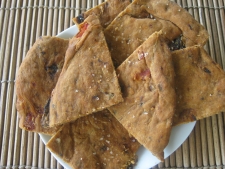 Another good use for fresh basil is to finely mince it and add it to a homemade cracker recipe. I love adding fresh basil to my homemade tomato soup as well. And I have neighbors that are expert bread makers who top their ciabatta bread with fresh basil and chopped tomato prior to baking.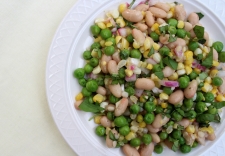 Basil is also divine when mixed into bean pots--white beans, fresh peas, onions, and whole kernel corn blend especially well with fresh basil.
And I often use plenty of fresh basil when I make my calzone filling. Since it's too hot to bake in the summer, I'll cook a large batch of this filling early in the morning and freeze it to use in the cooler months. And freezing fresh basil by itself works well also. I mince mine and freeze it in small zippered freezer bags.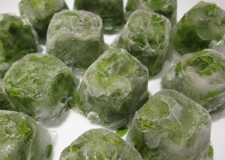 And speaking of freezing, I will add 1/2 teaspoon of minced basil to each compartment of my ice cube trays and then fill them with water and freeze the tray. Basil cubes are not only tasty in cucumber water, they're pretty as well.
And still talking about freezing, how about using fresh basil in popsicles? Oh yes, it's true, and so delicious. Let's close with the recipe, and meanwhile, here's to a bountiful harvest of beautiful basil--it has SO many uses!
---
Strawberry-Basil Ice Pops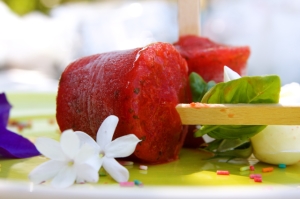 Blending strawberries and basil together to create an iced pop is fun and tasty!
Yield:
4 pops
Calories per serving:

42




Ingredients:
1 cup

washing, hulled, chopped

strawberries
8

large

basil

leaves
1 cup
ice
2 tablespoons
honey
Directions:
Pulse ice, strawberries and basil in a blender, until the ice has been broken into small pieces. Add honey and 1/2 cup of cold water, and continue pulsing until the mixture is smooth. Transfer mixture to popsicle molds, ice cube trays, or whatever else you're using. Add popsicle sticks to the mold. Freeze for just about 2 hours before serving.

Recipe formatted with the Cook'n Recipe Software from DVO Enterprises.
---
Sources:
www.apronandsneakers.com
www.pinchoffun.com
www.poweredbybeans.com
www.janetching.wordpress.com
www.savoringeverybite.com
---


Alice Osborne
Weekly Newsletter Contributer since 2006