Sour Cream Deserves a Crown!
Holy cow, where did MAY go? And now here comes June, and along with it, National Dairy Month. Growing up in Washington State, I was always envious of the gals that were crowned as our local Dairy Queens and Princesses--what must it have been like, having access to all that ice cream? But that's another story...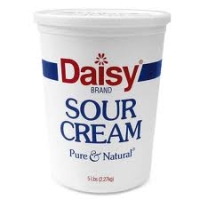 Anyway, I do love dairy products--butter and cream especially. But there's another dairy royalty we should talk about: SOUR cream. There are so many things you can do with this versatile food that it deserves a crown. So in honor of June and sour cream in particular, read on:
---

Enjoy berries coated in sour cream and dipped in brown sugar.

---

Combine a jar of picante sauce and a container of sour cream for a zesty dip.

---

Blend with bottled salad dressing to make a richer, creamier topping.

---

Add 1 cup of sour cream (as part of the liquid ingredients) to cake batters to produce a moist, fluffy cake.

---

Mix sour cream with a packet of ranch dressing mix to make a great tasting dip for chips and vegetables.

---

Keep your guacamole dish looking tasty by spreading a thick layer of sour cream over it and covering with plastic wrap. When ready to serve, mix sour cream into the guacamole for a rich, smooth dip. Daisy Sour Cream will help keep air out and help keep the dip from turning brown.

---

Try substituting sour cream in place of mayonnaise, yogurt, buttermilk, or cream cheese in deviled eggs, casseroles and desserts.

---

Jazz up grilled chicken or pork with a sour cream sauce using Worcestershire sauce, Parmesan cheese, and sour cream.

---

For a quick, homemade Russian dressing, combine 1/2 cup of sour cream 1/2 cup of mayonnaise, 1 cup of ketchup, crushed garlic, and hot sauce for flavoring. Spoon over mixed greens.

---

To make sour cream a thinner, pourable consistency, give it a good stir. The more you stir, the thinner it will become.

---

ALICE'S idea: Make "Sloppy Chicken" by slow cooking shredded chicken breasts in a jar of salsa (hotness to your taste). When chicken is cooked, mix sour cream with cream cheese and add to chicken-salsa mixture. Ladle this over cooked rice. Divine!
---
Sources:
www.gcdailyworld.com
www.daisybrand.com
www.yummly.com
www.tasteofhome.com
www.kraftrecipes.com
www.52kitchenadventures.com
www.shape.com
www.christineiscooking.com
www.kalynskitchen.com
www.katiescucina.com
---


Alice Osborne
Weekly Newsletter Contributer since 2006