Delicious and Surprising Uses for
Broccoli Stalks!
I was skimming through some foodie blogs the other day (there are literally hundreds and hundreds of them) and I found a pretty neat site: TasteSpotting. What caught my eye in particular was an interesting post on something you can do with broccoli stalks.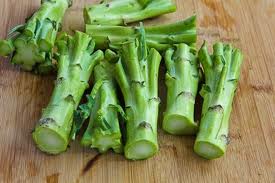 The author, Sarah, mentions that unfortunately many folks believe that we "waste" space in our diets by eating the stalks, thinking that even though they couldn't possibly be bad for you, they are kind of like celery and iceberg lettuce: they aren't actually good for you. The belief is they just don't have any nutritional value. The nutritional data refutes this idea, though.
The amount of most B vitamins, minerals, and fiber are very similar in the florets and the stalks. Florets do have more beta-carotene and a little more chlorophyll, but other than that, stalks hold their own, nutrition-wise.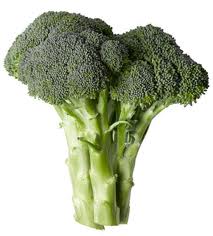 There's also a smidge of difference when it comes to cooking, too: The stalks take a little longer to steam than the florets, so it's best to begin cooking them first and after about two minutes add the florets to the steamer.
Sarah went on to say that unlike most people, she likes the tough exterior and superior crunch of broccoli stems, so she never throws them away. She experiments with the stalks and she discovered that when combining them with some antioxidant-heavy garlic and toasted walnuts, she can make a good pesto. Who knew? I'll be trying this soon, and in case you'd like to as well, here's her recipe:
---
Broccoli & Walnut Pesto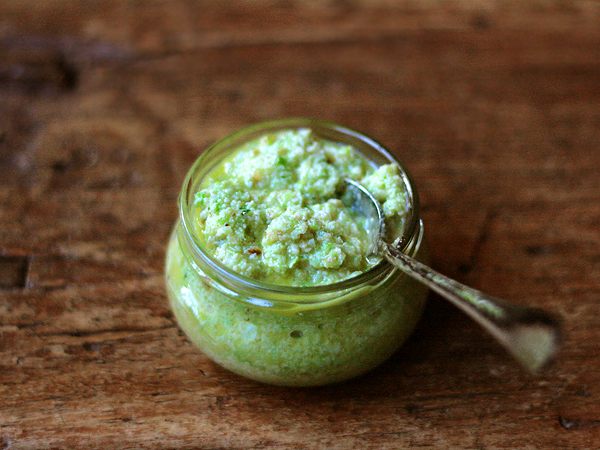 Yield:
3 cups
Serving size:

6


Calories per serving:

151




Ingredients:
1 clove
garlic
2-3

cut into about 1/2-inch pieces
1/2 cup

toasted

walnuts
fresh

lemon juice

(from 1/2 lemon, about 2 tablespoons)
1/4 cup

extra virgin

olive oil
salt

to taste
pepper

to taste
Directions:
Pulse garlic in food processor until chopped. You may have to stop the food processor and push the little garlic bits down the sides.
Add broccoli stems and lemon juice and pulse until chopped. Add toasted walnuts and pulse again until chopped. With the food processor running, very slowly drizzle in olive oil until everything in the processor is the consistency of a pesto. You may need more or less of the olive oil depending on how many/how big your broccoli stems are.
Season with 1 teaspoon salt and a few hard turns on a fresh black pepper mill. Adjust according to your taste. Remember that this is a pesto and should be strong and salty, since you will be mixing into pasta, grains, etc. We "thinned out the pesto with a tiny bit more olive oil and just straight dipped lightly steamed vegetables in it, including lightly steamed broccoli florets.
NOTE: One TasteSpotting commented that when he followed this recipe, it tasted slightly acidic, so he added another clove of garlic and 1/4 cup of deluxe mixed nuts (minus the peanuts), which took care of the issue.

Recipe formatted with the Cook'n Recipe Software from DVO Enterprises.
---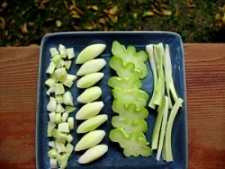 And on another really informative and interesting site, Whatcom Locavore, I found 19 MORE uses for broccoli stalks (the author actually had 20, but one of the 20 was making pesto out of them).
The author, Nancy, prefaced her suggestions with this advice: "The thickest part of the stalks may need the fibrous outer layer peeled off. It can be tough to chew. I use a vegetable peeler to make a quick job of it. If you slice across the stem to make thin 'coins,' you don't need to peel at all. Thin slicing makes the fibers so short that they are not tough and chewy--a very good thing." Now, 20 great things to do with broccoli stalks (I've included her pesto idea):
---
Simplest of all is to peel off the thin fibrous outer stem and cut the center into sticks to eat raw (like carrot sticks).
Cut on the diagonal to make long oval "coins," and serve with your favorite dip.
Peel the stems and make long shavings using a vegetable peeler. Add carrot shavings, and maybe some fresh peas and steam. Drizzle with melted butter and add minced fresh lemon balm, basil, sage or tarragon.
Peel, dice, and add to pasta salad. [Alice talking: I peel and chop them up and add them to my lasagna filling.]
Slice into coins and use as part of your pizza toppings.
When stems are large, peel first then cut into chunks, brush with oil, and grill on skewers.
Peel stems, slice or dice, and add to stir fry, frittata or quiche.
Peel, dice, and mix with mushrooms, carrots, onions and other veggies as a wrap filling. If you like, saute in butter first.
Peel and cut into chunks. Sprinkle with apple cider vinegar, melted butter, and add chopped garlic. Roast in the oven at 400 degrees F. for about 40 minutes or until softened and browned. Blend with hazelnut oil and use as pesto.
Peel stalks, cut into chunks and add bacon, cheese, and dried cherries for an unusual slaw salad. Use your favorite slaw dressing.
For a quick soup, saute broccoli stem "coins" with onions and garlic (6-7 minutes), add 2-4 cups stock, salt and pepper, and blend.
For quick pickled broccoli, heat the brine from a jar of pickles. Pour over thinly sliced broccoli stalks, and refrigerate a few hours or overnight.
For a dish that looks elegant, peel the stems and cut into two inch pieces. Carve each piece into a sort of football shape, and saute in butter.

For 14 to 16, here's an idea Nancy found on Kir's Simple Foodie & Soiree Blog (blog.simplesoirees.com) that's really three ideas in one. First saute a quarter cup of chopped onion and two minced garlic cloves in butter. Add 2-3 cups of peeled diced broccoli stems and 3-4 cups of soup stock. Boil, reduce heat, and simmer for about an hour. When broccoli is soft enough, blend the soup with a blender (stick blender is easiest). Be sure to leave the center cap open if you use a regular blender to vent the hot steam. Now you have a broccoli soup base. You can freeze it for use later, or continue with one of the following options:

Broccoli Soup with Herbs: Make a roux by melting 2 Tbsp butter in a small saucepan and slowly adding 2-3 Tbsp flour, stirring constantly. Mix the roux into the warm soup base and simmer until the soup has thickened to your liking. Add salt, dried haba&ntildeero pepper powder, and fresh thyme to taste.
Broccoli Soup with Cheddar: Shred about 1 cup of local cheddar cheese and slowly added this to the warm soup base. Add salt and fresh thyme or tarragon to taste. Serve with a crusty bread and sliced cheddar for a warm rainy day meal.
Broccoli and Sweet Potato Soup: Peel and cook a sweet potato (either steam or microwave) until soft. Hand blend into 3-4 cups of the soup base. Season with salt and a tiny pinch of dried haba&ntildeero pepper powder to taste. Delicious!
Peel the broccoli stems, steam well (about 10 minutes), and mash with sauteed chard, garlic, salt and haba&ntildeero pepper.
Peel, grate, and add the stems to potato pancakes or latkes.
Saute peeled and diced stems with butter, sprinkle with finely grated cheese, and brown in oven under broiler (just a few minutes).
Peel and dice broccoli stems into small cubes. Dehydrate, using an oven or dehydrator set to 150 degrees F. Grind the dried cubes into powder with a food processor. Store the powder in an airtight container. You might want to freeze it to prevent any remaining moisture from spoiling it. Use the powder to make a quick cream of broccoli soup: mix dried onions and dried broccoli powder with some boiling soup stock to make the desired consistency; let sit about 5 minutes; add a little heavy cream, and top with grated cheddar. Add salt and a tiny pinch of dried haba&ntildeero pepper powder.
---
Sources:
www.kalynskitchen.com
www.bonapetit.com
www.whatcomlocavore.com
www.babyfooddoctor.com
www.thepurebar.com
www.timesfreepress.com
www.theperfectpantry.com
www.talkhealthytome.com
www.perezhilton.com
www.simplyselfsufficiency.blogspot.com
---


Alice Osborne
Weekly Newsletter Contributer since 2006