Wouldn't you say a lot of things taste so much better cooked over a campfire? And besides the taste, campfire cooking is just fun!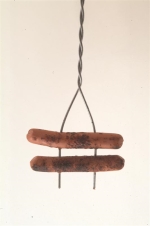 Well, speaking of camp cooking, we've all seen (and probably own) those handy dandy skewers for outdoor weenie roasts. Here's one found in the Lehman's catalog for $5.95. Heavy-duty, galvanized steel shaft and two-pronged roaster, it has an extra-long wooden handle and is 45-inches long overall. If you buy 4 or more they are $5 each. Simple, basic, does the job; we use them all the time and we're glad we have them.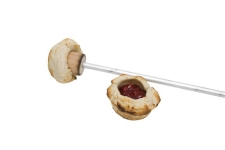 But then there's another little tool that is what I call a "MUST have" for camping: the campfire biscuit roaster. This gem is also found in the Lehman's catalog and sells for $10.95. The catalog says: "Make toasty, delicious biscuits while camping or in your own backyard. (Some of our employees even roast them over a gas stove or in front of the fireplace.)

"Use refrigerated biscuit dough or your favorite biscuit recipe. Wrap dough around wooden end of roaster and cook over a fire for several minutes until golden brown. Enjoy with soups and stews, or fill with jam, fruit pie filling, ham and cheese, sloppy joe meat, even chili for a quick, satisfying snack or meal."
These are made in the USA and have a hardwood maple head, ash handle, aluminum shaft, and are 34 1/2-inches long. If you buy 3 or more they are $10 each. It takes a little experimenting to learn how to use them--you want a slow cook, so it's best to wait until your fire's flames have died down and you have plenty of hot coals to roast over. But what a cool idea: a biscuit with a cup for holding fillings!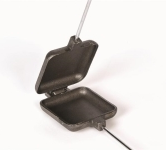 And speaking of food with fillings, have you ever used a pie iron? This MUST have makes fruit-filled pies, right over the campfire! And the process is simple: Just butter two slices of bread and place them in the pie iron, buttered side out. Add canned pie filling (homemade, if you have it!), close the iron tightly and set in hot coals until outsides of the bread are crisp and brown, turning occasionally. You may want to try filling the pie with peanut butter and jelly, cheese or pizza ingredients instead. Your imagination is the only limit on this (I'm thinking Sloppy Joes might work).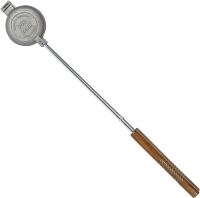 Or you can do the same thing with a round pie iron. The square pie iron is 4x4-inches and this round iron is 4-inches in diameter. They both sell for $17.95 in the Lehman's catalog.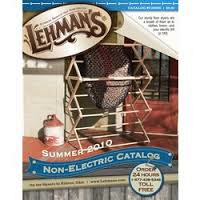 I didn't mean for this to be an infomercial for the Lehman's catalog--I just happened to have it laying on my desk today. I'm sure you'll find these cool camping accessories at your local outdoors store, but if not, Lehman's is a resource. Meanwhile, with the warm weather finally at our door, let's plan a few campouts this summer, and here's to some awesome meals using these camping MUST haves!
---
Sources:
www.lehmans.com
www.backwoodssolar.com
---


Alice Osborne
Weekly Newsletter Contributer since 2006