Veggie Steamers - Is SIMPLE Still the Best?
We know this - the more fresh veggies we eat, the better for our health. But while raw is always good, sometimes you just want to bite into a hot, steamed plate of something, don't you? This is when a good steamer basket comes in handy.
A steamer basket's sole purpose is simple: sit above simmering water in a pot. So are all the updated models boasting new innovative features really necessary? Could these fancy flourishes be superfluous? Count on America's Test Kitchen to come up with the answer. They gathered six baskets to test: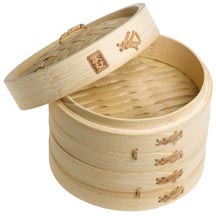 Joyce Chen 3-Piece Steamer Set: Joyce Chen's slogan "eastern cookware for the western kitchen," reflects her focus on providing high-quality, versatile tools and products that have Asian flair, but can be used in a western kitchen. This 12" bamboo steamer has two tiers to enable you to steam twice as much at the same time as a traditional steamer. On the lower level where the steam is more direct place your heavier vegetables like carrots, potatoes, or cauliflower. On the upper level place items that cook quicker like broccoli, zucchini, and asparagus. This models sells for $21 online.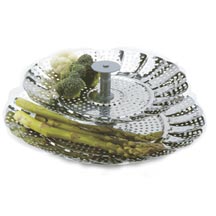 Norpro Deluxe Double Steamer: Use as a tier steamer or push button to release and use as two separate steamers. Small top steamer expands from 4.75" (12cm) to 8" (20cm) while the larger bottom steamer expands from 6" (15cm) to 10" (25.5cm). Hand washing is recommended. You can find this online for around $19.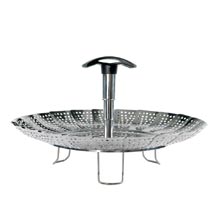 OXO Good Grips Pop-Up Steamer: Freshly steamed vegetables are a snap with the OXO Good Grips Pop-Up Steamer. A simple press on the handle pops it up for added length, making it easy and safe to insert and remove the Steamer. Press the handle again to lock it down for compact storage. For extra reach, a fork can be inserted into the handle. The feet on the Steamer fold for storage and open up to 1 3/4" so plenty of water can be used for steaming. Simply unscrew the handle when the entire basket is needed for steaming large items like fish fillets. It ranges from $13 to $25, depending on the model and where you shop (online).
Progressive Bamboo 3-Piece Steamer Basket: Natural flavors and nutrients are retained by steaming vegetables in bamboo steamer baskets. While these baskets are ideal for steaming vegetables and seafood, they can also be used to serve piece pastries and bread. About 10.5" diameter, and sells for around $15.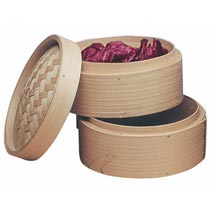 Progressive Easy Reach Steamer Basket: Uniquely designed steamer post extends from 3 to 6.5 tall. The longer post allows food to be piled high and still keep knob within easy reach. 1.5 legs keep foods high above boiling water. Stainless steel and nylon. One reviewer said that after one use, one of the legs fell off and because it couldn't be fixed, he had to toss it and buy another product. All other reviews have been very positive about this - folks loved being able to pile the veggies HIGH. It can be found online for about $7.
Trudeau 0998004 Silicone Vegetable Steamer with Handles: The steamer is useful for its ability to bend and shape to conform to a wide variety of pots and pans. This flexible steamer features interlocking handles for ease of handling and convenient storage. The silicone vegetable steamer is heat resistant up to 482 degrees F. The tripod of silicone feet are sturdy and scratch resistant. The steamer is both dishwasher and microwave safe. You can also find this online, for about $11.
While all these steamers had their good points, there were a few drawbacks as well. For instance, silicone doesn't conduct heat all that well. The OXO model didn't justify its price, nor did the Norpro double-decker.
It was the $7 Progressive Easy Reach Steamer Basket that was the popular favorite. So yes, simple is still the best. Its price as well as the extended handle won folks over. But then bamboo steamers have been around (and used around the world) for generations for good reason as well. So ultimately, it's back to personal choice.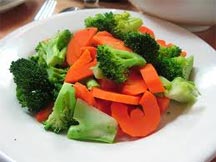 The bottom line, though? Good equipment makes for a better finished product, often. And when it comes to eating our health-protecting veggies, the more we eat the better - so the finished product needs to be terrific! A good steamer is just the ticket for this.