"Fast Food" Know-How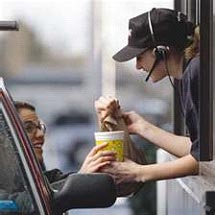 My hubby and I will be taking a trip the end of the month to attend a conference. Since it is only about 5 hours away, we will be driving. Before leaving, we will eat breakfast at home, but eating on the road, presents some challenges.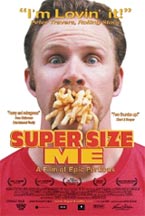 As everyone knows, driving thru a fast-food restaurant does not present one with the healthiest of choices. Did any of you happen to see the documentary "Super Size Me"? Written, directed and acted by Morgan Spurlock, this little cult film followed Morgan as he ate 3 meals a day at McDonalds. Every time he was asked if he wanted to "super size" his meal, Morgan had to say yes. What ensued is a chronicle of what happened to his health and well-being after only a week and continued for a month. Initially funny, (his girl-friend is vegetarian), then down-right scary, this documentary picks on the health disadvantages of a steady diet at McDonalds. However, the results probably would have been the same no matter what fast-food restaurant Morgan chose for his experiment.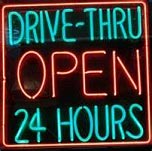 While an occasional burger or taco "on the run" isn't going to hurt us, a steady diet of fast-food is another issue. So, when traveling, what may one do?
• Eat small. When on the road, drive thru a place where one or two items will fill you up until dinner. Then, at dinner, eat healthy. Order a side salad, fruit dish, or ask for more vegetables instead of the rice or potatoes. If you are going to "super size" anything, make it green!
• Usually Mexican food drive-thru restaurants are healthier than some others. Order the chicken taco, minus the cheese, or the rice and bean burrito. Many fast-food restaurants now offer salads with low-calorie dressings. Great option!
• All fast-food establishments have a nutritional guide for all of their food and drinks. You will have to ask for it, and the person at the counter may look a little sheepish when he/she gives it to you, but this handy guide will be quite helpful.
• Skip the drive-thru altogether. Buy a cooler at the dollar store, fill it with ice, and bring your own healthy sandwiches, green-drinks, salads and fruit snacks.
• Think of all the money you are saving!