Rice - From "Blah" to WOW!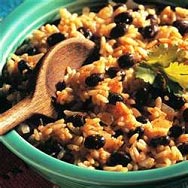 My family had a mini-reunion last week in California. Trying to feed 11 people when one is used to only cooking for 2 can be a bit challenging. One of the great staples of any meal for a mini-crowd is rice and we were no exception. However, I am not speaking of bland, "blah", white rice. We experimented with great Indian yellow rice, and nutty, brown rice. And, we added a lot of different ingredients to this side dish as well.
My sister had recently read an article on how to spruce up rice by adding different ingredients. The long-week-end we all spent together became an experiment in what we could add to rice. Here are some of the things we did, as well as some suggestions from the article my sister read.
• Butter and parmesan cheese
• Toasted sesame seeds
• Baby peas
• Cinnamon and brown sugar (like a great, hot, rice pudding!)
• Chopped broccoli, spinach or cilantro
• Sauteed garlic, mushrooms, peppers, and onions
• Toasted peanuts, almonds, cashews (we liked the cashews)
• Crumbled bacon
• Pesto sauce
• Scrambled eggs
• Pinto, black, or butter beans
• Soy sauce or Tahini
• Spiced artichokes
• Finely shredded carrots, zucchini, cucumber