Yummy Scones for Afternoon Tea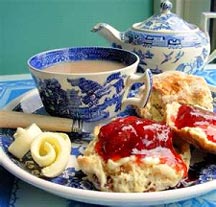 My husband and I were at a restaurant the other day when our waiter put down the requisite bread basket. Imagine our surprise when we lifted the napkin and found delicious warm scones instead of the usual bread slices. The waiter also put down a little pot of honey butter by each of our bread plates, smiled, and said "Enjoy!" As if we needed any excuse!
My love affair with scones began some time ago when I purchased a "Just Add Water" scone mix. I graduated to making them from scratch - every day - until I felt like I should just move to England. I say England, because scones are as British as the Magna Carta.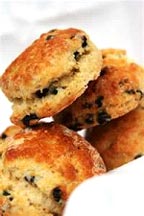 Scones, or "little bread", are attributed to the Duchess of Bedford sometime in the 1840's. It seems that the middle-class and aristocracy of England were having their supper anytime between 7PM and 8:30 PM. This caused a lot of tummy growling while people waited for servants to set the table with 57 pieces of china and silver. Anyway, the Duchess came up with what is now called "afternoon tea", as a way to have a light snack in the afternoon. Queen Victoria, a good friend to the Duchess, delighted in this custom, and the tradition of "afternoon tea", was born.
Besides the variety of teas served, scones with clotted cream, fresh fruits, and little sandwiches were served. Scones were particularly popular and were served plain, or filled with raisins, currants, cheese or dates.