When Life Gives You Lemons...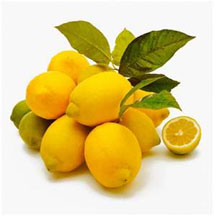 We've all heard the adage, "When life gives you lemons, make lemonade!" I have always loved the thought behind this saying. After all, who of us hasn't had to make lemonade out of life from time-to-time?
Of course we think of lemonade when we talk about lemons. But there is much more to this yellow fruit. Lemons have been around since before the 1st century AD. Christopher Columbus can be given the credit for helping to spread lemon seeds around the globe. It is said that he brought these seeds to Hispaniola, and the Spaniards took it from there. In the 1700's with seaman on sailing vessels getting sick from scurvy, lemons became a part of the food brought on board; end of scurvy.
Today, lemons are used in a variety of ways. In aromatherapy, the scent of lemons can enhance your mood. Sprinkle a little lemon essential oil on your pillow at night, and the fresh scent will dispel any boogey-man. Because of its low pH balance, lemon juice is a known antibacterial.
Around the home:
1/2 of a lemon dipped in salt or baking powder will clean copper
the juice of a lemon can deodorize closets, bathrooms, etc.
lemon juice can help remove grease, bleach stains and can be used as a disinfectant
lemon juice with a little baking soda will remove the stains from plastic food containers
use the lemon peel oil as a wood cleaner; also dissolves wax buildup, fingerprints and grime
Now, for the lemonade!
---
Honey Ginger Lemonade
1 cup freshly squeezed lemon juice
1/2 cup honey
1/4 cup peeled fresh ginger slices
7 sprigs fresh mint
2 cups purified water
4 cups ice cubes
1. Put the juice, honey, ginger, and 1 chopped sprig of the mint in a large pitcher and stir, pressing the mint and ginger to release flavor.
2. Add the water and stir until the honey dissolves, then add the ice.
3. Pour into six 10-ounce glasses and garnish each glass with a sprig of mint and a fancy straw.
Note: Children three years old and younger can become seriously ill from honey, so please don't give them a glass of this lemonade.
---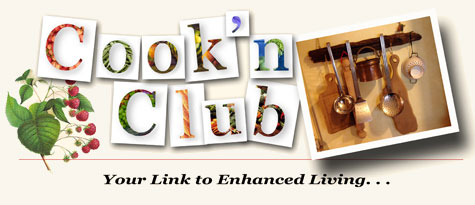 Contribute to the Cook'n Club!
DVO would love to publish your article, prose, photography and art as well as your cooking, kitchen and nutrition tips, tricks and secrets. Visit the Newsletter Submission / Win Win for All section in our Forum for more information and details.