One Day It Will Be Summer!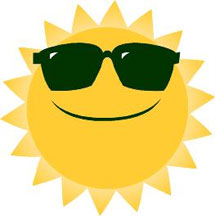 Being an eternal optimist, I just KNOW that all of this rainy, snowing-on-the-mountains weather will eventually turn into something resembling summer. I don't know about where you live, but here in the mid-west, we have had maybe 5 days of something that could be called, warm weather. Every time we think about taking the cover off of the bar-b-que, storm clouds gather and summer dreams are put on hold.
However, this hasn't stopped me from gathering some great recipes for summer pot-lucks. The first recipe is one for baked beans. I know that not everyone is a fan of these little guys, but that is probably because you are eating them out of a CAN! I just know that there will be converts to Bobby Flay's mouth-watering honey-rum recipe. For something that is not only healthy, but cool on a hot summer day, try the Broccoli Cole Slaw recipe that follows.
---
Bobby Flay's Honey-Rum Baked Black Beans
16 servings, about 1/2 cup each
Active Time: 45 minutes
Total Time: 3 hours (not including bean-soaking time)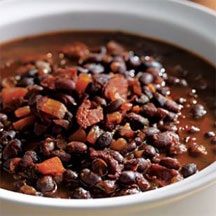 1 pound dried black beans (about 2 3/4 cups), picked over and soaked in cold water for 8 hours (or see Tip)
1 tablespoon canola oil
8 ounces dried chorizo (see note at bottom of recipe), cut into small dice (about 2 cups)
1 medium Spanish onion, cut into small dice
1 medium carrot, cut into small dice
4 cloves garlic, finely chopped
1 cup dark rum
2 cups homemade chicken stock or canned reduced-sodium chicken broth, plus more if needed
1 cup Mesa Grill Barbecue Sauce or your favorite barbecue sauce
1/4 cup plus 2 tablespoons coarsely chopped fresh cilantro leaves, divided
1/4 cup clover honey
3 tablespoons molasses
3 tablespoons light brown sugar
1/2 teaspoon kosher salt, or more to taste
1/2 teaspoon freshly ground pepper, or more taste
1. Drain beans. Place in a large saucepan and add cold water to cover by 2 inches. Bring to a boil over high heat. Reduce the heat to medium, partially cover the pot and simmer until very tender, 45 minutes to 1 1/2 hours. Drain and transfer to a large bowl.
2. Preheat oven to 325 degrees F.
3. Heat oil in a large saute pan over high heat. Add chorizo and cook, stirring, until golden brown and crisp, 5 to 7 minutes. Remove with a slotted spoon to a plate lined with paper towels.
4. Reduce heat to medium, add onion and carrot to the pan and cook, stirring, until soft, about 5 minutes. Add garlic and cook for 1 minute. Add rum, bring to a simmer and cook until reduced by half, about 5 minutes. Add this mixture to the beans.
5. Add 2 cups stock (or broth), barbecue sauce, 1/4 cup cilantro, honey, molasses, brown sugar and the reserved chorizo to the beans. Mix gently to combine. Season with salt and pepper. Transfer the mixture to a large baking dish and cover. Bake for 30 minutes.
6. Check to see if the bean mixture is dry; if it is, add a little more stock (or broth). Bake for 30 minutes more. Uncover and bake 15 minutes more to thicken slightly.
7. Garnish the beans with the remaining 2 tablespoons cilantro. Let sit for at least 10 minutes before serving.
Tips & Notes
Make Ahead Tip: Cover and refrigerate for up to 3 days.
Tip: To soak beans using a "quick-soak" method, place in a large saucepan with enough cold water to cover them by 2 inches. Bring to a boil. Boil for 2 minutes. Remove from the heat, cover and let stand for 1 hour.
Note: Dried, Spanish-style chorizo is a seasoned, fully cooked, smoked pork sausage. Find it near other cured sausages in well-stocked super markets.
---
Low Calorie Broccoli Cole Slaw
From: Eating Well
8 servings, 3/4 cup each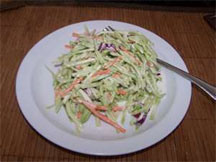 4 slices turkey bacon
1 12- to 16-ounce bag shredded broccoli slaw, or 1 large bunch broccoli (about 1 1/2 pounds)
1/4 cup low-fat or nonfat plain yogurt
1/4 cup reduced-fat mayonnaise
3 tablespoons cider vinegar
2 teaspoons sugar
1/2 teaspoon salt, or to taste
Freshly ground pepper, to taste
1 8-ounce can low-sodium sliced water chestnuts, rinsed and coarsely chopped
1/2 cup finely diced red onion, (1/2 medium)
1. Cook bacon in a large skillet over medium heat, turning frequently, until crisp, 5 to 8 minutes. (Alternatively, microwave on High for 2 1/2 to 3 minutes.) Drain bacon on paper towels. Chop coarsely.
2. If using whole broccoli, trim about 3 inches off the stems. Chop the rest into 1/4-inch pieces.
3. Whisk yogurt, mayonnaise, vinegar, sugar, salt and pepper in a large bowl. Add water chestnuts, onion, bacon and broccoli; toss to coat. Chill until serving time.
May be covered and chilled for up to 2 days
---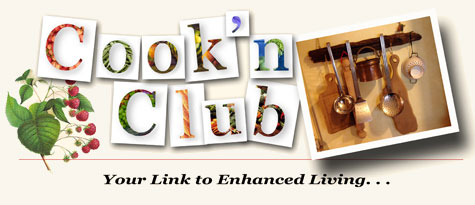 Contribute to the Cook'n Club!
DVO would love to publish your article, prose, photography and art as well as your cooking, kitchen and nutrition tips, tricks and secrets. Visit the Newsletter Submission / Win Win for All section in our Forum for more information and details.