Foolproof Roasted Chicken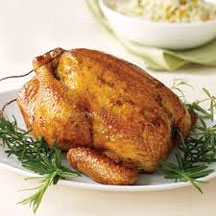 Something I really want to learn to do well before I die is turn out the perfect roasted chicken. And there are as many approaches to roasting a chicken as there are chickens. While each method aspires to crisp skin and juicy meat, some require a lot of time and fuss. Not the method I found in an old issue of Real Simple Magazine, however.
Here are the 5 TIPS the magazine's how-to article shared for foolproof roasted chicken:

Put a wire rack in the roasting pan. It will ensure that the back side of the bird will crisp nicely. No rack? Crumple aluminum foil into balls and place the chicken on top of them.

For a quick side dish, place thickly sliced onions and coarsely chopped root vegetables in the pan, drizzle with olive oil, then place the rack or bird on top.

Double your pleasure - but not your effort - by roasting two birds at once. Place them side by side in a roasting pan or a 9x13 baking dish. Allow a few extra minutes of cooking time when doing two chickens.

Truss the bird by tying the legs together if you prefer a tidy presentation.

Don't forget to start with a clean oven. The high temperature required for a crisp-skinned chicken can cause the burned remnants of last week's pizza to fill the kitchen with smoke and a nasty aroma.
Now for the important piece to the puzzle - the perfect recipe for foolproof roasted chicken. The secret is in the high temperature used:
---
Simple Roast Chicken
Serves 4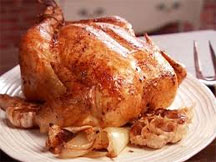 1 (3 ½- to 4-lb) chicken, giblets removed
1 Tbsp extra virgin, cold pressed olive oil
1 tsp kosher salt
1/4 tsp black pepper
Adjust oven rack to lowest position. Heat oven to 450 degrees. Place a rack in a large ovenproof skillet or small roasting pan. Rinse the chicken inside and out and pat dry. Place in pan. Tuck the wings beneath the chicken, as if it were placing its arms behind its head.
Rub the oil over the skin. Sprinkle with ½ tsp of the salt, and all the pepper. Toss the remaining slat into the cavity. Roast for 20 min. Add 1 C water and roast until the chicken is cooked through and the thigh meat registers 180 degrees on a meat thermometer, about 40 min. more. Use a spatula to loosen the chicken. With a wad of paper towels in each hand, transfer it to a cutting board. Let it rest for at least 15 min. before carving. Drippings can be used to make a gravy or sauce.
---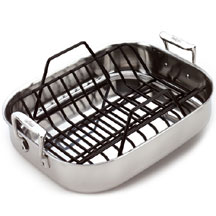 Finally, as a side note, I wondered what the best roasting pan might be, and I wanted to share what my research turned up: Consumer Reports says stainless steel outshines others in versatility, so many cooks prefer the versatility of stainless-steel roasting pans, even though their surfaces can be a bit tougher to scrub clean. With stainless steel, cooks have the convenience of using a single pan to sear meat on the stovetop and to turn drippings into gravy on the stovetop afterward -- two things hard-anodized and other nonstick cookware surfaces don't do as well. Additionally, stainless-steel roasting pans can withstand higher temperatures, even under a broiler, and are dishwasher-safe (although manufacturers may recommend hand washing to preserve the shiny appearance).
---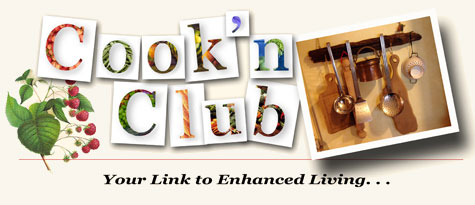 Contribute to the Cook'n Club!
DVO would love to publish your article, prose, photography and art as well as your cooking, kitchen and nutrition tips, tricks and secrets. Visit the Newsletter Submission / Win Win for All section in our Forum for more information and details.