How About a Springtime Potluck - with PIZZAZZ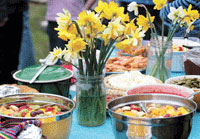 Whether they're growing in your own back yard or you find them at your local farmer's market, springtime veggies are here, and the event should be celebrated, don't you think? With that idea in mind, how about a springtime potluck?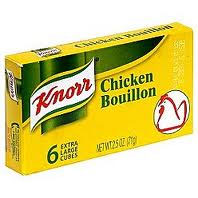 Whenever I hold my own, or am invited to a potluck, I like to present something with a little extra pizzazz. Pizzazz-hunting led me to, of all places, the backs and insides of the KNORR Bouillon boxes! This packaging sports some great recipes, and what will especially please you is how easy they are. And they call for ingredients you'll likely have on hand - an extra plus.
The Knorr family started their seasoning and bouillon processing plant in Germany in 1800, and they have been a leader in this industry ever since. On their website (www.knorr.com) you can find recipes for White Bean Gazpacho, Alaskan Salmon Chowder, Alfredo Sauce, and so on.
One last note: Since bouillons tend to be rather high in sodium, you'll notice the recipes don't call for any added salt. Finally, the company motto is "Knorr - Where taste is everything!" I think you'll find these recipes prove them right. Now let's celebrate spring with a potluck!
---
New Potatoes Simmered in Bouillon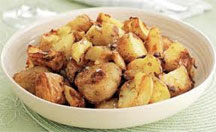 A fresh, new approach to new potatoes—don't just simmer them in water, simmer them in water with a chicken bouillon cube added to it. You'll get an entirely different flavor this way.
---
Rice Rustico
Serves 6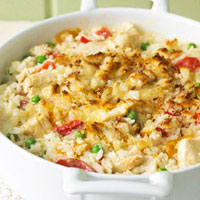 1 pkg KNORR Alfredo Sauce Mix
2 green onions, thinly sliced
3 C cooked white or brown rice
Sliced almonds, toasted (for garnish, 1/2 C perhaps)
Prepare KNORR Alfredo Sauce Mix according to package directions. Stir prepared sauce and green onions into rice. Sprinkle with almonds. Cooked chicken breast, cubed cooked pork chops, leftover peas, red pepper, etc. can also be added to this dish. It's a great way to use leftovers!
---
Roasted Pepper Dip
Makes 2 1/2 C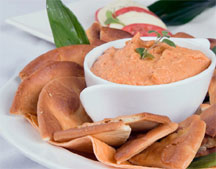 1 pkg KNORR Tomato with Basil Soup and Recipe Mix
1 1/2 C sour cream
1/2 C mayonnaise
1/2 C chopped roasted red peppers
Thoroughly mix together the KNORR mix, sour cream, mayonnaise, and red peppers. Cover and chill 2 hrs. This is excellent with crackers or as a chip dip.
---
Vegetable Cheese Tart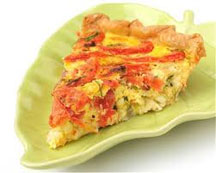 3 eggs, beaten
2 C half-and-half
2 C shredded Swiss cheese
1 pkg KNORR Vegetable Soup and Recipe Mix
1 pkg (10 oz) frozen spinach, thawed, well drained
1 unbaked (9 inch) pie shell or 1 prebaked (11 inch) tart shell
Red pepper strips (for garnish; optional)
Preheat oven to 375 degrees. In large bowl, stir first 5 ingredients until well blended. Spoon into pie or tart shell. Bake for 45 min. or until knife inserted into center of pie comes out clean. Garnish with pepper strips if desired.
---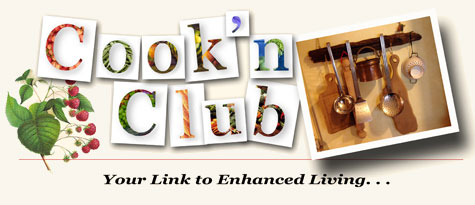 Contribute to the Cook'n Club!
DVO would love to publish your article, prose, photography and art as well as your cooking, kitchen and nutrition tips, tricks and secrets. Visit the Newsletter Submission / Win Win for All section in our Forum for more information and details.