Salsa is the Name of the Game!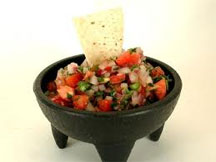 Did you know that since 2000, salsa has become America's favorite condiment? Yup - ketchup isn't our first choice anymore. Actually, it's been a favorite for over 2,000 years.
Salsa is the Spanish word for sauce, and it is incredibly low calorie, which means adding it to your food is always an option! For instance, the typical salsa has only 10 calories in a 2 tablespoon serving (or 0 Weight Watcher points). Heck, you could even eat 2 servings for 0 WW points if you wanted.
I sometimes combine salsa with sour cream or whipped cream cheese as a yummy addition to my eggs, quesadilla, or other foods. I add salsa to refried beans for an extra kick to my bean and cheese burritos, I add some to tomato soup, and I even use it instead of a salad dressing atop our green salads. And one of our favorite meals is slow cooked chicken breasts in salsa. Oh my!
But what is even better than the amazing taste and versatility of this food is its health benefits. Anyone with blood sugar issues will benefit from adding some salsa to their diet on a regular basis. Consider this:

Lycopenes: Salsa is made from tomatoes, a vegetable rich in heart healthy lycopenes. These carotenoids are being studied for their role in preventing various types of cancer, particularly prostate cancer as well as heart disease prevention. Cooked, processed tomatoes are the best source of lycopenes since the heat makes the carotenoids more available for absorption. So in this case, cooked over fresh would be the best bet.

Vitamins and minerals: Salsa is high in vitamin A, vitamin B6, and vitamin C. It's a good source of iron, as well as magnesium and potassium to help maintain normal blood pressure.

Capsaicin (found in the chili peppers usually added to salsa): Chili peppers contain the active ingredient capsaicin—shown to have anti-inflammatory effects which help with rheumatoid arthritis. It also has anti-cancer, anti-ulcer, and anti-bacterial properties. Plus, the capsaicin in chili peppers also has a thermogenic effect which researchers say plays a role in treating obesity. One precaution: Excessive consumption of chili peppers has been associated with a higher risk of stomach cancer and may increase symptoms of GERD. (gastroesophageal reflux disease) and irritable bowel syndrome, so moderation is best.

Low in calories and fat: Salsa is a calorie watcher's best friend. Most salsa has only four to five calories per tablespoon. Plus, it usually has no added sugar or fat. It makes an excellent substitute for ketchup, which is usually loaded with sugar.
Considering the wonderful taste, versatility, and health benefits of salsa, here are a few ways we can get even MORE creative (and health-promoting) with it. While it IS great just the way it is, salsa can be elevated to a whole new level by adding a few extra ingredients. Begin with 1 C of your favorite brand of salsa, then add the following:
---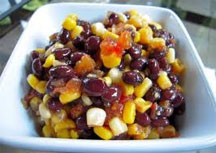 Black Beans and Corn Salsa
1 C salsa
1/4 C canned black beans, drained
1/4 C corn (fresh and cooked, or frozen and defrosted)
---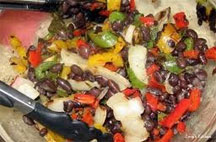 Grilled Vegetable Salsa
1 C salsa
1/2 bell pepper (any color), grilled and diced
1/2 medium red onion, grilled and diced
---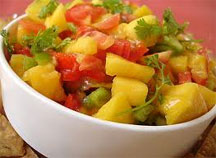 Mango Salsa
1 C salsa
1 mango, diced (about ½ C)
---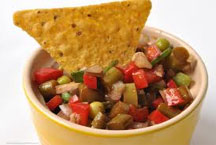 Garden Salsa
1 C salsa
1/2 c diced cucumber
1/2 C halved and thinly sliced radishes
---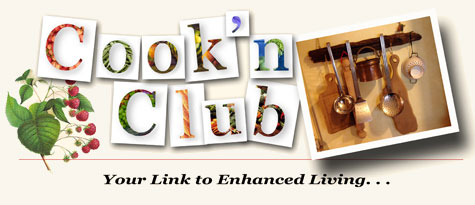 Contribute to the Cook'n Club!
DVO would love to publish your article, prose, photography and art as well as your cooking, kitchen and nutrition tips, tricks and secrets. Visit the Newsletter Submission / Win Win for All section in our Forum for more information and details.