This is a Chef We Want to Emulate!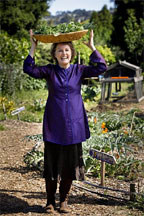 One of my heroes in the culinary and good eats world is chef and author, Alice Waters. Over forty years ago she started the wildly successful restaurant, Chez Panisse, and (quoting from the Chez Panisse website) is an American pioneer of a culinary philosophy that maintains that cooking should be based on the finest and freshest seasonal ingredients that are produced sustainably and locally. She is a passionate advocate for a food economy that is "good, clean, and fair." Over the course of nearly forty years, Chez Panisse has helped create a community of scores of local farmers and ranchers whose dedication to sustainable agriculture assures her restaurant a steady supply of fresh and pure ingredients.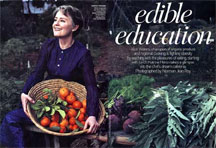 In 1996, Waters' commitment to education and the fight against childhood obesity, led to the creation of The Edible Schoolyard at Berkeley's Martin Luther King, Jr., Middle School. The Edible Schoolyard is a one-acre garden, an adjacent kitchen-classroom, and an "eco-gastronomic" curriculum. By actively involving a thousand students in all aspects of the food cycle, The Edible Schoolyard is a model public education program that instills the knowledge and values we need to build a humane and sustainable future.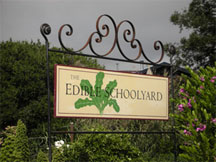 The program is nationally recognized for its efforts to integrate gardening, cooking, and sharing school lunch into the core academic curriculum. Alice established the Chez Panisse Foundation in 1996 to support the Schoolyard and encourage similar programs that use food traditions to teach, nurture, and empower young people. The success of The Edible Schoolyard led to the School Lunch Initiative, whose national agenda integrates a nutritious daily lunch and gardening experience into the academic curriculum of all public schools in the United States. How cool is that?
Vice President of Slow Food International (a nonprofit organization that promotes and celebrates local artisanal food traditions and has 100,000 members in over 130 countries), this busy lady has also written eight cookbooks and has been a culinary contributor to Traditional Home Magazine. She's a master at creating vegetable dishes that leave you feeling satisfied and healthy (rather than feeling like you've just sat in sack-cloth and ashes because you've had a vegetable-based meal). Here are a few of her recipes - give them a try; Alice Waters may become one of your heroes as well!
---
Baked Tomatoes with Garlic and Basil
Serves 6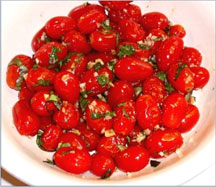 6 medium tomatoes
Extra virgin, cold pressed olive oil
Sea salt
10 fresh basil leaves
6 garlic cloves, chopped
Core the tomatoes and place them snugly, core-side down, in a baking dish. Salt liberally and tuck the basil leaves around the tomatoes. Put olive oil in about 1/4 the way up the tomatoes. Be sure to submerge the basil leaves by pushing them into the oil (they will burn, otherwise); add the chopped cloves of garlic to the oil. Place in a 350 degree oven and cook for 1 to 1 1/4 hr, until the tomatoes are very soft and browning a bit on top.
To serve, gently spoon the tomatoes onto a warmed serving dish with a bit of their basil-garlic-oil sauce and a fresh basil leaf (for garnish). These are even delicious cold the next day and make wonderful picnic fare. They're a nice twist to the traditional steamed veggie offering.
---
Fresh Shelled Beans
3 C fresh shell beans (baby lima, cannellini, etc.)
4 cloves garlic, slivered
4 Tbsp extra virgin, cold pressed olive oil
Fresh rosemary
Water
Sea salt
Shell the beans and cook them with just enough water to cover them by an 1 1/2 inches (fresh shelling beans absorb very little water). After they have come to a boil, turn them down to a slow simmer and add salt, olive oil, and a small sprig of fresh rosemary. Cook until tender, about 20-30 min. These can be made the day before and refrigerated, then reheated for serving. The flavors have time to marry and develop as they sit.
---
Vegetable Tian
Serves 6
A tian is a clay cooking vessel, sort of like a Dutch oven, used in French Alps cooking. And a vegetable tian is a dish with layered vegetables that sometimes has some sort of cheese on top - very much like a gratin. Tian also means "heaven" in Chinese.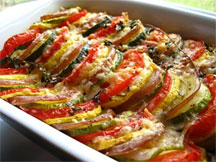 3 medium onions
2 large sweet peppers
1/2 C extra virgin, cold pressed olive oil
1 tsp crushed red pepper, optional
4 cloves garlic, thinly sliced
1/4 C fresh basil leaves, chopped
1 tsp salt
1 large eggplant, or even better, 3-4 Japanese eggplants
3-4 summer squashes
5 medium tomatoes
Peel and slice onions. Cut the peppers in half, remove seeds and ribs; cut into julienne (narrow) strips. Heat some olive oil over medium heat in a heavy-bottomed pot and cook onions until wilted, 5 min. Add peppers, and pepper flakes (if using them); cook until soft, another 10 min. Add sliced garlic, chopped basil, and salt to taste. Set aside.
Cut eggplant and summer squash into thin coins about 1/4 inch thick. (A mandolin slicer makes this job easy, consistent, and quick.) If the eggplant is large, cut the slices into halves or quarters to match the size of the squash circles. Core the tomatoes and cut into 1/4 inch thick slices; cut these slices in half.
Spread the onion mixture into a large, shallow lightly greased gratin dish or a 9x12-inch pan with sides. Starting with the eggplant, make a row of slices slightly overlapping each other along one edge of the pan. Next make a row of overlapping tomato slices that overlaps the eggplant. Then add a row of summer squash. Each row should be of the same color and should overlap the previous row by two-thirds. After the squash, add another row of tomato, then the eggplant, and so on, until the entire pan is filled. Because the vegetables shrink as they cook, it is important to really overlap the rows, one row covering two-thirds of the previous one, so that the finished tian is not too spread out and thin.
When finished, sprinkle tian generously with salt and drizzle with extra virgin olive oil. Cover with tinfoil and bake at 375 degrees for 1 hour. Check after 15 min., and gently press down the veggies with a spatula. After 30 min. remove the foil, press again with spatula, and bake another 15 min.; drain off excess liquid if necessary. Check again during that time and press with the spatula one more time. The tian is done when the vegetables are cooked through. To serve, cut into squares, surround each square with some of the shell beans, and garnish each with a fresh basil leaf, if desired.
---
Cranberry Upside Down Cake with Whipped Cream
Cranberries are out of season now, so unless you have some stashed in your freezer, you'll need to wait until next Thanksgiving to try this. I share it now anyway, so you can put it on your "New Recipes I'm Going to Try for the Holidays" list.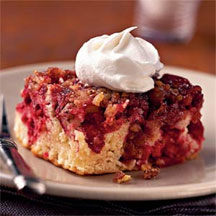 For bottom of the pan:
1 stick butter
1 C packed brown sugar
1 12-oz pkg whole fresh cranberries
1/2 C chopped pecans, toasted
For the cake:
1 1/2 C flour
2 tsp baking powder
1/4 tsp salt
1 C sugar
1 stick butter, softened
2 eggs, separated
1 tsp vanilla
1/2 C milk
For the whipped cream:
2 C (1 pint) whipping cream
2 Tbsp sugar
Heat oven to 350 degrees. In 9-inch-square baking pan, melt 1 stick of butter in oven. Remove pan and stir in brown sugar. Return butter-sugar mixture to oven for 2 min. or until it easily spreads across bottom of pan. Remove pan from oven and immediately arrange cranberries and pecans evenly over bottom of pan.
In medium bowl, stir together flour, baking powder, and salt. In another bowl, beat sugar and remain 1 stick of butter until fluffy. Add egg yolks and vanilla. Beat 1 min., scraping bowl often. Add dry ingredients alternately with the milk to the butter mixture. (Start with dry ingredients and end with dry ingredients.)
Thoroughly wash beaters. In large bowl, beat egg whites at medium speed until soft peaks form (tips curl). Fold egg whites into the flour-egg yolk mixture. Spread the batter over the cranberries and pecans in baking pan. Bake for 35-40 min. or until a toothpick inserted into cake comes clean. Cool for 10 min. Using a knife, loosen edges of cake and invert onto a serving platter. Serve cake warm with generous dollop of whipped cream atop each piece.
---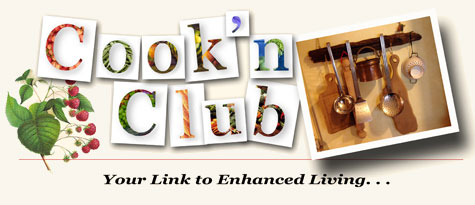 Contribute to the Cook'n Club!
DVO would love to publish your article, prose, photography and art as well as your cooking, kitchen and nutrition tips, tricks and secrets. Visit the Newsletter Submission / Win Win for All section in our Forum for more information and details.