Wok Talk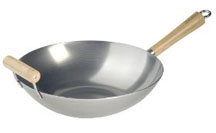 If you haven't discovered the all things you can do with a traditional wok, now's the time. But when thinking about getting one, the pros say to avoid any non-stick pan.
They say the terms "wok" and non-stick are mutually exclusive. Professional cooks all say that to properly stir fry (for the vegetables to be quickly cooked and slightly browned but still crisp), you need to have your wok very hot. And a non stick coating doesn't do well getting very hot—they've been shown to be unsafe at very high temperatures. So while non-stick pans may be fine for low-temperature sautéing of vegetables or scrambling eggs, this surface isn't appropriate for stir-frying.
With the right surface, however, the wok is a good avenue to healthy and quick meals. The other trick though, is to use a healthy oil and only a bit of it. Many cooks I surveyed use canola, sesame, or cold pressed extra virgin olive oil.
It's also considered quite a versatile pan. One cook I talked to said she'd get rid of her sauce pans before she'd ditch her wok. She steams veggies in hers and also uses it for scrambling eggs and cooking pasta.
I'm convinced. I don't have a wok, but I'm seriously considering asking for one for my upcoming birthday. I'd always thought it was used exclusively for cooking Chinese food, but after visiting with various cooks around the area, I realize this is a tool with a lot of lives. Now here are a couple recipes my friend and gourmet chef, Brian, was happy to contribute to our wok-talk!
---
Chicken and Veggie Stir Fry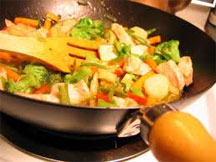 1 lb chicken breast, boneless and skinless - chopped in small pieces
soy sauce
canola oil
2 bags (12 oz) frozen vegetables of your choice
1-1/2 to 2 cups cooked white or brown rice
Start the rice cooking in your favorite manner. Heat up the wok, add a little canola oil to the bottom and heat it up. In the meantime, marinate the raw chicken with a little bit of the soy sauce. When the oil is heated up, cook the chicken breast meat in it. Stir fast and often while it's cooking. When the chicken is cooked thoroughly, move it to a bowl and let it sit.
Add a little more canola oil (not much) and add the 2 bags of frozen vegetables. Add 1 tbsp water and cover. Let them steam - usually 10-15 minutes. When the vegies are thoroughly cooked, add the cooked chicken and stir it all together.
In a gravy shaker, mix 1 tbsp soy sauce and 1/2 tsp cornstarch. Shake. Pour over the chicken and veggie mixture and stir fry. Serve over white or brown rice.
Types of veggies he uses: "California Mix", "Stir Fry Vegetables", "Stir Fry with Asparagus", "Oriental Stir Fry with Water Chestnuts", "Winter Mix". He varies these by who's eating or what's on sale.
---
Chicken with Cashews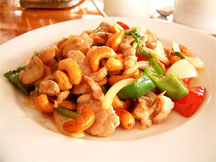 4 tablespoons wine vinegar
4 tablespoons soy sauce
4 teaspoons sugar
14 ounces raw boneless skinned chicken breast, cut into bite-sized pieces
1 tablespoon cornstarch
2 teaspoons oil
3 green onions, chopped
2 cloves garlic, minced
1/2-1 teaspoon crushed red pepper
1 teaspoon minced or grated fresh ginger OR 1/2 teaspoon dried
LOTS OF CASHEWS
4 cups cooked rice
Mix together vinegar, soy sauce, and sugar, set aside. Heat oil in a large nonstick skillet or wok. Toss chicken pieces in cornstarch, then stir fry them 5-7 minutes until cooked. Remove from pan and add onion, garlic, red pepper, and ginger. Stir fry 15 seconds. Add vinegar mixture, cashews, chicken, stirring to coat chicken, about 2 minutes. Serve over rice. Mushrooms, pea pods, broccoli and water chestnuts make excellent additions.
---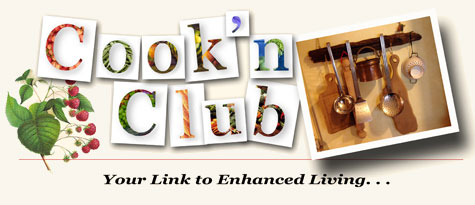 Contribute to the Cook'n Club!
DVO would love to publish your article, prose, photography and art as well as your cooking, kitchen and nutrition tips, tricks and secrets. Visit the Newsletter Submission / Win Win for All section in our Forum for more information and details.