Going Green with

Pistachios!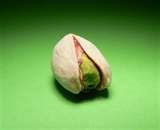 Have you ever heard of the
Pistachio Principle
? According to Dr. James Painter, a professor and behavioral eating expert, as well as chair of the School of Family and Consumer Sciences at Eastern Illinois University, the Pistachio Principle describes various methods of "fooling" your body into eating less.
For example, the act of de-shelling and eating pistachios, one by one, seems to slow one's consumption allowing one to feel full faster after having eaten less. Who knew?
Pistachio's were first grown in Western Asia, before being cultivated in Australia, New Mexico and California where they are now grown commercially. They are a very hearty desert plant growing up to 30 feet high. It can take 7-10 years before the trees reach significant production output, and 20 years before reaching their peak.
In other words, this is one nut that takes it's time before reaching your dinner table.
---
Gluten Free, Low Fat Pistachio Pasta
by Carol Kicinski
Sevings: 6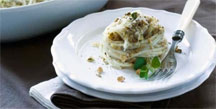 1 cup unsalted pistachios – use divided
2 tablespoons olive oil
1 1/2 pounds gluten-free rice pasta
1 small white or yellow onion, chopped (about 1 cup)
1 – 2 cloves garlic, minced
4 anchovy fillets
1/4 teaspoon crushed red pepper flakes
1/2 teaspoon black pepper
2 cups nonfat or low fat milk or dairy-free milk
1/4 cup parmesan cheese, finely grated plus more for garnish (optional – leave out for dairy free)
Salt  
1. Put ¾ cup of the pistachios in a food processor and grind until fine. Roughly chop the remaining ¼ cup of pistachios (about ⅛-inch pieces) and set aside for garnish.
2. Bring a large pot of salted water to a boil. Add the pasta and cook until al dente – usually 2 minutes less than recommended on the package directions. Stir the pasta occasionally while cooking to prevent it from sticking to itself.
3. While pasta is cooking make the sauce. In a skillet over medium heat, heat the olive oil; then add the chopped onion. Cook onion until soft and translucent, about 5 minutes.
4. Add the minced garlic, anchovy fillets, red and black peppers. Cook for 2 minutes, smashing the anchovies as they cook to dissolve into the olive oil. Add the ¾ cup of ground pistachios and cook for 2 more minutes. Add the milk, turn up the heat to high and bring to a boil.
5. Reduce heat to maintain a slight boil and cook uncovered, stirring frequently, for 10 minutes or until the sauce has thickened. There will be some extra liquid in the sauce, but it will be absorbed by the pasta.
6. Add the ¼ cup parmesan cheese if you are using it. Taste the sauce and add salt if necessary. Turn off the heat.
7. When the pasta is finished cooking, remove 2 or 3 ladles of the pasta-cooking water and reserve and then drain the pasta. Return the drained pasta to the hot pan it was cooked in, add the pistachio sauce and cook over medium heat for a minute or two, tossing the pasta with the sauce to combine. Add some of the reserved pasta cooking liquid to the dish if the sauce seems too thick.
8. Serve with the reserved chopped pistachios sprinkled on the pasta and some additional parmesan cheese if using.
---
Asparagus Spinach Pistachio Pesto
by Livestrong.com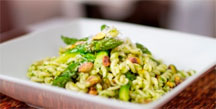 1 lb Asparagus, Steamed
1/4 cup Pistachio Nuts
1/4 cup Spinach
1 clove Garlic
1/4 cup Parmasan Cheese
2 tbsp Olive Oil
1 tsp Lemon Juice
1 lb Whole Wheat Pasta
1. Bring a large pot of salted water to a boil. When ready, add asparagus and cook for 3 minutes. Remove from the water and shock in a bowl of ice water. Drain and then place on a cutting board. Slice off the tips and set aside. Roughly chop the rest.
2. Add a cup of the chopped asparagus to a food processor along with the spinach, garlic, 2 tablespoons of the pistachios, Parmesan, olive oil, lemon juice, and a pinch of salt. Blend until it is a paste.
3. Add the pasta to the pot of boiling water. Cook according to the directions on the box. Save a 1/4 cup of the pasta water. Drain the pasta when done, and return to the still hot pot. Add 1 cup of the pesto and half of the pasta water. Stir well. If it is too dry, add some more water.
4. Chop the remaining pistachios. Serve the pasta and garnish with the pistachios, and more grated Parmesan. Season with salt and pepper to taste.
---
Pistachio Orange Granola
Makes 8 Cups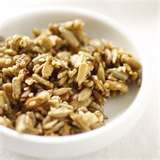 1 cup unsweetened shredded coconut
2 tablespoons flax seed oil
1/3 cup maple syrup
Grated zest of 2 large oranges
4 cups old -fashioned (rolled) oats
1 cup pistachios
1/3 cup honey
2 teaspoons ground cinnamon
1/2 teaspoon freshly grated nutmeg
1/3 cup sesame seeds
1 cup chopped dried fruits including dates, apples, apricots
1. Position racks in the center and upper third of the oven and preheat to 375 degrees.
2. Spread the coconut on a baking sheet. Bake on a center rack, stirring often, until lightly toasted, about 10 minutes. Transfer to a large bowl.
3. Bring the flax seed oil, maple syrup and orange zest to a simmer in a medium saucepan. Place oats, pistachios, honey, cinnamon, nutmeg and sesame seeds in a bowl and toss well with saucepan ingredients. Spread mixture on baking sheets.
4. Bake the mixture in a 375 degree oven, stirring often, switching the position of the baking sheets from top to bottom and front to back halfway through baking, until the granola is golden brown, about 15 minutes.
5. Remove from the oven and let cool. Stir the granola into the bowl of coconut along with dried fruit. (The granola can be stored at room temperature in airtight containers for up to 1 month.)
6. Serve with Greek yogurt
---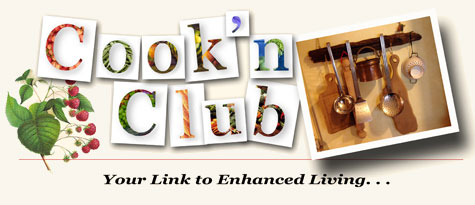 Contribute to the Cook'n Club!
DVO would love to publish your article, prose, photography and art as well as your cooking, kitchen and nutrition tips, tricks and secrets. Visit the Newsletter Submission / Win Win for All section in our Forum for more information and details.