Bring on the Grapefruit!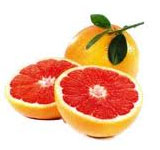 Besides February being National Cherry Month, I learned it's also National Grapefruit Month. Who knew? And who decides these things, anyway?
But what the heck, these national occasions provide us with themes to build meals around, reasons to focus on good foods, and fun excuses to gather and celebrate! With the gathering and celebrating idea in mind, I went looking for grapefruit information, and I was not disappointed.
The first documented grapefruit tree was found in Barbados in the 1700's and in 1823 Count Odet Phillippe planted Florida's first grapefruit grove near Tampa.
If you've ever wondered why citrus fruits grow in groves, while other fruits grow in orchards or plantations, the answer is simple! Groves are used to describe areas that grow and cultivate tropical fruits.
A what an astounding fruit this is. I had no idea this fruit was so beneficial in the battle with blood sugar issues. It's full of nutrients, vitamins, potassium, lycopene and refrigerant. It also contains calcium and phosphorous. It is considered an excellent appetizer because it is high in fiber and low in calories. It contains bioflavonoids and other plant chemicals that protect against cancer and heart disease. Grapefruit increases the metabolic rate, lowers insulin levels and leaves you feeling full and content. It assists in fighting fatigue, fevers, malaria, diabetes, constipation, indigestion, and urinary tract problems.
Grapefruit is also known as a powerful drug-poison eliminator. It works as a natural antiseptic for external wounds and removes toxins from the liver. Its pulp supplies healthy bulk to the body, thus aiding in bowel action. It quenches thirst, and has been found to reduce the risk of prostate cancer.
No wonder this fruit has its own month! And not only did I find tons of information on grapefruit, I found oodles of recipes as well. Here are just a few. I start first with one that shows you how versatile this fruit is—it even produces essential oil that is used in perfume and hand soap. (Food recipes courtesy gofloridagrapfruit.com.
---
Grapefruit Silky Soap
If you have empty pump dispensers in your house, you might want to try your hand at making silky soap. They take a minimum of effort and ingredients.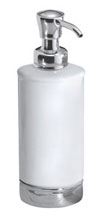 1 cup unscented liquid soap
1/4 cup water
1 tsp salt
Grapefruit essential oil
2 T glycerin
Combine all of the above ingredients. Add essential oil, drop by drop until the scent is to your liking. The salt is a natural thickener so if your silky soap is too thin, add a little more salt as required.


---
Risotta and Grapefruit Grilled Scallops
Serves 6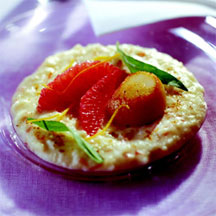 For the risotto:
1.8 oz country-cured ham
2 shallots
1 oz. marrow of beef
1/2 cup white wine
1 cup Arborio rice (special risotto)
4 cups bouillon (KUB)
3 1/2 tablespoons butter
3 1/2 tablespoons of parmesan
1/2 cup whipped cream
2 Florida grapefruits
1 twig of tarragon
Remove the zest from half of one of the two grapefruits. Slice the zest into fine strips, then candy them slowly in the water and sugar mixture, which has been brought to a light boil. Peel the grapefruit cleanly, then cut clean slices of the fruit. Cut the tarragon into fine pieces.
Now, cut the ham and marrow into small pieces and cook in small saucepan. Add the finely sliced shallots. Cook, but do not let change color. Add the rice and coat it with the fat from the meat. Pour in the white wine. Cook until the liquid has been absorbed, then top up with the bouillon. Cook on a low flame stirring continuously with a wooden spoon. Add more liquid as the bouillon is absorbed. Keep doing this until the rice is cooked al dente. Then add the butter and parmesan and mix until it is all well-blended. Add the grapefruit slices, the zest and the fine pieces of tarragon. At the last moment, blend in the whipped cream for a creamier risotto.
For the scallops:
30 scallops (Saint-Jacques d'Erquy) without the coral
3 1/2 tablespoons duck fat
Salt, pepper, Espelette pepper (French: Piment d'Espelette; Basque: Ezpeletako biperra; it is a variety of chili pepper that is cultivated in the French commune of Espelette, Pyrénées-Atlantiques, traditionally the northern territory of the Basque people.)
Season the scallops, then cook them in a non-stick pan with a little duck fat. Pour the risotto into a shallow dish, place the scallops on top. Sprinkle the candied zest and the pieces of tarragon on top. Enjoy!


---
Grapefruit Guacamole Salsa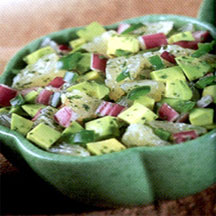 1 medium red onion, diced
1 TBSP. olive oil
1 tsp. brown sugar
1 large Florida pink grapefruit, peeled, membrane removed, chopped
1-2 jalapenos, minced
1 garlic clove, minced
1 small avocado, peeled, pitted, diced
1 TBSP. minced fresh cilantro leaves
1 TBSP. Florida grapefruit juice
1 TBSP. lime juice
1/4 tsp. salt
Sauté onion in the olive oil until tender and beginning to become light golden.
Stir in sugar and sauté until glistening. Place in bowl and toss in the rest.
Yields: 1 1/2 cups.


---
Teriyaki Salmon Skewers with Grapefruit
Serves 4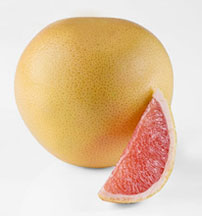 1 large Florida pink grapefruit
1 cup Florida grapefruit juice
1/4 cup reduced sodium soy sauce
2 tablespoons tomato paste
2 tablespoons Worcestershire sauce
2 tablespoons brown sugar
2 tablespoons rice wine or apple cider vinegar
2 cloves garlic, minced
1 pound of boneless, skinless wild salmon, cut into 1-inch chunks
1/2 pound cherry tomatoes
1 yellow or orange pepper, seeded and cut into 1-inch chunks
1 zucchini, cut into 1/2-inch chunks
1 small red onion, peeled and cut into 1-inch chunks
12 wooden skewers
Cut the top and bottom off grapefruit. Place grapefruit cut-side down on a cutting board. With a small paring knife, cut along the curve of the grapefruit and remove the peel, exposing the fruit. Turn grapefruit on its side and cut 1-inch slices across the membrane (slices will have a flower-like appearance with the membrane intact). Cut each "flower" in half and set aside
Pour grapefruit juice into small saucepan. Add soy sauce, tomato paste, Worcestershire sauce, brown sugar, vinegar and garlic. Bring to a boil. Reduce to simmer and cook 15 to 20 minutes, stirring occasionally, until the sauce reduces by half and starts to thicken. Set aside.
Preheat oven to 400°F. Cover two baking sheets with aluminum foil. Coat the aluminum foil with cooking spray. Thread salmon, tomatoes, peppers, zucchini, onion and grapefruit slices onto the skewers. Drizzle with half the teriyaki sauce and bake 10 to12 minutes until the vegetables are soft and the salmon is no longer translucent in the center, but still moist.
Drizzle with remaining sauce and serve immediately.


---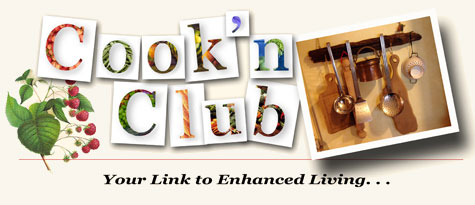 Contribute to the Cook'n Club!
DVO would love to publish your article, prose, photography and art as well as your cooking, kitchen and nutrition tips, tricks and secrets. Visit the Newsletter Submission / Win Win for All section in our Forum for more information and details.