And Now For Some

Appetizers!

I adore appetizers, or as the French say, hors d'oeuvres. I would rather eat a selection of different small foods, than a main meal. For instance, last week-end I was at dinner with my family and, staring at the menu, wondered what I was going to order.
My brother suggested that several of us get two of the house special appetizer platters and share it. My siblings looked at him like he was crazy, but I jumped in to the idea right away, as did another person. Twenty minutes later, we had two lovely platters of hors d'oeuvres filled with 9 different samples that we had specifically chosen for the variety it would give us. We were in heaven!
Originated by the French, hors d'oeuvres literally means "apart from the main work". Served independent of a main meal, or prior to the main meal, these samplings are served on trays by waiters in black tie, (very classy), or artfully arranged on a main dining table. This is a wonderful way to entertain guests when they arrive, especially if dinner is going to be awhile.
---
Bacon Roll-Ups
Makes 25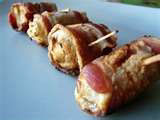 1 (1 pound) loaf sandwich bread
2 (8 ounce) packages cream cheese, softened
1 teaspoon garlic powder
1 teaspoon dried parsley
1 pound bacon, cut in half
1. Preheat oven to 375 degrees F (190 degrees C). Grease a baking sheet.
2. Cut the crusts off of the bread slices, then cut each piece of bread into three equal rectangles.
3. In a small bowl, combine cream cheese, garlic powder, and parsley. Spread a layer of the cream cheese mixture on each bread rectangle, and roll it up. Wrap a slice of bacon around each of the bread rolls and secure them with toothpicks. Arrange the roll ups on the prepared baking sheet.
4. Bake until the bacon is crisp, approximately 10 minutes.
---
Double Tomato Bruschetta
Serves 12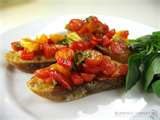 6 roma (plum) tomatoes, chopped
1/2 cup sun-dried tomatoes, packed in oil
3 cloves minced garlic
1/4 cup olive oil
2 tablespoons balsamic vinegar
1/4 cup fresh basil, stems removed
1/4 teaspoon salt
1/4 teaspoon ground black pepper
1 French baguette
2 cups shredded mozzarella cheese
1. Preheat the oven on broiler setting.
2. In a large bowl, combine the roma tomatoes, sun-dried tomatoes, garlic, olive oil, vinegar, basil, salt, and pepper. Allow the mixture to sit for 10 minutes.
3. Cut the baguette into 3/4-inch slices. On a baking sheet, arrange the baguette slices in a single layer. Broil for 1 to 2 minutes, until slightly brown.
4. Divide the tomato mixture evenly over the baguette slices. Top the slices with mozzarella cheese.
5. Broil for 5 minutes, or until the cheese is melted.
---
Ham Roll-Ups
Makes 10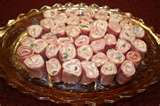 3 (8 ounce) packages cream cheese, softened
3 tablespoons prepared horseradish
2 tablespoons finely chopped onion
1 (8 ounce) container sour cream
2 pounds cooked ham, thinly sliced
1. In a medium bowl, blend the cream cheese, horseradish, onion and sour cream. Spread the mixture onto the ham slices. Tightly roll the slices and secure with toothpicks.
---
Herbed Cheese Puffs
Serves 15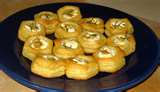 1 (4 ounce) package grated Parmesan cheese
4 ounces Romano cheese, grated
1 cup mayonnaise
2 teaspoons minced fresh basil
2 teaspoons minced fresh oregano
1 bunch green onions, chopped
1 clove garlic, minced
1 (12 ounce) can refrigerated biscuit dough
1. Preheat oven to 375 degrees F (190 degrees C). Lightly grease a large baking sheet.
2. In a medium bowl, mix together Parmesan cheese, Romano cheese, mayonnaise, basil, oregano, green onions and garlic.
3. Separate each unbaked biscuit vertically into 3 pieces. Spread 1 tablespoon cheese mixture on each piece.
4. Arrange pieces in a single layer on baking sheet. Bake in the preheated oven 10 to 12 minutes, or until puffed and golden brown. Serve warm!
---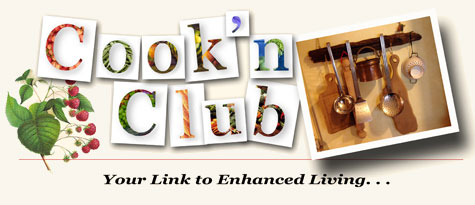 Contribute to the Cook'n Club!
DVO would love to publish your article, prose, photography and art as well as your cooking, kitchen and nutrition tips, tricks and secrets. Visit the Newsletter Submission / Win Win for All section in our Forum for more information and details.