National Cherry Month!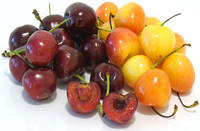 Shall we thank George Washington for this one? We all know the story (some "experts" say it's just a myth) about him chopping down his father's cherry tree and then honestly admitting to it. I choose to believe this story - we don't have enough good press anymore, so when I hear an inspiring bit of news, I'm clingin' to it. But at any rate, the birth month of our nation's first President has since been associated with cherries and folks traditionally like to celebrate President's Day with a cherry pie.
Even though they are a summer fruit, they are available year 'round. Whether fresh, frozen, canned, or dried, they're always a hit. I remember the first time I tasted a chocolate-covered cherry when I was living in Washington State. This taste sensation came out of Prosser (just outside of our hometown, Kennewick) and I thought I'd died and gone to heaven.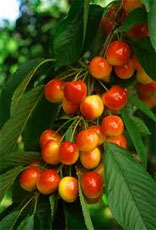 My love affair with cherries started long before the chocolate-covered experience, though. When my children were little we would rent an entire Bing or Queen Anne tree from an orchardist friend. For $45 we could have everything we picked - we'd haul home probably 200 lbs of cherries. We would bottle (with the pits in) them, juice them, dry them, and bake with them. The house always smelled amazing when we were putting up our cherries - you could even smell this delectable aroma up and down the street. And of course, in-between all this, we'd be eating them out-of-hand.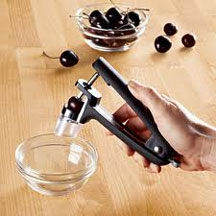 We also made sure we froze plenty - to use in smoothies and milkshakes later on in the year. And nothing beats a handful of frozen cherries on a blistering hot summer day! To freeze for this purpose, wash and dry as best you can, then pit them. (Beware of the cherry juice when pitting - it stains.) Spread one-layer thick on jelly roll pans, freeze until solid, then quickly place them in plastic freezer bags or freezer containers.
And to top it off, scientific research says cherries are not only good for you, but they're also on track to be the #1 homegrown "Super Fruit". Evidence shows tart cherries have among the highest levels of disease-fighting antioxidants, when compared to other fruits. They also contain other important nutrients such as beta carotene (19 times more than blueberries or strawberries) vitamin C, potassium, magnesium, iron, fiber and folate.
Cherries are linked to many important health benefits as well - from easing arthritis and gout pain, to reducing risk factors for heart disease, diabetes and certain cancers. Cherries also contain melatonin, which has been found to help regulate the body's natural sleep patterns, aid with jet lag, prevent memory loss and delay the aging process.
And University of Michigan research found that a cherry-enriched diet lowered total weight, body fat (especially "belly" fat), inflammation and cholesterol - all risk factors associated with heart disease.
Sold? Then let's look at some of my family's favorite, drool-worthy, cherry recipes:
---
Fresh Cherry Cobbler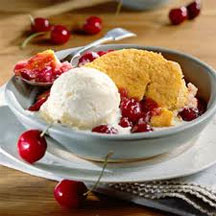 1/2 cup butter
1 cup all-purpose flour
1 cup white sugar
1 teaspoon baking powder
1 cup cream or whole milk
2 cups pitted cherries (tart, Bing, Queen Anne, etc.)
3/4 cup white sugar
1 tablespoon flour (we always used whole wheat - this added a nice flavor)
1/2 tsp almond extract
Preheat the oven to 350 degrees F (175 degrees C). Place the butter in a 9x13 inch baking dish, and place in the oven to melt while the oven is preheating. Remove as soon as butter has melted, about 5 minutes. In a medium bowl, stir together 1 cup of flour, 1 cup of sugar, and baking powder. Mix in the milk until well blended, then pour the batter into the pan over the butter. Do not stir.
Rinse out the bowl from the batter, and dry. Place cherries into the bowl, and toss with the remaining 3/4 cup of sugar and 1 tablespoon of flour and almond extract. Distribute the cherry mixture evenly over the batter. Do not stir. Bake for 50 to 60 minutes in the preheated oven, until golden brown. A toothpick inserted into the cobber should come out clean. This is amazing served warm with sweetened whipped cream or vanilla ice cream.
---
Cherry Chocolate Fudge Brownies
Yield: 16 brownies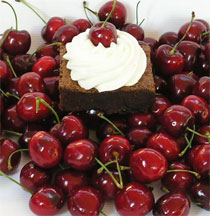 1/2 cup all-purpose flour
1/8 teaspoon salt
1/3 cup chopped dried cherries
1 1/2 tablespoons water
1 tsp almond extract
1 tsp cherry juice
6 ounces bittersweet chocolate, finely chopped
3/4 C unsalted butter, at room temperature; cut into 12 pieces
3 large eggs, at room temperature
1 cup sugar
Center a rack in the oven and preheat the oven to 300 degree F. Line an 8-inch square baking pan with foil, butter the foil, place the pan on a baking sheet, and set aside. Whisk together the flour, and salt. Put cherries in a small saucepan with the water, bring to a boil over medium heat and cook until the water almost evaporates. Add almond extract and cherry juice, let it warm for about 30 seconds, turn off the heat.
Put chocolate in a heatproof bowl and set the bowl over a saucepan of simmering water. Slowly and gently melt the chocolate, stirring occasionally. Remove the bowl from the saucepan and add the butter, stirring so that it melts. It's important that the chocolate and butter not get very hot. However, if the butter is not melting, you can put the bowl back over the still-hot water for a minute. If you've got a couple of little bits of unmelted butter, leave them - it's better to have a few bits than to overheat the whole. Set the chocolate aside for the moment.
In large bowl, beat the eggs and sugar until they are thick and pale, about 2 minutes. Lower the mixer speed and pour in the chocolate-butter, mixing only until it is incorporated - you'll have a thick, creamy batter. Add the dry ingredients and mix at low speed for about 30 seconds - the dry ingredients won't be completely incorporated and that's fine. Finish folding in the dry ingredients by hand with a rubber spatula, then fold in the cherries along with any liquid remaining in the pan.
Scrape the batter into the pan and bake 50 to 60 minutes, or until the top is dry and crackled and a knife inserted into the center of the cake comes out clean. Transfer the pan to a rack and allow the brownies to cool to warm or room temperature. Carefully lift the brownies out of the pan, using the foil edges as handles, and transfer to a cutting board. With a long-bladed knife, cut the brownies into 16 squares, each roughly 2 inches on a side, taking care not to cut through the foil. Wrapped well, these can be kept at room temperature for up to 3 days or frozen for up to 2 months.
---
Cherry Garcia Cookies
Makes about 3 doz. cookies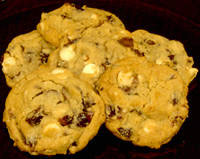 1 1/2 cup dried cherries
1/4 teaspoon salt
1/2 teaspoon baking soda
1-1/2 cups flour
1/2 cup butter, at room temperature
1/2 cup granulated white sugar
1/2 cup light brown sugar, (packed)
1 egg
1-1/2 teaspoons vanilla
1/4 teaspoon almond extract
1/2 cup white chocolate chips
3/4 cup semi-sweet chocolate chips
1 cup coarsely-chopped macadamia nuts (optional)
Preheat oven to 350 degrees F. Line cookie sheets with parchment paper or Silpat liners.
Place dried cherries in a bowl and cover with boiling water. Let sit 30 minutes to plump up. Drain well, pat dry, and coarsely chop.
Whisk together salt, baking soda, and flour in a small bowl. Set aside.
In a large bowl, cream together butter, white sugar, and brown sugar. Beat in egg, vanilla, and almond extract. Add flour mixture to butter mixture half at a time and mix until combined. Fold in cherries, white chocolate chips, semi-sweet chocolate chips, and macadamia nuts. Refrigerate cookie dough 30 to 45 minutes to firm up.
Drop dough by the tablespoon onto prepared baking sheets, placing cookies about 1-1/2 to 2 inches apart. Bake 12 to 14 minutes until lightly browned around the edges. Cool 10 minutes on cookie sheets before removing to racks to cool completely. Store in a covered container.
---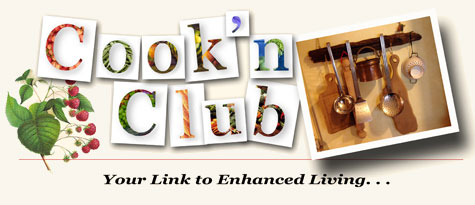 Contribute to the Cook'n Club!
DVO would love to publish your article, prose, photography and art as well as your cooking, kitchen and nutrition tips, tricks and secrets. Visit the Newsletter Submission / Win Win for All section in our Forum for more information and details.