Raw Soups - A Tasty Way

To "Clean Up Your Act"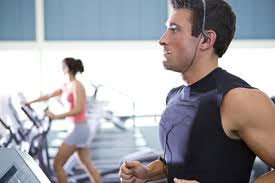 This is the time of year when health-oriented foodies seriously consider an internal body cleanse, otherwise known as a detox. The name, "detox," sounds ominous. Why would anyone want to do this?
External toxins from the environment (i.e., chemicals are found in your foods, water and air, pesticides, heavy metals and other pollutants) bombard our bodies on a daily basis leading to many of the chronic illnesses we see today.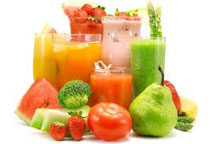 If we're getting the proper nutrition in sufficient quantities to provide a healthy biochemistry and if the organs of elimination and detoxification are functioning at optimal levels, we are able to eliminate these unwanted substances safely and efficiently through cellular processes via the main organs of detoxification (i.e., skin, bowels, liver, kidneys and lungs).
Toxins are then eliminated through perspiration, bowel elimination, urination and respiration. However, if the body is taking in more toxins than it can safely eliminate, a state of chronic toxicity can occur. Most chronic illnesses can be attributed to the presence of unwanted substances in the body or the lack of needed substances in the body. When the body has been exposed for a prolonged period of time, it loses its capacity to detoxify at the same rate that toxins are being produced and ingested causing your organs to be weakened.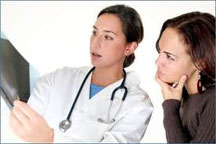 The presence of unwanted substances in the body is a very common root of illness. The process of eliminating unwanted substances from the body at the cellular level addresses and corrects this imbalance. However, for effective detoxification it is essential to provide the body with the necessary dietary substances so that the body can perform this important and natural function.
So a healthy detox allows the body to neutralize and safely eliminate harmful chemicals within the body and to enhance the body's natural ability to handle toxins. While it is unrealistic to eliminate external toxins completely, the body can be supported in its natural function of detoxification so that it is better able to cope with the daily stresses of modern life. Detoxification has a beneficial effect on most chronic illnesses because it has an impact on almost all systems of the body: cardiovascular, nervous, immune, respiratory, reproductive, gastrointestinal, urinary, skin, musculoskeletal and endocrine.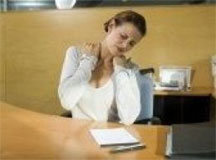 Detoxification is recommended for individuals who have: chronic digestive problems, impaired liver function, chronic headaches, chronic skin conditions, stiff, aching joints and muscles, susceptibility to infections, respiratory difficulties, allergies, low energy and fatigue, depression and moodiness, and poor quality sleep and insomnia
During a detox it is essential to feed your body with as many easily-digested and easily-utilized nutrients as possible, while eliminating all harmful foods and liquids. Here are a few detox soups that do just that!
---
Alkalizing Raw Soup
Serves 2
This is definitely a highly energizing soup and is a big favorite while on a cleanse or detox. Contains avocado which is high in EFAs and cucumber which is well known for its cleansing properties. The taste of this soup can be dramatically altered by the use of the herbs and spices mentioned or by alternating between lemon and lime.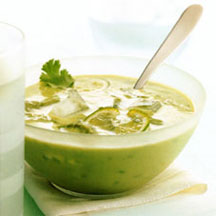 1 avocado
2 spring onions
1/2 red or green pepper
1 cucumber
2 handfuls of spinach
1/2 clove of garlic
Bragg Liquid Aminos to taste (found in health food stores)
1 tsp of light vegetable Bouillon (yeast free)
Juice of 1 lemon or lime
Optional: coriander, parsley, cumin.
Blend the avocado and stock to form a light paste, then add the other ingredients and blend.
---
Raw Carrot Ginger Soup

Soup:
    4 medium carrots
    1 1/2 spring onions
    1 good chunk ginger
    2 tablespoons lemon juice
    1 cup water
    2 teaspoons miso paste (I used Gen-Mai)
    1/2 an avocado, optional
    pinch sea salt, to taste
    Drizzle:
    4 tablespoons olive oil
    cilantro, to taste
    pinch salt
Assemble all soup ingredients into blender. Blend for a few minutes until desired consistency is reached. Add additional salt, ginger, and lemon, to taste. Assemble drizzle ingredients in blender; blend. Drizzle into soup. You can save excess drizzle and use it as a salad dressing.
---
Cucumber Cilantro Soup

2 cups chopped cucumber (about 1 large cucumber)
    1 1/4 cups water either hot or cold
    1 avocado
    1/2 cup cilantro
    1 tablespoon lemon juice
    2 teaspoons agave or other liquid sweetener (optional)
    2 teaspoons apple cider vinegar
    1 clove garlic
    1/2 to 3/4 teaspoon sea salt
Blend all soup ingredients together in a high speed blender until smooth.  This is really good when garnished with mushrooms and onion (marinated in nama shoyu or soy sauce is AWESOME), and with a few sprinkles of curry powder.  But you could do so much with this recipe and the garnishments. Fresh basil would probably make a nice substitute for the cilantro.
---
Avocado Gazpacho

Gazpacho:
    4 large avocados, chopped
    2 cups cubed cucumbers
    1 cup fresh cilantro
    1/4 cup chopped red onion
    1-2 cloves fresh garlic, minced
    3/4 cup water, or amount for desired consistency.
    1/8 cup fresh lime juice (juice of 1 juicy lime)
    1 tablespoon cold pressed extra virgin olive oil
    1 teaspoon Celtic sea salt
    Garnish:
    1 avocado, diced
    2 scallions, chopped
    1 tomato, chopped
    1/4 cup chopped cilantro
Place all of the Gazpacho ingredients in your blender and puree until smooth. Flavor to taste. Chill before serving. Serve with "all the toppings" or on its own in small ramekins or shot glasses.
---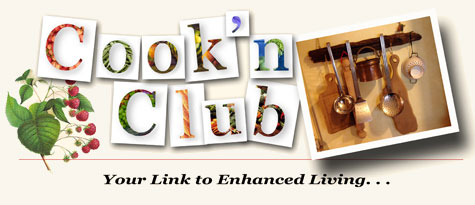 Contribute to the Cook'n Club!
DVO would love to publish your article, prose, photography and art as well as your cooking, kitchen and nutrition tips, tricks and secrets. Visit the Newsletter Submission / Win Win for All section in our Forum for more information and details.