Winter-Time Blahs?

Feed the Birds!
It's snowing today. I know I should be grateful for the moisture — water tables, our lakes, our forests — they all benefit from winter snows. But I'm worn out with winter and ready for spring and warmer weather. So this longing leads me to share a neat idea a few neighbors taught me.
Mavis is yearning for spring as well, and she tells me that coaxing birds into her yard seems to bring spring on their tail feathers! With this mentality, she creates a few bird feeders, made from bagels no less!
Here's what she says we need: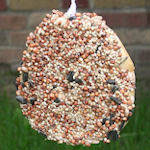 String

1/2 of a stale bagel

1 Teaspoon Peanut Butter

1 Teaspoon Shortening

Bird Seed

Scissors

And here's what she says we do: Cut a piece of string about 24" long. You can adjust this length depending on where you want to hang it. Put one end of the string through the hole in the bagel and tie both ends together to make a large loop to hang up your bird feeder with.

Mix together the peanut butter and the shortening. Spread this mixture onto the flat side of the bagel. Pour the bird seed onto a plate. Press the peanut butter/shortening side of the bagel into the bird seed.

Hang this bagel bird feeder in a tree or anywhere outside and watch the birds make it disappear!

A few other simple bird-feeder ideas I've seen my neighbors use are: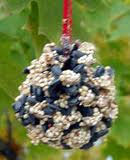 PINE CONE BIRD FEEDER: Clyde slathers a lot of peanut butter thoroughly into and around a pine cone (from his yard) and then rolls it well in bird seed. He has several of these hanging from his trees throughout his yard.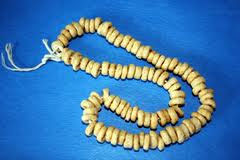 CEREAL BIRD FEEDER: Anna was about to toss out some very stale Cherrios when her husband suggested they just string it and hang it out for the birds to nibble on. Smart idea!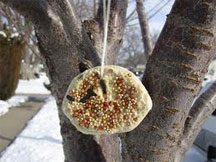 BISCUIT BIRD FEEDER: Along the stale bagel idea is the stale biscuit idea that Anna came up with as well. She reserves some of her homemade biscuits for the birds. After they've dried out well, she covers them in a combination of peanut butter and shortening, rolls them in birdseed, runs a string through them (using a large darning needle), and hangs them around her yard.
I think I'm going to try hanging some of these feeders in my trees and see if Mavis isn't right — whatever will coax spring into my yard, I'm doin' it!




---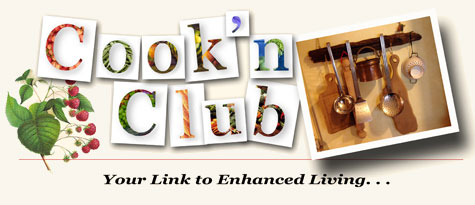 Contribute to the Cook'n Club!
DVO would love to publish your article, prose, photography and art as well as your cooking, kitchen and nutrition tips, tricks and secrets. Visit the Newsletter Submission / Win Win for All section in our Forum for more information and details.