Souper Fixings
Welcome to soup season! Who doesn't love coming home to a warm bowl of homemade soup on a chilly night? I sure do! And what I love even more is a bowl of soup with all the right fixings. What do I mean by fixings? I mean a soup piled high with delectable toppings. Garnishing your soup with toppings is a great way to add variety to your soup. And if you choose your toppings wisely, you can make your bowl healthier and heartier.
The first soup that comes to mind when I think of toppings is taco soup. I love taco soup. I love it for so many reasons. It's healthy, inexpensive, easy to throw together, a great food storage meal, and so yummy. Taco soup is awesome all by itself, but it becomes amazing when you add fresh tomatoes, avocado, green onions, cheese, sour cream, and tortilla chips. Many other soups-maybe even all soups-benefit from extra fixings.
Here are some favorite soups with topping ideas:
Chowders and Potato Soup - crumbled bacon, cheddar cheese, green onions, diced ham, broccoli, sausage, chives
Chili - sour cream, monterey jack cheese, onions, jalapenos, Fritos, hot sauce, bell peppers, tomatoes
Vegetable and Minestrone - fresh parsley, parmesan cheese, plain greek yogurt
Tomato Soup - fresh basil, mozzarella cheese, spinach, croutons, cucumber, avocado
Asian and Curried Soups - cilantro, wonton strips, shredded carrots, coconut flakes, green onions, chopped cabbage, lime wedges, peanuts, sliced almonds
Tortilla and Taco Soups - avocado, tomato, cilantro, green onion, lime wedges, black olives, pepperjack cheese, sour cream, bell pepper, tortilla chips or strips, guacamole
Butternut Squash Soup - hazelnuts, walnuts, brown sugar, cream cheese
Chicken Noodle Soup - oyster crackers, fresh dill, red pepper flakes, parmesan cheese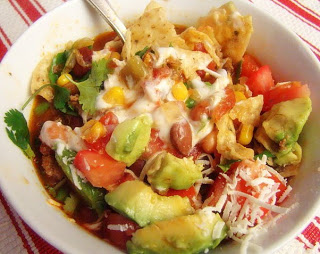 Picture Source: http://cookingwithkrista.blogspot.com/2010/04/7-can-taco-soup-in-crock-pot.html
What are some of your favorite soup toppings?
Sources:
http://cookingwithkrista.blogspot.com/2010/04/7-can-taco-soup-in-crock-pot.html

Cristina Duke
Monthly Newsletter Contributor since 2014
Email the author! cristina@dvo.com