Posole Stew
As a freshman in college, I was blessed with five awesome roommates. The six of us did most everything together, even cooking. On Sundays, we had apartment family dinners. We would take turns cooking a nice meal for the "family." There were a few disastrous meals-mostly at the hands of myself, but there were also some marvelous meals that I have never forgotten.
One of those marvelous meals was posole. Posole is a Mexican pork stew. After doing some research, I learned that posole actually means "hominy", which is one of the main ingredients in this scrumptious stew. This soup tastes even better topped salsa, guacamole, and sour cream and served in a warm, bread bowl. A perfect stew for a crisp, autumn evening!
Posole Stew
1 lb boneless pork stew meat
2-3 T flour
¼ cup oil (I prefer avocado oil)
1 medium onion, chopped
1 15 oz can pinto beans, drained
1 15 oz can white hominy, drained
2 carrots, grated
½ cup bell pepper, chopped
2 16 oz cans chicken broth
1 tsp red pepper flakes
1 tsp salt
1 tsp Menudo Spice Mix*
Directions:
1) Coat the pork with the 2-3 T of flour. Cook the pork until browned and set aside.
2) Add the chopped onion to the skillet and cook until translucent.
3) In a big pot mix the beans, hominy, carrots, bell pepper, chicken broth, red pepper flakes, salt, and
Menudo Spice Mix. Heat to boiling and simmer for 10 minutes.
4) Add the cooked pork and onion to the pot and simmer for an additional 30 minutes.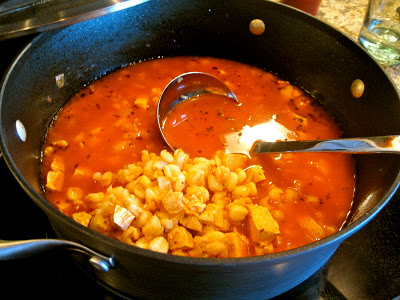 *Tip - If you can't find Menudo Spice Mix in the spice aisle at the grocery store, try the Hispanic aisle. There are also recipes online for making your own Menudo Spice Mix.
Here is one website: http://www.cooksinfo.com/menudo-mix
Picture Source: http://delectablyglutenfree.blogspot.com/2011/03/posole-stew-with-chicken.html
Add Recipe to Cook'n

Cristina Duke
Monthly Newsletter Contributor since 2014
Email the author! cristina@dvo.com
---