Featured Recipe-Elise's "Award-Winning" Chili
One year I decided to enter a chili cook-off for fun. Imagine to my surprise that we won that year! However, there is a bit of a story behind it all. My husband, being the gentleman that he is, carried my hot pot of chili in for me. The judges, seeing my husband with the pot of chili, thought he had made it and gave him the award... I tried to convince them that is was mine, but they thought I was just jealous. So, when I wrote up my recipe card, I called it Elise's award-winning chili to get back. It gets better-my daughter found my card and crossed my name out and put my husband's name instead!!! Arrgg! Therefore, I am giving out my secret recipe in the hopes (maybe) that I will finally get some credit for it!
Elise's "Award-Winning Chili"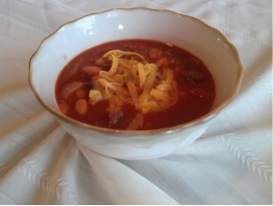 Ingredients:
1 pound hamburger, browned
1 medium onion, chopped
3 15 oz cans pinto beans
1 15 oz can kidney beans
1 cup salsa
1 28 oz can crushed tomatoes
1/2 teaspoon garlic powder
1 teaspoon ground cumin
1 teaspoon dried basil
1/2 teaspoon ground pepper
1 teaspoon season salt
1 tablespoon chili powder
Steps:
1. Combine all ingredients in Crockpot. Cover.
2. Cook on high for 3-4 hours or low 6-8 hours.
3. Serve with sour cream and grated cheese.
To make a spicier chili:
Add two more tablespoons of chili powder, a can of diced green chilies, and hot salsa instead of mild. Or just let your husband add the seasonings :0)
Serves: 6-8
Add Recipe to Cook'n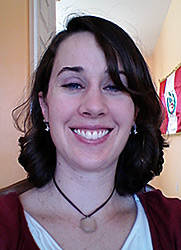 Elise Grant
Monthly Newsletter Contributor since 2014
Email the author! elise@dvo.com