Uh Oh Cherr-i-o!
Recently my mom shared a bag of tart cherries from her own cherry tree with me. Even though they were tart, I found snacking on them to be delicious! I have never really done much with cherries, but she told me you usually bake with tart cherries so I did a little research to find out the best tips and tricks for baking cherry dishes so I could make a delicious cherry pie with these cherries. I hope you find this information useful for your own cherry adventures!
1 - No pitter? No problem! Use a pastry tip. Just remove the stem and place the cherry, stem side down, over the pastry tip. Press firmly and voilà - out pops the pit. You can use a rounded tip to avoid potential accidents, but a sharper star tip may also be used.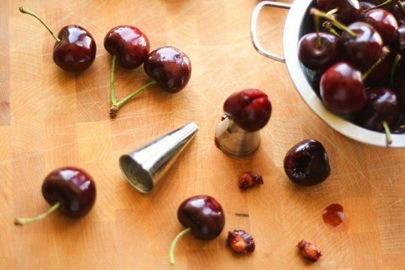 2 - Pure almond extract is a natural companion to cherries. Less than 1/4 teaspoon added to cherry mixtures really brightens the cherry flavor.
Cherry Selection
Fresh cherries should be clean, bright, shiny, and plump with no blemishes. Sweet cherries should have firm, but not hard flesh, while sour cherries should be medium-firm. The darker the color, the sweeter the cherry.

Avoid cherries with cuts, bruises, or stale, dry stems. You'll find stemmed cherries less expensive, but be aware that cherries with the stems intact will have a longer shelf life.
Cherry Storage
-Store unwashed cherries in a plastic bag in the refrigerator, and wash just before eating. Before eating fresh sweet cherries, leave them out on the counter for a few hours as the flavor is much better at room temperature. Fresh cherries should be consumed within two to four days.
How to Freeze Cherries
-You can freeze fresh cherries, but they should be pitted first, otherwise they will take on an almond flavor from the pit. Beware the juice when pitting cherries, as it will stain clothing.

-Freeze whole, pitted sweet cherries in 40 percent syrup (4 cups water plus 3 cups sugar) with 1/2 teaspoon ascorbic acid (or citrus juice) added per quart of liquid.

-They may also be pitted and frozen without liquid in plastic bags with all the air removed. Some cooks prefer to freeze separated cherries on a cookie sheet and then pack in bags for freezing.
-Frozen cherries will last ten to twelve months in the freezer.
Sources:
http://homecooking.about.com/od/foodstorage/a/cherrystorage.htm
http://homecooking.about.com/od/fruit/a/cherrytips.htm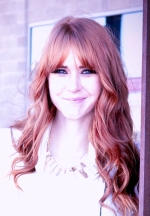 Mary Richardson
Monthly Newsletter Contributor since 2014
Email the author! mary@dvo.com
---
Recipe