Tips to be the very best Baker!
This is the beginning of the Holiday season. Here are a few tips from the Home Baking Association to help you be the very best Baker!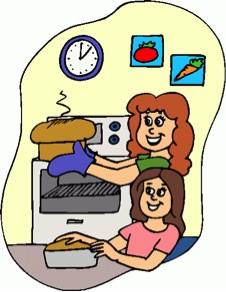 Baking Pans
· Don't crowd the oven. The pans should never touch each other or the sides of the oven, or be placed over or under each other on the racks
· Grease pans using a piece of paper towel, rub a small amount of shortening, butter or margarine evenly over the bottom and on sides of pans, if directed. A small amount of pan spray may be used and spread over the pan, also using the paper towel technique.
· Prevent sharp edges on muffins, bar cookies or quick breads by greasing the muffin cups or pans only on the bottom and halfway up the sides so the batter is higher than the greaseline. This is one time you might not want to use a pan spray.
Butter
· Do not use spreads to replace butter, margarine or shortening one for one in a recipe. Spreads contain less fat and more water, so they will not perform like butter or margarine.
Brown Sugar
· In a pinch, you can make your own brown sugar. Cream with a spoon or mix with a fork 1 cup granulated sugar and 1-2 Tablespoons molasses until the sugar can be packed in a cup and measured like brown sugar.
Source: http://homebaking.org/index.html
---