You've been Squashed!!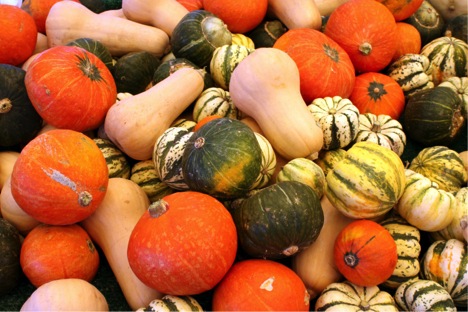 Fall is in the air and at the store they are starting to sell those beautiful pumpkins, gourds, and squashes. They are so beautiful, you just can't help but buying a few of them. You take them home and viola! perfect fall decorations. But did you ever stop and realize that those lovely decorations can be your next meal??
Here's how to get some of those lovely decorations onto your plate.
First, figure out what pretties you bought. Then cook them up and serve. Perfect! Super easy and super healthy!
Below are some of the most common squashes you can get at the store and how to cook them.

Acorn squash is probably the most easy to figure out, as it looks like a green acorn, minus the cute little cap that acorns have. These have a very mild flavor and are easy to prepare. Simply cut in half and scrape out the seeds, then place hollow side up in a pan and put a tablespoon or two of brown sugar into the the hollow side. Bake at 350 for about 45 minutes.

Butternut is a squash you can find pretty much anywhere, anytime. It is one of my favorite squashes as it tastes rather good all by itself. It also makes good soups, as butternuts are not as stringy as most squashes. To cook, simply cut in half, scoop out the seeds, and place hollow side down on a pan. Bake at 350 for an hour. Good served with coconut oil and honey. Yummy!

Spaghetti squash is pretty awesome. It lookes rather like a yellow butternut, but when cooked, the squash comes out in nicely formed noodle-like pieces. It is perfect to substitute in pasta dishes, or even to eat with with just some butter and salt. Prepare just like a butternut, but cook for an extra fifteen minutes. Then scrape out the spaghetti-like strands into a bowl. Ta-da! Healthy pasta!

If you went ahead and bought an odd-shaped squash, chances are you bought a a hubbard squash. They come in a large variety of colors and can weigh anywhere from 8 to 20 pounds. But don't be fooled by their unusual shape and color. These squash are super sweet and yummy! To cook, cut in half, deseed, and cube. After cubing, peel or slice off skin. Place in a pot with water covering the bottom and cook for about half an hour, until the squash is mushy (note: don't let the water in the bottom run out or the squash will burn). Then mash like you would potatoes. Serve with butter.

Now, how about the most famous of winter squashes? The Pumpkin. Yeah, the kind you make Jack-o-lanterns with. Yes, you can even eat those! (didn't realize that pumpkin pie filling can be made out of these guys instead of out of a can, did you? Neither did I, until my friend showed me how...) Ok, so here is how to cook up these guys: you can cook the whole pumpkin like a butternut squash (cut in half, deseed, etc.), or cube it like a hubbard squash and make it into a pie. Or, you can do what I do. I prefer to take the leftover pieces from my Jack-o-lanterns, give them a little rinse, and then peel and cook like a hubbard. Then I make pumpkin cookies. The perfect way to use up a little bit of squash, and get your kids to eat it :0)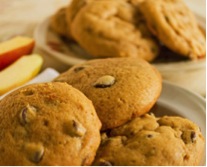 Ingredients:
3 cups flour
2 tsp. baking soda
1/2 tsp salt
1 tsp. ground cinnamon
1/2 tsp. ground ginger
1/2 tsp. ground nutmeg
1 cup unsalted butter
1/2 cup white sugar
1 cup brown sugar
2 large eggs
1 tsp vanilla
1 cup pumpkin puree
1 1/2 cups semi-sweet chocolate chips
Directions:
1. In a small bowl mix together flour, baking soda, salt, cinnamon, ginger, and nutmeg, set aside
2. In a large mixing bowl cream butter with white and brown sugar
3. Cream in eggs, vanilla, and pumpkin puree
4. Beat flour mixture into butter mixture until fully incorporated
5. Stir in chocolate chips
6. Cover dough tightly and chill in refrigerator for 4 hours or overnight (or omit this step if you can't wait, like me)
7. Preheat oven to 350 degrees
8. Grease cookie sheets or line with parchment paper
9. Scoop cookies onto cookie sheet
10. Bake for 15 to 18 minutes until cookies are browned around the edges and set in the middle
11. Allow to cool completely before removing from cookie sheets
Vegan Version: Substitute vegan margarine such as Earth Balance for butter. Substitute 1 Tbsp ground flax seeds mixed with 1/4 cup water for the 2 eggs. Make recipe as directed.
Healthier Version: Substitute 1 cup coconut sugar for the white and brown sugar. Use 2/3 cup coconut oil in place of the butter or earth balance. Increase the amount of pumpkin by 1/3 cup. Not necessary to chill the dough.
GF Version: Substitute 3 cups all purpose gf flour mix and add 1 tsp xanthan gum (Bob's Red Mill makes a corn free variety). If you don't want to use xanthan gum, [use the vegan version and] add 1 Tbsp psyllum husks to the ground flax seed and increase the water to 1/3 cup. GF version does not need to be chilled.
Spicier Version: Double the cinnamon and ginger and add ¼ tsp. of ground cloves to the flour mixture.
Nutty Version: Add 1 cup chopped pecans or walnuts to the cookies.
Makes 3 dozen 2 inch cookies
Nutrition Data, 45g Serving (1 cookie): 168 cal, 24g carb, 8g fat, 107mg sodium, 1g fiber, 2g protein, Estimated glycemic load 16
Sources:
http://www.foodphotosite.com/?level=picture&id=25
http://www.realsimple.com/food-recipes/shopping-storing/food/common-types-winter-squash-00000000040720/index.html
http://www.savvyvegetarian.com/vegetarian-recipes/pumpkin-chocolate-chip-cookies.php
Add Recipe to Cook'n
Sources:
http://www.foodphotosite.com/?level=picture&id=25
http://www.realsimple.com/food-recipes/shopping-storing/food/common-types-winter-squash-00000000040720/index.html
http://www.savvyvegetarian.com/vegetarian-recipes/pumpkin-chocolate-chip-cookies.php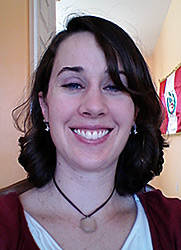 Elise Grant
Monthly Newsletter Contributor since 2014
Email the author! elise@dvo.com