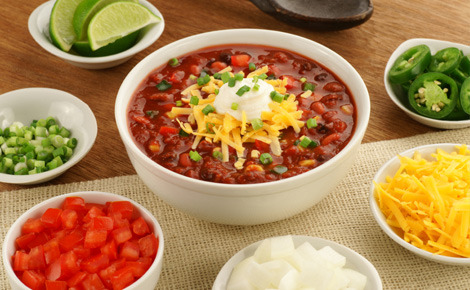 When you have guests around, and want to entertain, feed and not be stuck in the kitchen, a chili bar is a great way to do it! A chili bar is great for football game watching, for family get togethers, for tailgating and pleases both men and women.

One positive about chili bars is that chili can be relatively inexpensive, and it feeds a lot of people. It is not necessary to keep many things warm at one time, and can be cooked in a slowcooker, which keeps the house cool during the summer. Chili can also easily be served over buns, bread, and over hot dogs.

Here are some tips to make your Chili bar successful.

Start with the base; the chili of course. There are a surprisingly many options when it comes to chili. You don't have to choose just one either. Types vary from vegetarian options, beany or beanless, meaty with chicken or beef, or even bear, thin or thick, red bean or white bean?. You pick!

Figure out how you are going to keep the chili warm. Options could be slow cooker, stovetop, or even in a Dutch oven or on a grill pan. Some of these options will allow you to cook the chili with the same method, or you can cook it before hand and just warm it for serving (this method is great if you are planning the chili bar during a camping excursion or some other event when you won't have time to be in the kitchen, just freeze it in a zipper bag and load it into a cooler).

How will you serve the chili? Popular options are bread bowls, over hotdogs, over hamburger buns, with cornbread, or just in mugs or bowls. I love a good walking Chili...continue reading to learn how to do this!

Toppings for chili are pretty much my favorite part, and are endless. Most popular options are:


Shredded cheddar cheese
Shredded Jack cheese
Chopped onion
Minced green onion
Sour Cream
Diced tomato
Crumbled Bacon
Saltine Crackers
Corn chips
Soup crackers/also called oyster crackers
Tater tots
Hot sauce
Cilantro
Chopped avocado
Salsa
Nacho Cheese
Cubed polenta
Chopped black olive
Scoopable tortilla chips
Diced chilis
Some additional ideas that you may have not thought of, which are not only yummy but can be conversation starters:
Shaved or chopped bittersweet chocolate (this is actually used quite often as a chili ingredient).
Corn nuts
Crumbled Corn bread
Fancier cheeses, such as gruyere, goat, queso fresco, or manchego cheese
Thinly sliced tortillas
Diced mango
Lime wedges
Chow mein noodle
There really are tons of options!
Don't forget to have some milk on hand for those people who try to outdo another with spice (you KNOW this happens when you get a bunch of guys together!) and for a funny, and possibly necessary "topping" have a bowl of antacids nearby.
Here is a simple, easy to transport idea that we call Walking Chili, it really is a great way to serve Chili when camping or tailgating, and the clean up does itself!