15 TOP Choice Time-Saving Kitchen Tools
Making meals is a little like making magic. You toss some ingredients together and voila... they change into muffins or a mixed vegetable medley! Some days you may wish your magic wand was speedier - that it didn't take quite so long to clean, peel, chop and mix fresh vegetables for a salad. Or measure, mix, beat, blend and cook a casserole.
In search of faster kitchen magic, the University of Nebraska asked several Internet discussion groups of dietitians, home economists, chefs and other food professionals for their favorite time-saving kitchen tools. The response was overwhelming! Here are their 15 top tools to quicken your kitchen performance.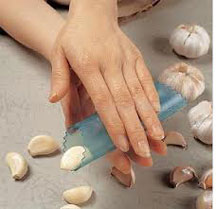 Tool 1: Garlic Peeler: The type mentioned most frequently is a rubber tube you place the garlic in, roll it a couple of times and the skin comes off. An added benefit: No more garlic smell on your hands!
Tool 2: The Dishwasher and Anything Dishwasher Safe: Seems like we'd offer a big "DUH!" here, but you'd be surprised how underused the dishwasher is in some homes. It can do a lot more than just wash dishes. I sterilize my vegetable brushes, dish washing scrubbies and sponges, and I use it to scald corn on the cob when I have a lot to freeze. I also use it in my house cleaning. I place all my glass lamp shades in it every few months - they come out sparkling.
Then there's the issue of those magic time-saving words "dishwasher safe" that you want to see on all dishes, serving ware, etc. Don't buy anything you have to wash by hand until you check to see if there's a comparable dishwasher-safe item from another company.
Finally, using the dishwasher saves time and helps assure kitchen items are thoroughly and safely cleaned. Plus, sticking your utensils in the dishwasher gets them out of sight immediately!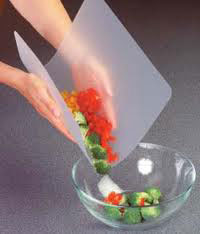 Tool 2: Flexible Plastic Cutting Board: Flexible plastic cutting boards are favorites with several people. After cutting vegetables, fruits or herbs, you can lift them up and pour the contents into whatever bowl or pan you're using. They're also dishwasher safe!
Tool 3: Own More Than One Cutting Board: Tied to Tool #3, following this advice means you avoid cross-contamination when cutting different types of foods for the same meal. This is especially important if you're cutting raw meats, poultry or seafood and then need to cut ready-to-eat foods. With more than one cutting board you can avoid spending extra time washing your board before cutting the next item.
And of course, plastic cutting boards are easier to safely clean as they can be run through the dishwasher.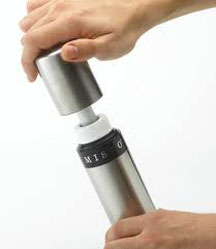 Tool 4: Pump-Spray or Mist-Spray Bottle for Oil: Fill this non-aerosol sprayer with your favorite oil and use for flavoring vegetables, coating pans and grills or spraying directly on bread. NOTE: Buy a container specifically advertised for use with oil. This is so much healthier PAM and much less expensive, as well!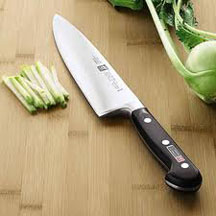 Tool 5: A Good Quality, Sharp Chef's Knife: This tool is a must in any serious cooks' kitchen. It quickly chops, cuts, slices, dices and minces fresh produce. You can do some procedures faster with a chef's knife than with your food processor. But be sure you keep your knife sharp. Check what type of sharpening procedure or device the manufacturer of your knives recommends.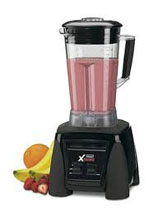 Tool 6: Food Processor and Blender: A food processor can make quick work of slicing, dicing, shredding, grating and chopping -- especially for large quantities of food. For smaller quantities, hand-held kitchen tools such as a chef's knife or a grater sometimes are faster.
A blender makes quick work of pureeing ingredients, such as for soups, and is terrific for making smoothies! Buy a heavy-duty blender if you want to crush ice.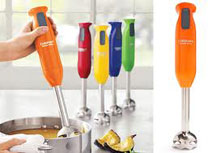 Some people like an immersion blender for pureeing soups in the pot or frothing hot chocolate. I have both and use it much more than my stand blender because it's quicker and easier to clean.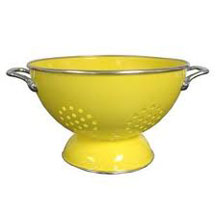 Tool 7: Lots of Colanders: If you tend to wash and/or drain a lot of foods for meals, an extra colander or two may save you time and help prevent cross-contamination.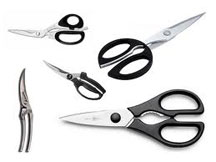 Tool 8: Kitchen Shears: Sturdy, sharp kitchen shears can perform many tasks, from cutting herbs, bacon and pizza to trimming dough to deboning chicken and cutting poultry joints. Many are labeled dishwasher safe and will separate for more thorough cleaning. My favorite brand CUTCO separate, and I can send them back to the company to re-sharpened as many times as is needed. As with any sharp item, use caution. If you wash shears in your dishwasher, place them in a location where they won't bump against other items or cut someone on removal.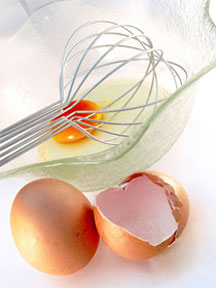 Tool 9: An Assortment of Whisks: With the right size and shape matched to the task and you've got a quick and clever process going on. An article from Bon Appetit recommends a "big, rigid whisk" for foods in large pots; a "medium whisk for soups, sauces, creams and custards;" and a "small whisk" (about 10 inches long) for "salad dressings, sauces and folding flour into batter."
Some whisks are longer and narrower - others are like big balloons. Use the "ballooning-est" ones when you want to beat a lot of air into a mix, such as whipped cream or meringue. Choose whisks with thin and flexible wires for whipping air into batters, and thicker, more rigid wires for thicker mixtures such as brownies.
Choose whisks that have the area sealed where the wires go into the handle. This helps assure your whisk stays clean. These whisks may be more expensive, but will probably last longer and cost less over time. Don't forget the earlier advice to look for "dishwasher safe" when buying whisks - this will save time and help assure your whisks are thoroughly and safely washed.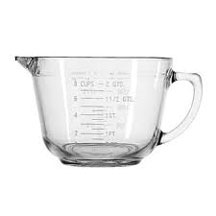 Tool 10: 1- and 2-Quart Microwave-Safe Glass Batter Bowls/Mixing Cups: Yesiree, these are my favorite cooking tools. Use these multi-talented tools to measure; mix (batters, sauces and toppings); cook foods in the microwave; and reheat foods you want to pour, such as soups. Many come with plastic covers so you can use them for storage, too!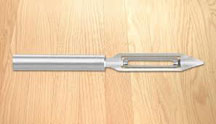 Tool 11: A Good Quality Vegetable Peeler: I've talked about this before: My all-time favorite peeler is made in America by RADA. But whatever brand you choose, you want one that will quickly and evenly remove the outer skin from fruits and vegetables and it should hold its sharp edges and be extra durable. Many have a sharp, rounded edge at the end to pop out the "eyes" of potatoes. This is why I like the RADA peeler so much - it meets all the requirements and has a lifetime guarantee!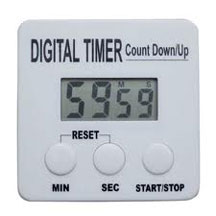 Tool 12: A Digital Timer: I've talked about this tool before. Every savvy chef agrees on this issue. They help you time the exact seconds, minutes or hours needed for a cooking process. Many come with a flip-out stand and a magnetic backing, so you always can keep them handy. Some can be clipped to your belt if you need to leave the kitchen. Others come with a string to hang around your neck.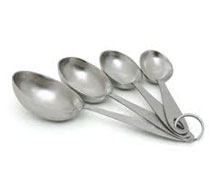 Tool 13: A Set of: For items such as sugar, oatmeal, rice, etc., quickly scoop the amount you need. Some scoop-type cups are a cross between a scoop and a regular measuring cup -- they have a long handle attached to a cup base.
NOTE: You wouldn't "scoop" flour for most recipes. To avoid packing, it's usually advisable to measure flour by spooning it lightly into your measuring cup. And regardless of your preferred type of measuring cup, you may wish to own at least two sets to save clean-up time between different uses.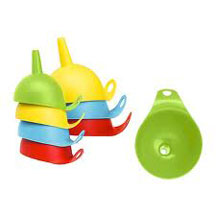 Tool 14: Funnels: Kitchen funnels are helpful for transferring bulk items into smaller containers. One cook ground a week's worth of coffee, put it in a jar and stored it in the cupboard. The rest of the beans went in the freezer. If you transfer ground coffee to a smaller coffee container, a funnel is handy. It's also great for filling sugar shakers from a larger package of sugar.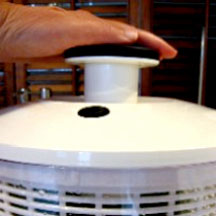 Tool 15: Salad Spinner: If you're washing lettuce, spinach leaves, etc., this tool is a must. Simply toss in your washed greens and "spin" them dry. These products work in various ways. Some have knobs you turn. Others operate through a push-down mechanism. Check around to find one with the features you like.
Sources:
www.aliexpress.com
www.zombiehunters.org
www.mommykatie.com
www.chefscatalog.com
www.amazon.com
www.katom.com
www.thekitchen.com
www.cookingforus.com
www.seriouseats.com
www.anchorhocking.com
www.talimba.com
www.ikea.com
---
---
---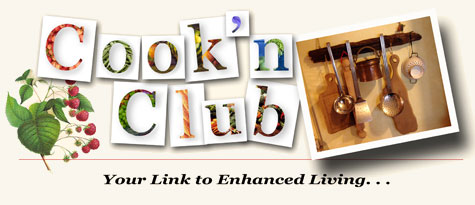 Contribute to the Cook'n Club!
DVO would love to publish your article, prose, photography and art as well as your cooking, kitchen and nutrition tips, tricks and secrets. Visit the Newsletter Submission / Win Win for All section in our Forum for more information and details.