How About Family Dinner in 2013? It's Time!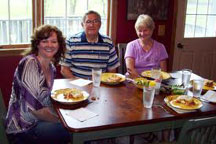 The research is conclusive and the campaigns are waging - 2013 is the time for family dinner. This long-lost family tradition has been proven to benefit everyone involved - especially children. But even if you're an empty nester now, eating with other people is considered very important to mental and physical health, and worth the effort to make it happen. So family? Maybe now that means getting together with neighbors, or relatives, or co-workers.
OK, while we won't argue the idea - we get it - don't you at least wonder how, in this rat-racy world, there's TIME to consistently get dinner on?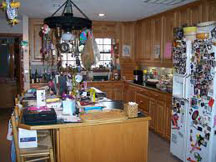 It's a fair and common question. But here's the fact: The easier it is to work in the kitchen (meal making), the more time and inclination we have to do so. Do yourself a huge favor, then, and take a little time to create a user-friendly environment - get the clutter out, give your spaces specific assignments, and make sure your tools and equipment are clean and up to par.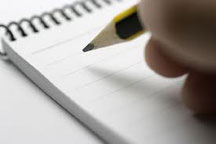 Next, make a list of items you need to replace, so your meal prep is more pleasant. Using things that aren't pretty or don't work well is unpleasant, so make sure there is nothing sub-par in your kitchen (ratty-tatty pot holders, for instance). Go through your drawers and cupboards and remove anything you don't like, use, need, want, or have room for. Keep only those things that are in good working order, things you actually do use and need, and things that are pretty to look at.
Next, here are 3 test time-savers when it comes to meal prep: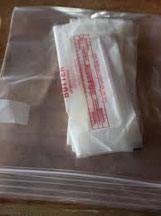 1) Tuck your butter wrappers into a small plastic zippered bag and store in the refrigerator; when you need to grease a baking pan, just pull out one of these already-greased papers.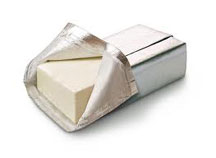 2) Remove your brick of cream cheese from its wrapper and store the cheese in a 1 cup lidded container. While this keeps the cheese fresher longer, it also saves you some time when needing to use it - no hassling with the unwrapping and rewrapping of that annoying foil wrapper.
These two tips may seem inconsequential in and of themselves, but when you cluster time-saving habits together, you end up saving a LOT of time and energy over the long run. And here's one more simple and brilliant time-saver:


3) Make (and always have on hand) "gravels." When you have frozen pre-cooked ground beef, sausage, grated cheeses, and chopped veggies (onions, celery, carrots, bell peppers, etc.), you essentially have dinner! Once a week I fry up my ground meats and drain, then I spread these out on cookie sheets and put them in the freezer. As soon as the meat is frozen, I crumble it up and place it (in 2 cup portions) in plastic zippered freezer bags. And while the meat is cooking, I chop vegetables and place them on cookie sheets and freeze. Then I use the same routine - I crumble the frozen food up and place (in 2 cup portions) in plastic zippered freezer bags.
After a day at work I may get home around 5:45 p.m., but I can still get a dinner prepped in about 15 minutes. I just pull from the freezer packages of hamburger and veggie "gravels" and toss some tasty tostadas together, for instance, in less than 10 minutes; we're able to sit down to dinner by 6:30 p.m.
Consider devoting a Saturday every now and then to making several different "gravels" - they're good "dinner insurance."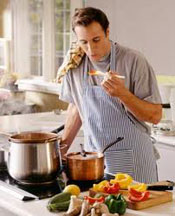 Creating a more user-friendly kitchen is worth the effort - try it and see if a clutter-free kitchen, paired with some smart time-saving routines don't make it more fun and much easier to consistently get dinner on. It's time!
Sources:
www.christithomas.blogspot.com
www.householdtips.thefuntimesguide.com
www.reneweveryday.com
www.thekitchen.com
www.allthingswalker.blogspot.com
www.kfoodsinc.com