12 Cool Reasons to Stock Up on Castile Soap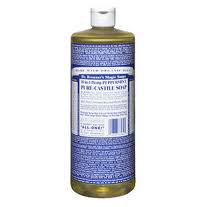 I have a friend whose children struggle with lots of allergies and she's had to make major changes in the products the family uses for daily living. One of the products she has discovered is castile soap. Have you ever tried this stuff? Know anything about it? There are many good reasons why she has turned to castile as a way to minimize allergic reactions and to increase the comfort factor in her home.
"Castile" is a style of soap, it's not a brand name. It's made from 100% plant oils (no animal products like tallow, or mystery ingredients which show up in most commercial soaps). It's a true soap - no chemical detergents involved, and it's completely biodegradable and very earth- as well as people-friendly.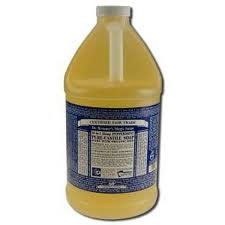 Many savvy cleaning professionals recommend hot water and castile soap as an all-purpose household cleaner. And you can add essential oils to this liquid soap as a way to customize and diversify your cleaning lineup. For instance, how about orange blossom for tile floor mopping, and peppermint on your dishes? Lot's of people prefer lemon in the bathroom, and who doesn't love lavender in the laundry? Eucalyptus is an antimicrobial, so it would work well with castile as a counter top cleaner. The possibilities are endless.
This inexpensive, ultra environmentally awesome ingredient is easy to incorporate into your home management and personal grooming routine. Consider these ideas as suggested on one of my favorite websites, Care2: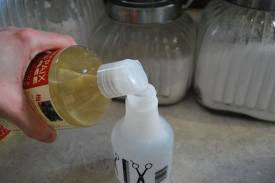 1. Shampoo: Castile soap is a superb alternative to harsh detergent-based shampoos. Just mix castile soap with water at a ratio of 1:3.
2. Laundry Detergent: You can make your own affordable, earth- and clothes-friendly laundry detergent with simple, common ingredients. Save money and do the environment a friendly favor. Here's the recipe (consider collecting homemade cleaning recipes and saving them in a chapter you create in your Cook'n Recipe Organizer):
---
Liquid Castile Laundry Detergent
Environmentally friendly, effective, and smells great--what more could you want in a laundry detergent?
Ingredients:
1/4 cup

soap, liquid castile
1 cup

soda, washing
1 cup
baking soda
1 cup

white

vinegar
1 cup

boiling

water
Directions:
In a large mixing bowl, add the soap, washing soda, and baking soda... in that order. Slowly pour in the white vinegar and mix well. Use your hands and/or a whisk to break up the lumps. Pour in boiling water. Whisk until combined. Allow to cool and store in a container with tight fitting lid. Use two tablespoons per load.

Recipe formatted with the Cook'n Recipe Software from DVO Enterprises.
---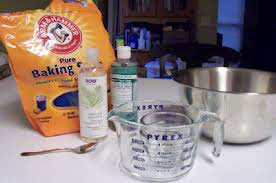 3. Tub Scrub: A very effective tile or toilet "soft scrub" can be made out of baking soda and castile soap. Fill a spray bottle with a dilution of 1:3 castile to water. Then sprinkle the area to be cleaned with a liberal amount of baking soda, and spray the baking soda with the castile solution. Scour and watch the stains disappear. This also works great on crusty stovetops!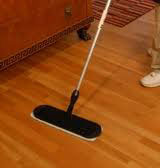 4. Mopping Solution: Add 2 or 3 tablespoons of castile soap to a full bucket of water, and mop. Floors come to a sparkly new luster.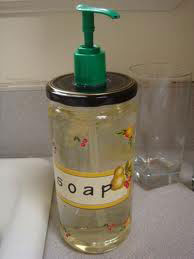 5. Dish Soap: Make a dishwashing soap (for hand washing) or a liquid hand soap (for washing hands) by simply mixing a 1:1 ratio of castile to water.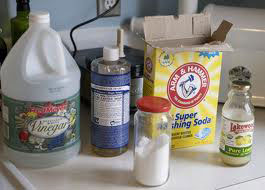 6. Dishwasher Detergent: Make a great liquid dishwasher detergent that's inexpensive and eco-friendly. This recipe is from www.bonzaiaphrodite.com, and we thank Sayward for sharing:
---
Sayward's Liquid Dishwasher Detergent
Say good-bye to hard water spots and dried-on soap scum!
Ingredients:
1 1/2 cups
water
1/2 cup

white

vinegar
1/4 cup

soap, liquid castile
2 tablespoons

pure

lemon juice

(NOT concentrate)
2 tablespoons
salt
1 tablespoon

soda, washing
10-15 drops

antibacterial essential

oils

(if using unscented castile soap; eucalyptus, peppermint, tea tree are a few ideas)
Directions:
In a small saucepan, combine water and vinegar over medium heat. Bring to just boiling and then reduce to low heat. Add each additional ingredient, one at a time, whisking as you go. Make sure everything is dissolved before removing from heat.
Allow to cool and then transfer to a storage container. When completely cooled the solution will separate into two layers, so shake it WELL before using.
Add 2-3 tablespoons per load. Also fill the machine's rinse indicator with white vinegar - a very important step. Don't skip this part! It will keep the dished 'soap-scum-free' and extra sparkly.

Recipe formatted with the Cook'n Recipe Software from DVO Enterprises.
---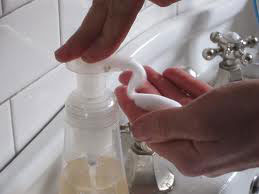 7. Soap Dispenser Refill: Refill your foaming hand soap dispenser with 1 part castile soap to 4 parts water.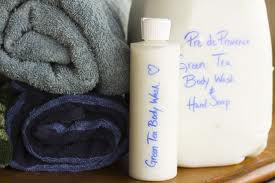 8. Body Wash: Use castile soap as a gentle yet efficient bath soap/body wash. They actually sell castile bar soap, but if you want to use the liquid just dilute it in a 2:1 ratio of castile to water. This is where I especially like to add essential oils - peppermint and lavender being my favorite combination.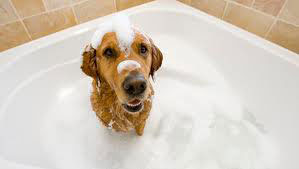 9. Dog Shampoo: What's good enough for you is even better for your pet! Use the same ratio listed above for an awesome DIY doggie shampoo.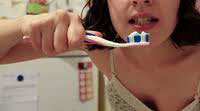 10. Toothpaste: You can actually use castile soap in place of your toothpaste, and pure soap is much better for your teeth than the nasty chemicals that are put in most commercial pastes. Just add a few drops directly to your wet brush. It works wonders, although the flavor can take some getting used to!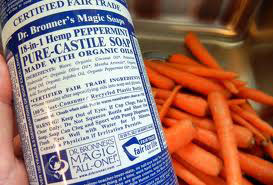 11. Veggie Wash: Make a simple veggie wash for cleansing all your produce. Add 1 tablespoon castile soap to 2 cups of water, and keep the mixture in a squirt bottle near the kitchen sink.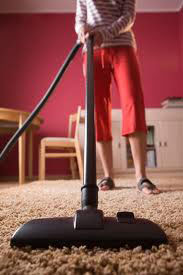 12. Carpet Cleaner: Finally, you can make an effective carpet cleaner by mixing 1/4 cup castile into 1 cup water. Place the solution in the blender and whip until a stiff foam is created. Apply as you would any other carpet cleaning product.
Sources:
www.shopping.com
www.stacymakesscents.com
www.theapronfiles.com
www.scrapityanne.com
www.maidbrigade.com
www.ecokaren.com
www.bonzaiaphrodite.com
www.rootsimple.com
www.foodiewithfamily.com
www.mnn.com
www.deeprootsathome.com
www.greenliving.nationalgeographic.com