Annoyed with Your
Ironing Board Yet?
Raise your hand if you would say yes to the Title. Both of mine are raised high. There are dresses and skirts that just hang in my closet without any love or wear because I hate pulling out the ironing board to iron. It's bulky and top heavy. I know it serves it's purpose, but it would be nice to just have it all out and ready.
That's why I loved this idea. It's out and ready to use. Not too big, inexpensive, and fun. Those sound really nice together in a sentence. Don't they?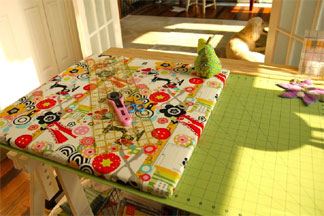 Here are the "Ingredients":
Plywood (about 5 dollars at home depot)
Staple Gun
Batting Scraps (Enough for 2 layers)
1/2 Yard of Quilting Cotton
The plywood needs only be as big as the top of your dryer, or wherever you decide to put it.
Some of you may have the rest of the stuff at home. If you don't, ask a friend who crafts. They probably have scraps. I would choose fabric that wouldn't bleed when wet or hot. Don't want to ruin the clothes while trying to get them looking nice!
Directions:
Cut the plywood to your desired width and length. Grab those two sheets of batting scraps and trim them to be about the same size as the plywood. Cover the whole thing with your chosen fabric and turn it over. Now staple, staple, staple. Trim the batting on the corner so you don't have an unattractive bubble. Fold the fabric at the corners and voila! You have a board. Just a nice simple board that takes up next to no room and won't fall over. Portable and no bulk.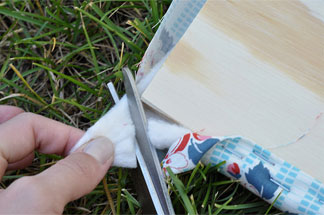 VOILA!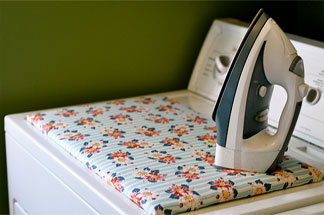 Goodbye ironing board (okay, I'll keep you around for the big things) and hello clothes I haven't worn in months!
If you want to see all the delightful details and pictures, visit this:
ACraftyFox.net
---
Quilting picture:

http://kellylautenbach.typepad.com/.a/6a00d83451b1e269e2015432e024a8970c-800wi
Fallen Iron image:

http://lcweb2.loc.gov/service/pnp/thc/5a47000/5a47500/5a47532r.jpg
Trimming image:

http://farm4.static.flickr.com/3067/5860247098_339cd19372.jpg
Finished product image:

http://farm6.static.flickr.com/5230/5859691479_e026ac8ea9.jpg
---