Desserts to Die For:
Potato Cinnamon Rolls and Bread... Tied with Disney's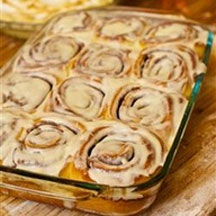 As I mentioned last week, these cinnamon rolls are tied with Disney's. Maybe you'll have a favorite, but as for me, they're both favorites. (Is that even possible?) This also has that moist texture, sweet flavor. My mouth is watering right now. As soon as I'm done with this, I'm going grocery shopping to stock up on some of these ingredients.
---
Lin's Roll Dough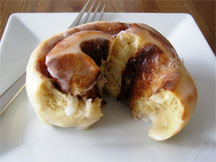 Ingredients:
3 tablespoons

dry

yeast
1/4 cup

warm

water
1 tablespoon
sugar
4 cups

HOT

water
1 cup

to 1 1/2 cups

sugar
1 cup

Crisco

shortening
5 teaspoons
salt
3
eggs
1/3 cup

dry

instant potato flakes
12 cups

to 12 1/2 cups

flour
1/4 cup

dough enhancer (found at kitchen or bread stores)
Directions:
1. Mix the yeast with 1 T sugar. Add 1/4 cup warm water to activate the yeast.
2. In a large mixer bowl, add:
4 cups HOT water
1 cup Crisco
1 to 1 1/2 cups sugar
5 tsp. salt
3 eggs
1/3 cup potato flakes
6 cups flour
1/4 cup dough enhancer
3. Mix well - then add yeast to the water
4. Beat mixture on high for 3 to 5 minutes. Then add the remaining 5 1/2 to 6 1/2 cups flour until dough cleans the side of the bowl (for Bosh or Kitchen Aid mixer) or until a soft dough is formed by hand. In a machine, let the dough knead for 5 more minutes; by hand knead for at least ten minutes. Then shape in to a ball and place in a oiled bowl.
5. NOTE: on a hot dry day you will need less flour; on a damp/rainy day you will use the full amount (and perhaps a bit more) flour
6. Let rise in warm place until doubles or triples in bulk (about 1 1/2 hours)
7. Take 1/2 of the dough and roll out on a floured pastry cloth and shape into roll
8. Bake at 375 degrees for 10-12 minutes
For Cinnamon filling, use the 1 cup butter, 2 cup brown sugar, and 2 Tbsp cinnamon ratio.
Frost right out of oven. For frosting, use your favorite. Once again, I like to use Betty Crocker's buttercream frosting. It goes so well on a cinnamon roll.
For Bread Dough - decrease the sugar and shortening by half. Makes 6 small loaves, or 4 large ones. Bake at 375 degrees about 30 to 40 minutes until light brown.

Recipe formatted with the Cook'n Recipe Software from DVO Enterprises.
---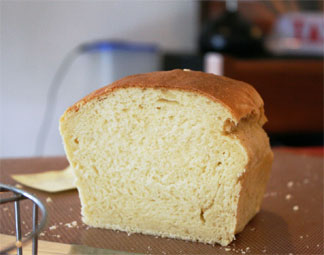 Cinnamon Rolls Image:
https://s-media-cache-ec0.pinimg.com/upload/1970393558375892_eHRMHN6E_b.jpg
One Cinnamon Roll:
http://4.bp.blogspot.com/_AX6q66lD96E/TSRqW7EdZBI/AAAAAAAAB0s/K-CheWKVXhQ/s1600/Cinnamon+Bun.jpg
Bread Image:
http://blog.maryspastrylab.com/wp-content/uploads/2012/06/white-bread.jpg