Sweets for Your Sweetheart
It's never too early to begin planning. Whether you want to make things for a class party, a sweetheart, or a soon-to-be sweetheart these will definitely do the job. I found some fun, clever, and yummy treats that will sweeten up your sweetheart's heart.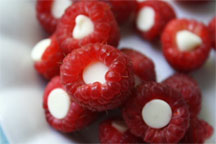 White Chocolate Filled Raspberries
I had these at a bridal shower once. The texture and flavor is wonderful. It's a good way to add a fruit to all the sweets.
Cinnamon Roll Hearts
Roll the dough from both sides and you've got a yummy breakfast to serve to your love.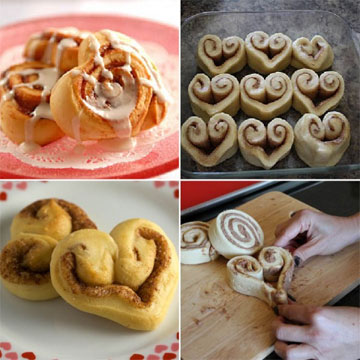 Collage of Hearts
Heart shaped cookie pops, pretzels with heart sprinkles, and yogurt jello pops. Something to please all.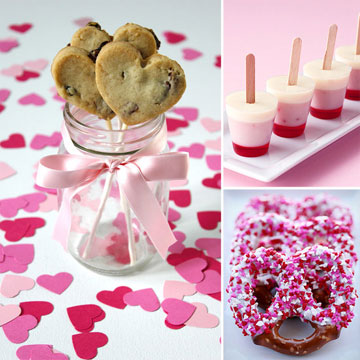 ---
Valentine's Chex Mix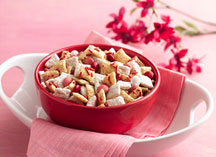 I love Chex Mix Muddie buddies, Chex mix, etc. This one comes straight from their website so I trust it to be amazing!
Ingredients:
9 cups

Rice Chex

cold cereal
1 cup

white baking chocolate

chips
1/2 cup
peanut butter
1/4 cup

butter

or margarin
3/4 cup
powdered sugar
1/2 cup

red, white and pink

candy-coated chocolate candy
1/4 cup

red or pink jimmies

colored sprinkles
Directions:
1. 1n large bowl, place cereal. In small microwavable bowl, microwave vanilla chips, peanut butter and butter uncovered on High 1 to 1 1/2 minutes, stirring every 30 seconds, until melted and smooth. Pour peanut butter mixture over cereal, stirring until evenly coated.
2. Place 1/2 of the cereal mixture in 1-gallon food-storage plastic bag. Add powdered sugar. Seal bag; shake until well coated. Spread on waxed paper or foil to cool, about 15 minutes.
3. Meanwhile, stir candies and sprinkles into remaining cereal mixture. Spread on waxed paper or foil to cool, about 15 minutes.i4.In serving bowl, mix both cereal mixtures. Store in airtight container.

Recipe formatted with the Cook'n Recipe Software from DVO Enterprises.
---
Yogurt Covered Strawberries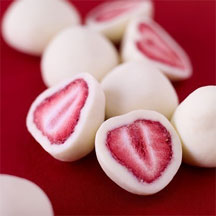 These would be great to make for a class party or if you're feeling candied out.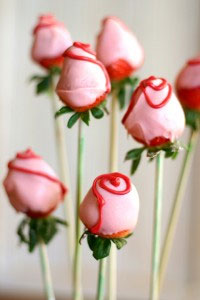 Yogurt Strawberry with Rosy Twist
I've seen Hershey Kiss Roses, but I thought these were beautiful with the leaves, too.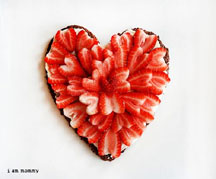 Brownie Heart Pizza
Bake a brownie, cut out a heart. Spread with frosting and cover with strawberries. Delightful.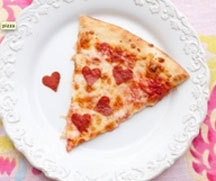 Actual Heart Pizza
You can cut the dough into a heart shape, or you can just cut the pepperoni! I would think men would particularly appreciate this one.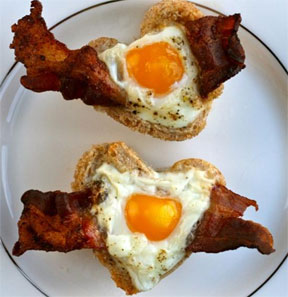 Breakfast: Bacon Arrow through Heart Toast
Cook the bacon, Cook the toast, Cook the egg. A Perfect breakfast for the one you love.
Chex Mix recipe:
http://www.chex.com/Recipes/RecipeView.aspx?RecipeId=42628&CategoryId=340
Raspberries image:
http://www.fixmeasnack.com/wp-content/uploads/2009/09/IMG_5447_01.jpg
Cinnamon roll image:
http://spicedblog.com/wp/wp-content/uploads/2012/01/heart-shaped-cinnamon-rolls-e1327032852203.jpg
Heart collage image:
http://cdn-ediblecrafts.craftgossip.com/files/2012/01/treats.valentinesday.jpg
Chex Mix image:
http://www.chex.com/images/BeautyShots275x200/r42628fp.jpg
Yogurt covered strawberry image:
http://media-cache-ec4.pinterest.com/upload/70720656618838224_ou1zaxHc_c.jpg
Strawberry rose image:
http://www.singingthroughtherain.net/wp-content/uploads/2012/01/Choclolate-Dipped-Strawberry-Roses-Valentines-Day.jpg
Brownie heart image:
http://www.sugarloco.com/wp-content/uploads/2012/01/I-am-mommy-heart-brownie-pizza.png
Pizza image:
http://media-cache-ec4.pinterest.com/upload/111745634473804151_oV8O6qSz_b.jpg
Breakfast image:
http://ediblecrafts.craftgossip.com/files/2013/01/valdaybreakfast.jpg