Sneaky Smoothies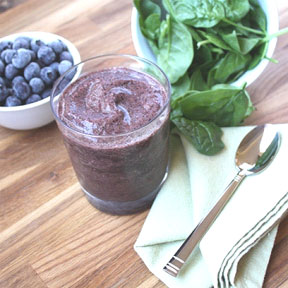 This is probably the best idea I know of to eat raw vegetables. You get all the vitamins and nutrients from the vegetables that get ruined when cooked, yet it's still easy to eat. I'm an adult, but that doesn't mean I have the easiest time eating vegetables raw. Raw can be boring, bland (I hope saying that doesn't make anyone angry), but it is often the healthiest way to eat up those veggies. There is a remedy to that ancient conflict, (and yet another way to get the kids to eat it all, too).
Basic idea: throw it all in a smoothie. I can't give a recipe because the beauty of smoothies is that you get to throw whatever you want to in them. Many of you might have heard of green smoothies (throw kale or spinach in with your fruit), but try the other vegetables in your garden. Next time you make a smoothie, toss some zucchini or broccoli in there.
Zucchini can make the flavor of the smoothie go bland. Taste it first to see if you care, and if it's not satisfying your taste buds, add a little sugar. If the green color gets to yours or your kids' appetites, add blueberries to get more of a purple color. Purple is a very edible color. (See above picture for example. Doesn't it make you want to reach out and grab that smoothie from your computer screen right now?)
This all may sound like a longshot, but I promise I have seen and tasted its magic. It is a smoothie, tasty as normal, disguised with vegetables (okay, that last part's not as normal).
FLASHBACK: Flashing back on last week's Top 10 Healthiest Foods article, make a smoothie with blueberries, spinach, broccoli, and wheat germ (and whatsoever fruits you desire).
Smoothie image:
http://3.bp.blogspot.com/-crFtDONlXFE/TlCVFMCENoI/AAAAAAAAAXg/ATEoTvU9V_I/s1600/blueberry+spinach+chia+smoothie+-+fg.jpg