How to Make Your Own Almond Milk
(a Food Storage Idea)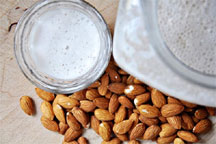 I know that humans can technically produce milk anyway, but here's some milk that everyone can make (and as a bonus, it's used with one of the top 10 healthy foods!) This is a great find for food storage, as almonds can last up to a year past their expiration date in the pantry or fridge, and two years in the freezer. You can make the milk fresh when you want it. It's also a lifesaver to those who are lactose intolerant. For those of you who don't fit in that category, it's just plain tasty, too.
I do know people who lived off this stuff. (Obviously they ate other foods, but they used this instead of cow's milk because they had a milk allergy). My heart goes out to them and all others with that dilemma, but this is a good and yummy substitute.
---
Almond Milk
Ingredients:
1 cup
almonds
4 cups
water
1 tablespoon

to 2 tablespoons

maple syrup

(optional)
Directions:
Start by boiling the almonds. (1 cup of almonds in 1 cup water). This allows the skins to soften. They will peel right off. The white part is what you will be using. (You can choose to not blanch the almonds, the milk will just be less white and less smooth in consistency.) Allow the almonds to dry.
Next, toss them in a blender. Blend into a very fine powder, then add 3 cups of water and 1-2 Tbsp sweetener, such as the maple syrup (if you choose). Blend until smooth and creamy (about 1 to 2 minutes), then add the last cup of water while it's still blending. Blend 1 more minute.
Strain the milk through a fine strainer twice (or use cheesecloth to get a very smooth milk) into a large bowl. Squeeze remaining milk from the almond fiber left in strainer. Store in a closed container in the refrigerator.

Recipe formatted with the Cook'n Recipe Software from DVO Enterprises.
---
P.S. (Refrigerate the fiber so that next time you take a shower, you can use the almond fiber for a body scrub/moisturizer)
Fairly simple, right? Definitely worth it, too. A cheap solution for lactose-free milk, an option for food storage, but also just a tasty treat. Very nice.
Substituting: Feel free to use almond milk as a substitute for milk in recipes, your cereal, etc. (Just remember there might be a slight difference in taste, especially if you buy sweetened almond milk from the store). You can even make chocolate milk! (Yay!)
Almond milk can also be substituted for buttermilk if you add a touch of lemon or vinegar to it.
References:
http://www.eatbydate.com/proteins/nuts/how-long-do-nuts-last-shelf-life-expiration-date/
http://www.myrecipes.com/how-to/cooking-questions/substitute-almond-for-buttermilk-00420000012955/
Milk image:
http://2.bp.blogspot.com/_m7pFCBYhoEk/TRu00RoXMXI/AAAAAAAAdE8/p26bnkEpXCM/s800/milk2%253A710.jpg