Get the Biggest Bang For Your Grocery Buck!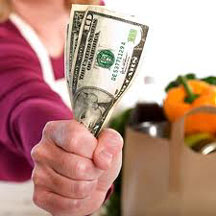 Want to food-shop smarter and get the biggest bang for your buck? Environmental Working Group (EWG) knows that stretching our dollars to get a month's worth of healthy, as well as filling food is a challenge. So with this in mind, EWG assessed nearly 1,200 foods and hand-picked the best 100 or so that pack in nutrients at a good price, with the fewest pesticides, contaminants and artificial ingredients.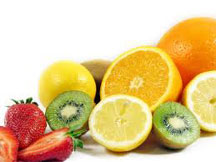 Let's start with FRUIT. These fruits pack the most nutrition for the lowest cost, are low in sugar and toxic pesticides and have plenty of vitamin C, fiber, folate and potassium (aim for two servings daily):
apricot
avocado
banana **
cantaloupe
grapefruit
honeydew
kiwi
orange juice **
nectarines domestic **
papaya
pear **
starfruit
tangerine
watermelon **
Peaches are also nutritious but may have more pesticides than other fruits, so it's a good idea to compare prices for organic.
**Best Buys
Still in the FRUIT department, dried fruit is the next best buy:
Apricots
mango
california raisins **
prunes **
Dried apples are also nutritious but may have more pesticides than other fruits, so again, it's smart to check prices for organic. Don't overdo dried fruit, though. It has LOTS of sugar! One serving of dried fruit is about 1/4 cup, by the way.
**Best Buys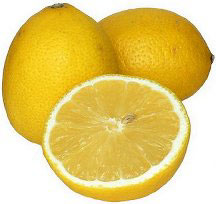 And don't forget lemons. This is an amazing fruit that works well with sweet or savory dishes. Put lemon juice in your salad dressing. Cook fish on a bed of lemon slices to add flavor and moisture and keep your pan clean.
Cut and freeze fresh fruit when it's on sale or overripe. Use later in smoothies, oatmeal or yogurt. To eliminate clumping, lay pieces on a tray in the freezer or freeze pureed fruit in ice cube trays. When frozen, transfer to a bag.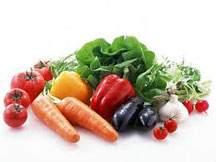 Next, let's look at vegetables. These vegetables pack the most nutrition for the lowest cost. Seven out of 10 of us don't eat enough vegetables. 3 servings daily is the recommendation, and variety is the key for reaching a balance of flavors and nutrition:
broccoli **
collards **
kale
lettuce romaine **
mixed salad greens
mustard greens **
parsley **
spinach
turnip greens
calabaza spanish pumpkin **
carrots **
pumpkin fresh
sweet potato
tomatoes low sodium (salt), canned
tomato juice low sodium (salt) **
corn frozen
lima beans fresh
potatoes- roasted, baked, or boiled **
alfalfa sprouts **
brussels sprouts
cabbage **
chayote pear squash
eggplant
green onions **
okra frozen
onions **
snow peas fresh
zucchini, yellow squash, other summer squashes
The dark greens (except broccoli and parsley) may have more pesticides than other vegetables, so do check prices for organic. Also, sweet red and green peppers are very nutritious, but do tend to have more pesticides than other vegetables, so here again, check prices for organic. Potatoes and green beans also show up with more pesticides than other vegetables, so as usual, check prices for organic.
**Best Buys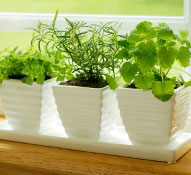 You'll want to make room for other vegetables by eating less of the high-carbohydrate vegetables (corn, lima beans, and potatoes). And get daring - add healthy flavor. Toss green onions on stir-fries, dips, rice or soup. Stuff parsley in tomatoes, serve over grilled fish or meats, serve with hummus and pita or make tabbouleh. Grow herbs in your windowsill and add them, chopped, to just about every savory dish you can think of.
Now how about snacking. Is it possible that snacking can be healthy as well as affordable? Absolutely! These healthy snacks average 44 cents per 1 cup serving - less than a postage stamp - and will power you up:
Snack on fruits and vegetables. You can get your five to nine servings a day for about the cost of a bus ride.
Apricots, bananas, pears and tangerines are great for lunch boxes (wrap apricots in a napkin to prevent bruising).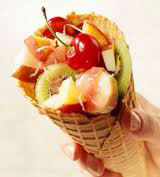 Make a fruit bowl. Slice up a kiwi and chop cantaloupe, watermelon, papaya, or star-fruit (the shape is fascinating) into bite-size pieces. Fill a small container for lunches or fill a waffle or traditional ice cream cone with diced fresh fruit.
Try raw carrots, broccoli or snow peas as an afternoon snack. They are great dipped in hummus or bean dip.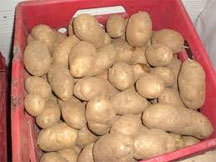 Finally, make it a habit to stock up on long-lasting vegetables and store them in a cool, dry place. Potatoes, carrots, pumpkin, cabbage, and sweet potatoes taste great for several weeks after you buy them. Frozen vegetables keep well, too.
Next time, let's talk about affordable shopping in the grains and meat department. Until then, here's to stretching our grocery dollars to get more bang for our buck!