Desserts to Die For:
Peach Dessert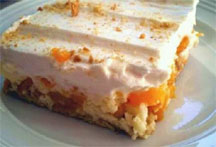 So I have decided to start a column on one of my favorite topics ever... Dessert.
Desserts are wonderful. They bring joy at the darkest times. (Who hasn't sat down with a bowl of ice cream just to feel better?) They can clear a bout of the blues. Desserts make anyone ages 1 to 129 just a little bit happier. I thought it might be good to share those desserts with you that tickle my taste buds and brighten my mood. There will be a new one each week.
I truly believe there are Desserts to Die For. (okay, maybe that is a little extreme)
This week's special is a peach dessert (perfect timing as peaches are in season). This one is a memorable treat, and I'm not just saying that. My cousin was visiting recently, and during our conversation, he brought this up, saying how much he missed it (The last time he'd had it was about 10 years ago). Yeah, it's good.
---
Peach Dessert
Ingredients:
Crust
2 cups

to 3 cups crushed

graham crackers
2 tablespoons

to 4 tablespoons

butter
2 tablespoons

to 4 tablespoons

sugar
1 (3-ounce) package
peach jello
2 cups
water
2 tablespoons

(heaping)

cornstarch
3/4 cup

to 1 cup

sugar
3

to 4 fresh

peaches

(peeled), cut into bit-sized pieces
2 envelopes

dream whip (found in baking aisle)
8 ounces

cream cheese

, softened
1 cup
milk
3/4 cup

to 1 cup

powdered sugar
Directions:
Crust:
Mix together to create a crust (amounts vary on preference of sweetness, thickness, and moisture). Reserve 1/4- 1/2 cup of crust to sprinkle as topping. Press remaining mixture into 9X13 pan.
Mix granulated sugar with the cornstarch. Add two cups water, and bring to a boil (until thickened and clear). Add jello packet. Stir until dissolved. Remove from heat. Place a piece of plastic wrap right on top to keep skim from forming. Cut peaches once the jello is almost cooled to prevent browning. Once cooled, add chopped peaches and set aside.
Whip both dream whip packets with the milk. In a separate bowl, beat softened cream cheese until smooth. Add powdered sugar to sweeten taste. Mix with dream whip mixture. Carefully spread half of dream whip mixture over crust (spreading to the edges). Very carefully spread jello mixture on top of the whip layer. Carefully spread the remaining whip mixture over the jello layer. (You can refrigerate in between each new layer to make spreading the new layer easier.) Sprinkle the reserved graham cracker crust crumbs on top. Refrigerate until set.
Last step: relish!
This is also delicious with raspberries (one 12 oz. unsweetened frozen bag or 3-4 cups fresh raspberries with raspberry jello.) This is a beautiful dessert to serve at Christmas time.

Recipe formatted with the Cook'n Recipe Software from DVO Enterprises.
---
Half-Finished!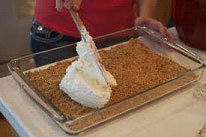 Almost There!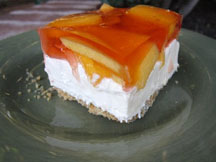 Voila!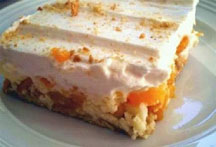 Peach dessert image:
http://netcookingtalk.com/forums/attachment.php?attachmentid=5629&d=1261387364
Half-finished image:
http://smileifyourhappy.files.wordpress.com/2012/05/img_9465.jpg
Almost There image:
https://encrypted-tbn2.google.com/images?q=tbn:ANd9GcRXOX22hGlS4gWqw8AxE5cnjlHmC-2vBEpzRPw-K8rFaO3k4k1D